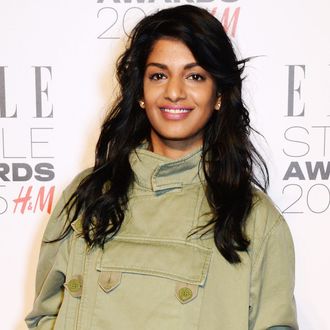 Here we go again.
Photo: David M. Benett/Getty Images
M.I.A. will probably never have creative freedom in the music industry. She's had several wars of words with her label, Interscope, the most famous of which involved her threatening to leak her last album. Last year, she had to fight to have her video for "Double Bubble Trouble" released, and it appears it's the same story with her newest video. Yesterday, M.I.A. explained in a series of tweets that an unnamed party (most likely her label again) isn't allowing her to put out the new visuals due to "cultural appropriation":
It isn't clear what song the video is for, though she recently released a demo for a song called "Platforms," reportedly off an upcoming project. The term cultural appropriation has taken on a lot of different meanings thanks to some confusion in p.c. culture, but accusing someone of appropriating culture simply for filming a video with an African dancer in the Ivory Coast is definitely a new one. Of course, we haven't seen the video and don't know the context in which this dancer or the location are being used, which may very well turn out to be viewed as offensive. But given M.I.A.'s track record with her ex Diplo, a serial appropriator, if anyone knows firsthand the damage appropriating someone else's culture does, it's M.I.A.