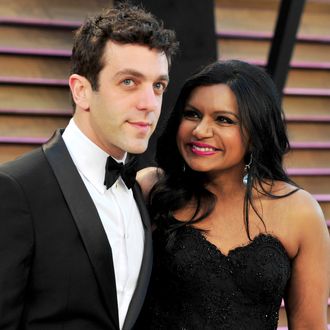 More than a friend, not quite a boyfriend.
Photo: 2014 Mark Sullivan
According to the New York Daily News, Mindy Kaling and her gentleman friend B.J. Novak have sold a book about their "weird as hell" relationship. The duo (don't say couple!) will reportedly earn $7.5 million to tell the story of  what Kaling calls their "romantically charged camaraderie with loud arguments." According to the News' sources, the new book will be announced at BookCon on May 30, during an event to promote Kaling's other new book, the essay collection Why Not Me? And yet the only thing we got for choosing "It's Complicated" on Facebook was disapproving glances from family and friends.
Update: Mindy confirms there will be a book, but says it won't be a tell-all.