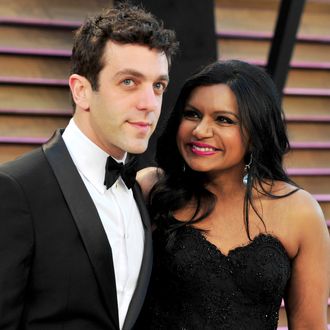 Photo: 2014 Mark Sullivan
"This is what it feels like to be the head of Scientology," Mindy Kaling joked at the beginning of her BookCon panel with B.J. Novak. "This is a David Miscavige–type crowd." There was certainly Mindy mania at the Javits Center, with people breaking down barricades to get into the Special Events Hall. For an hour fans were treated to a convo on all things Mindy (and B.J.). Here's what we learned about her book Why Not Me?, her show moving to Hulu, and her relationship with B.J.
1. The book's title has multiple meanings.
One could interpret Why Not Me? as a touch of wistfulness — Mindy said she's at an age when friends are having kids and getting married, and she feels a little left out. Why isn't she at that point in her life? But the title also represents her ambitious side. If it's going to be someone on TV and in the writers' room, why not her?
 
B.J. interjection: B.J. asked what hashtags she would use to describe her book, because that's where we are now. She initially joked, "#blessed, #whitepeopleproblems, #blackpeopleproblems, #thatglammybookstarlife," but when he asked about themes of the book specifically, she said "#family, #heartache, #growingup, #secondcomingofage." She added, "I'm just going to maximize my coming-of-age stories."
 
2. In the chapter called "Coming This Fall," Mindy creates a fake TV lineup.
"My favorite one is Hot Serial Killer Who's Also a Little Bit Literary," Mindy said. "That's a show where the police commissioner's name is like 'Chuck Dickens' and prostitutes are being murdered and Shakespeare quotes are attached to their bodies. It's your mother's favorite show. She's in love with the lead and he's played by a British actor doing an American accent."

3. When Mindy was little, she had a crush — "the kind of crush that keeps you up at night" — on Dana Carvey.
After joking that people in the audience might not even know who he was, she offered that he was like the Bill Hader of Saturday Night Live in 1992 (which is doubly funny when you remember that Hader played a former love interest on her show). There's a chapter in the book entitled "Some Thoughts on Weddings" in which she describes a hypothetical coupling with Carvey.
B.J. interjection: When talking about crushes, Mindy joked that she didn't like a "bad boy" until later in her life, and then pointed to B.J. When he responded that he likes to think he isn't one, she explained, "You're like the baddest of the good boys."

4. Mindy would love to host Saturday Night Live — and she would want to play Cookie.
An audience member asked if she'd like to host and whom she'd like to impersonate. She responded that, yes, of course she would host, and that Cookie would be a fun role. She then added, "I'd want to Martin Lawrence–style do all of the characters from Empire."
 
5. The Mindy Project isn't going to be too much more risqué now that it's on Hulu.
Mindy joked that she and fellow showrunner Matt Warburton did revel in the idea of what they could get away with now, saying, "Matt and I are both like, you know, smart writers but also, like, repressed people." But she said they want to preserve what they love about the show, which is partially its network-friendly approach to romance. "So much of romance comes from restraint, and I think that it's the stuff that you kind of can't necessarily see, which is what makes it romantic."

6. Mindy thinks Dave Chappelle would be a great guest on her show.
When someone asked whom she'd want to guest-star, she responded, "Imagine if like Dave Chappelle was like a single dad that Mindy was sort of like in love with even though she was in a relationship. That'd be amazing." She also said Reese Witherspoon.

7. There's a chapter in the book called "I Love Sex Scenes!"
"The truth is I'm a weird mix of fearful New England prig and repressed pervert," she explained. "On one hand, I think sex is private and special, and I would rather die than ever write or talk about my sex life in any public way. On the other, I am an unabashed lover of watching sexy situations onscreen, both as a viewer and, lately, as a participant on my own show." Perhaps some limits will be tested on Hulu after all.