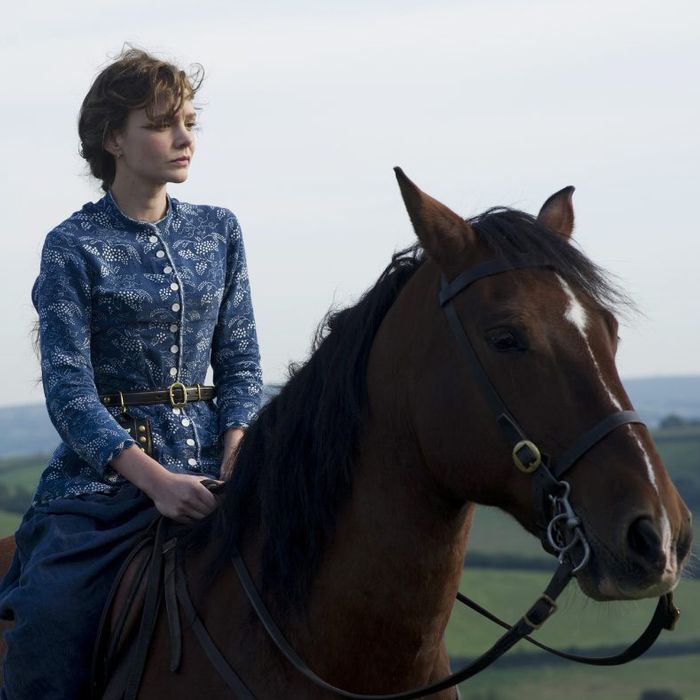 Far From the Madding Crowd.
Photo: Alex Bailey/Fox Searchlight Pictures
It's difficult to imagine what a person who has never read Thomas Hardy's Far From the Madding Crowd will make of the new adaptation directed by Thomas Vinterberg. Imagine someone reading a page of the novel to you, skipping two, reading two lines on a third, then jumping four chapters ahead. The connecting material is missing, which means, for example, that the rich, middle-aged bachelor Boldwood (Michael Sheen) proposes marriage to the headstrong Bathsheba Everdene (Carey Mulligan) when you're not even sure that they've been properly introduced. Were the lapses in the script (by David Nicholls), or was the finished film hacked by a couple of hours? Either way, a short movie can feel longer than a long one if nothing you see is prepared for, if you're constantly saying, "Huh? What? Where did that come from?"
The novel is a masterpiece, but not an easy one for a dramatist to get a handle on. The wayward, determinedly independent Bathsheba — who inherits a large farm from her uncle — can't fully articulate her decisions, explaining late in the book (in its most famous line), "It is difficult for a woman to define her feelings in language which is chiefly made by men to express theirs." She was the first of Hardy's momentous heroines, probably born of his knowledge that he was an accidental child, and — in one of those peculiar psychological reversals that Freud would soon attempt to explain — his subsequent identification with women penalized by biology, male privilege, and, of course, the Fates. In the 1967 film, a maddeningly miscast Julie Christie made the heroine seem demented. Paloma Baeza did better in a decent four-part miniseries by playing up Bathsheba's youth. Mulligan is a more thoughtful, private Bathsheba, modern in the way she raises her eyebrows à la Diana Rigg's Mrs. Peel in mock wonder at the cluelessness of her suitors. Mulligan is capable of conveying great emotion with small modulations in her voice, and her offbeat rhythms are true to the character. I only wish I'd had more time to know her better.
Matthias Schoenaerts is fine as the first of those suitors, the watchful Farmer Oak, but his accent — he's Belgian, but he sounds a bit like the Danish Mads Mikkelsen — is bizarre in Hardy's Dorset; I kept waiting for someone to ask when he came over from Denmark or Sweden or wherever. It matters because one of the most important characters in any Hardy work is the native populace, the men and women who sit around fires and trade gossip about one another and their social betters. Their relative absence here creates huge gaps — they're the ones supplying Oak with his intelligence, particularly about the arrogant soldier, Troy (Tom Sturridge), who seduces Bathsheba with (I'm talking literally) the manly thrusts of his sword.
Screenwriter Nicholls's most disastrous change involves Troy and his fiancée, Fanny (a vivid Juno Temple), who in the novel goes to the wrong church for their relatively impromptu wedding ceremony and is spurned by the humiliated Troy when she arrives after his fellow soldiers have departed. Here, Fanny tells Troy what happened at a chance meeting nine months later, when she's, as we say, "large with child" and begging; why didn't she find him in between? (He was around.) What did he make of her disappearance? The movie also leaves out Troy's whereabouts in the last part of the novel, one of its most entertaining sections.
Moviegoers often say, "Forget about the book, even if it's a 'classic.' How does the film work on its own terms?" But that's the point: On its own terms, it's bewildering. Handsome, though. Elegantly made, if a bit detached. (That detachment could be explained by all the gaps.) Vinterberg does better than other directors with the catastrophic death of Farmer Oak's flock of sheep, led over a cliff by an insane sheepdog. But even here, the lack of setup makes you wonder what just happened.
Is there a longer cut of Vinterberg's Far From the Madding Crowd? If so, it would be nice to see it, although I wonder if television — especially with its capacity to handle wide-screen compositions — isn't the place nowadays for capturing the intricacies of novels like Hardy's. Or maybe we should all just read more.