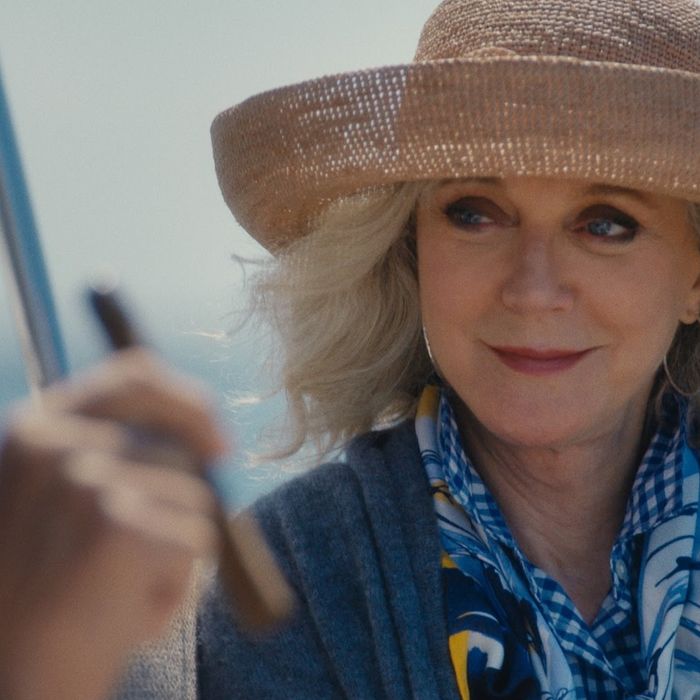 There are three reasons to see I'll See You in My Dreams. Blythe Danner is Reason No. 1. She also happens to be Reasons Nos. 2 and 3. It's a tour de force of a performance, in part because at times it feels like three different performances. And the subtleties of the way they shift transform an otherwise slight tale of romance and old age into something more profound about the roles we play in life — about the faces we prepare to meet the faces that we meet.
Danner plays Carol, a retired widow living with her beloved dog, pleasantly whiling away her days in a comfy home in Southern California — watching TV in bed, eating dinner on her patio, playing cards with her friends, etc. Her routine gets tragically disrupted, however, when she has to put her dog down; as director Brett Haley holds on an excruciating scene where Carol quietly says good-bye to the animal, we begin to grasp the magnitude of what she's losing. Now living all by herself, Carol feels strangely vulnerable, and lonely. Her friends — a gossipy bunch that includes such fine actresses as Mary Kay Place, Rhea Perlman, and June Squibb — all implore her to join them in a nearby, high-end retirement community, club, and golf course.
But Carol, who once had her own band, is a little too cool for all that, and a little too independent-minded. She bonds with her mousy young pool guy Lloyd (Martin Starr), also a former musician; the two go karaoke-ing, and her rendition of "Cry Me a River" knocks him out. For all his youth, Lloyd is a mopey type. "You're young," she tells him. "You're looking forward to everything." "I don't think I'm looking forward to anything," he replies, reminding her that he's a pool boy. And yet … are those sparks flying between them?
Meanwhile, Carol also makes eyes with Bill (Sam Elliott), a dashing, more "age-appropriate" new member of her friends' retirement community. She plays coy, but he's pretty forthright with her: "I like you, a little bit, I think," he says, in his best Sam Elliott voice. "Hell, you're okay." (You're half-waiting for him to add, "Pardner.") In the presence of this kind of manly confidence, Carol almost seems to become … someone else?
That's the thing. This woman changes ever so slightly when she's with her friends, with Lloyd, or with Bill. We think of ourselves as becoming more steadfast — more ourselves — as we get older, but Carol, at least as played by Danner, seems more responsive, alive; it's like she's not done with the world yet. Among her friends, she's chatty, jaded, and cool. With Lloyd, she's a woman with a history; he clearly finds her fascinating. With Bill, she's a lot more vulnerable, somewhat in awe of the way he takes over a room, the way he dominates the conversation. There's actually a fourth world, too, as later in the film, Carol's daughter, played by Malin Akerman, shows up. In this one, Carol gets to play the role of a mother — which perhaps balances elements of all her other states of being.
Director Haley wisely focuses on Carol throughout: Though a couple of dramatic, and not entirely unpredictable things, do happen in I'll See You in My Dreams, this is not a what-happens-next movie. Rather, it's a film grounded in character, and its many permutations. And at the center of it all — ever-changing and beautiful — is the wonderful Danner. She breathes deep life into what might have otherwise been a whisper-thin movie.