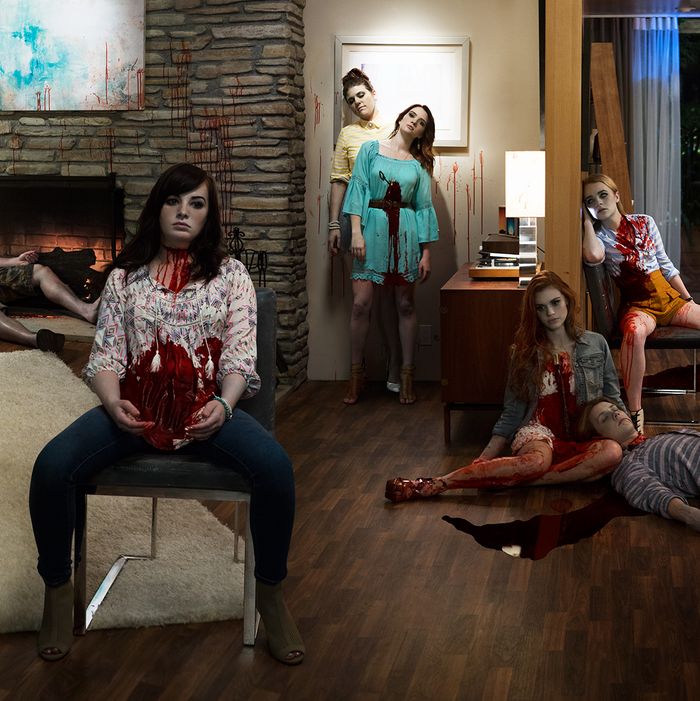 The set of MTV's Scream promo.
Photo: MTV
Back in the 1970s and '80s, it was pretty common for all the big stars of a given TV network to come together once a year to shoot an over-the-top promotional campaign hyping the new season. (They even rode in hot-air balloons!) This happens a lot less often these days, but Monday night, MTV brought back this very old-school idea — with a modern twist. During Monday's episode of Teen Mom OG, the network unveiled an extended promotion for its upcoming Scream adaptation in which 12 stars from six of its biggest hits — including Teen Wolf, Finding Carter, and The Challenge — appeared as bloody but very beautiful corpses (the actual stars of Scream make an appearance at the end). The ad, equal parts gory and comic, was designed to capture what MTV senior vice-president for creative Joe Ortiz calls the "meta commentary" of the original Kevin Williamson movie. "We as a brand wanted to prove we mean business, and to announce Scream in a big, bold, fan-centric way," he told Vulture via email. "What better way to [do that] than to kill all of our biggest and beloved stars?"
Vulture caught up with Ortiz via email for a quick discussion about how the very elaborate Scream promo came together, and whether the network had any qualms about "killing" its top talent. Read on for his answers, the promo itself, and an exclusive behind-the-scenes featurette from the two-day shoot. Scream premieres on MTV Tuesday, June 30 at 10 p.m.
So did any of your talent have any suggestions or input on how their "deaths" would be shot? Did anyone have any hesitations about how they were going to bite the bullet?
Honestly, no.  The minute our talent read the script, they were game.  The creative team literally handpicked every scenario, every kill, to fit the spot and the stars. It was days of debating how to slash each of them. I do think they were all a little jealous of [The Challenge's] Leroy's gutting on the table. My favorite is Tyler Posey's knife in the head. And you have to love Molly Tarlov and Katie Stevens being shish-kebabbed with a fire poker.
Was there any debate about blurring the lines between your various franchises?
Blurring lines was never an issue for us. Our audience does it everyday. They remix the world in super-interesting ways. So we knew we had the permission. The idea was definitely to make a strong connection to MTV and to connect to individual fans of our series. It ultimately says that we are all huge fans of Scream. 
How long did the shoot take?
We shot over a single weekend, Saturday and Sunday, in Los Angeles. The longest part of each day was loading all the blood. We had gallons.
I'm assuming everyone shot their moments separately? Or was the shoot a giant die-in?
It was one big bloodbath of actors. We had five together on set on Saturday, and the other seven on Sunday. The spot is actually just two continuous takes stitched together. Strangely, everyone was a pro at playing dead. Although Johnny Bananas broke a couple times.  
Who directed? 
One of MTV's very own: Patrick Cummings. He led the internal creative team as well as directed the piece. Matt Jenson was the director of photography.
The music in the video is pretty amazing.
We had the song before we had the final idea. Music absolutely inspired the creative exploration and picture. The track is "It Just Is," by Rilo Kiley. The end lyric is perfection: "That it just is, 'cause everybody … dies."