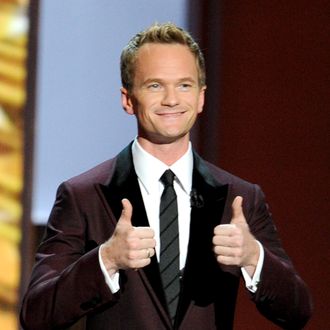 Photo: Kevin Winter/Getty Images
NBC will attempt to halt its recent ratings slide with a new fall schedule composed of three new dramas, the long-touted revival of Heroes, a variety show from Neil Patrick Harris, and what appears to be the smallest number of half-hour comedies — two— since fall 1978. The Peacock's just-announced 2015–16 schedule is most notable, however, for one change it didn't make: The Blacklist is remaining Thursdays at 9 p.m., despite suffering big declines since relocating there in February. Instead, NBC is focusing on the fact that the James Spader crime caper has dramatically improved its Nielsen numbers on a very important night; the network will now try to grow those numbers by surrounding Blacklist with what it hopes are more compatible companion shows than this spring's dead-on-arrival The Slap and Allegiance.
And so at 8 p.m. Thursday, NBC has slotted Heroes Reborn, the continuation of the mid-aughts sci-fi series from Tim Kring that briefly shined bright before fizzling out. It'll likely debut when CBS's powerful The Big Bang Theory is off of Thursday because of the Eye's prime-time football franchise. Meanwhile, at 10 p.m., NBC is going with The Player, a Las Vegas–set thriller from the producers of Blacklist starring Wesley Snipes. Assuming ABC keeps How to Get Away with Murder at 10 p.m. Thursday, the Peacock's play means two dramas toplined by African-American actors will compete against each other in the hour. While launching two more dramas on Thursday seems a tall order given the failure of this spring's two new dramas, this play figures to be a little more successful. While Heroes is by no means assured a huge response — the show's audience was greatly diminished by the time it signed off — it figures the show will at least attract a bigger, broader audience than any other new drama the network could premiere at 8 p.m. Thursday. And The Player certainly seems a better fit with Blacklist than the complex, convoluted Allegiance. NBC's biggest hope has to be that ABC's Thursday juggernaut may finally start to cool a bit as Scandal and Grey's Anatomy continue to age.
Elsewhere, NBC is giving its best time slot — 10 p.m. Mondays — to the Greg Berlanti show Blindspot, a conspiracy thriller that on paper seems a twist on a show that worked spectacularly well in the hour two years ago (Blacklist). On Tuesdays, the network is finally (and wisely) giving up trying to make comedies happen after The Voice and will instead go up against CBS's hot NCIS: New Orleans with the medical soap Heartbreaker. That's a mild surprise, since the Neil Patrick Harris variety hour Best Time Ever seemed a perfect fit with The Voice. But NBC apparently felt creating a new scripted asset was a bigger priority than launching a variety show with little international or resale value. The late scheduling no doubt makes sense financially for NBC, but it will greatly diminish the odds of NPH's new show becoming a hit (while eliminating any family viewing). NBC is returning its Wednesday, Saturday, and Sunday schedules intact, including Mysteries of Laura staying put at 9 p.m. Wednesday (perhaps until Chicago Med or the Jennifer Lopez drama Shades of Blue arrive later in the season.)
The one big surprise is that NBC will try to make comedies work on Friday nights, slotting a new live version of Undateable at 8 p.m., followed by People Are Talking, a half-hour from the producers of Hot in Cleveland. Expectations will be super low for the new shows, but so will the upside from NBC. In truth, the move feels like NBC just couldn't bear the idea of headlines screaming it had completely abandoned sitcoms in the fall — so it's slotting two on Friday in a low-cost way to keep the comedy flames burning. Still, the last time NBC made comedy work on Fridays was the late 1970s and early 1980s. And, while we're still checking the history books, it appears the last time the Peacock programmed just one hour of comedy in fall was during the 1978–79 season, when newcomer The Waverly Wonders was paired with Who's Watching the Kids. Their time slot? Fridays from 8 to 9 p.m.
Here's the full NBC fall schedule:
MONDAY
8 p.m. The Voice
10 p.m. Blindspot
TUESDAY
8 p.m. The Voice
9 p.m. Heartbreaker
10 p.m. Best Time Ever With Neil Patrick Harris
10 p.m. Chicago Fire (November)
WEDNESDAY
8 p.m. The Mysteries of Laura
9 p.m. Law & Order: SVU
10 p.m. Chicago P.D.
THURSDAY
8 p.m. Heroes Reborn
9 p.m. The Blacklist
10 p.m. The Player
FRIDAY
8 p.m. Undateable
8:30 p.m. People Are Talking
9 p.m. Grimm
10 p.m. Dateline
SATURDAY
8 p.m. Dateline Saturday Night Mystery
10 p.m. Saturday Night Live (classic encores)
SUNDAY
7 p.m. Football Night in America
8:20 p.m. Sunday Night Football