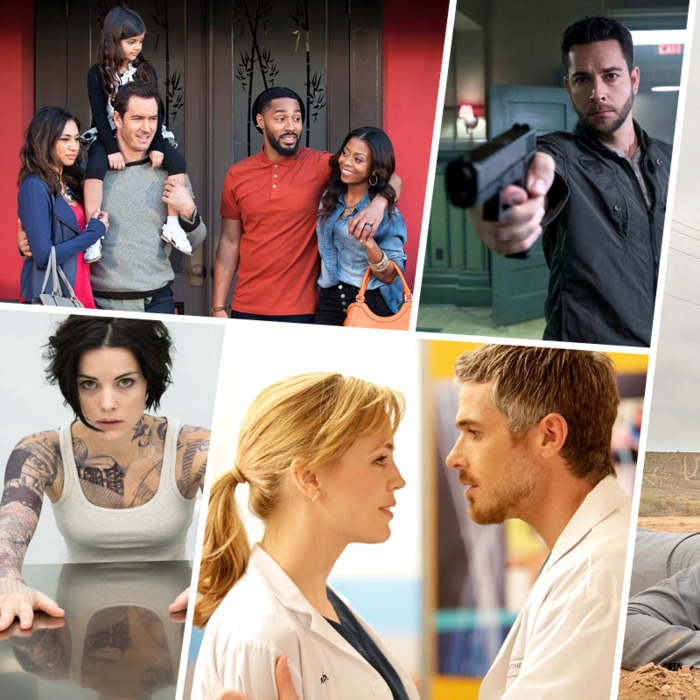 It's Upfronts Week, which means networks are unveiling teasers and trailers for their new 2015–16 TV shows. Here, an extremely preliminary set of immediate reactions to NBC's new series.
Blindspot
A naked, heavily tattooed woman wakes up in a duffel bag in Times Square. She has no memories! Some kind of government conspiracies, etc.
First impressions: I'd be more intrigued if I hadn't been burned by elaborate high-concept shows in the past. (I remember you, Prison Break.) This already looks difficult to care about.
The Player
Vegas! Security firm! A dead wife! Etc.! Also, Wesley Snipes.
First impressions: "From the executive producer of The Blacklist"? You don't say! Also reminiscent of Person of Interest. Falls under "slick bad-boy action procedural" umbrella.
Heartbreaker
Melissa George is a heart-transplant surgeon. But she's also a woman????
First impressions: She spits on people? Is that supposed to be okay? We've all done that by accident, but you're supposed to apologize. Also, Melissa George was actually on Grey's Anatomy, so seeing her in this Schmay's Shmanatomy feels even more egregious.
Heroes Reborn
It's Heroes, but, like … reborn.
First impressions: You still owe us an apology, Heroes. Then we can see about making amends. Then we can see about being reborn.
Best Time Ever With Neil Patrick Harris
It's Neil Patrick Harris's prime-time variety show.
First impressions: Curious! Late-night talk shows have been edging closer and closer to variety shows in the last few years, but a full-on variety series still seems like it could be a good time — and NPH is as qualified as anyone. There's a strong Punk'd!/Candid Camera aspect, too, which could be fun if wielded kindly and not cruelly. (That part's not in the trailer, but it was in NBC's presentation.)
People Are Talking
Mark-Paul Gosselaar and Tone Bell play best friends; Gosselaar's new babysitter is also a porn star.
First impressions: So the score is still Boobs: Good, Marriage: Annoying, and Women: Objects Without Sexual Agency? Great.
NBC hasn't released the trailers yet for a whole bunch of shows, including: Crowded, Hot and Bothered, Game of Silence, Superstore, Chicago Med, You, Me, and the End of the World, and Coach. Our quick takes: 
Crowded's wacky concept: Two parents whose kids left home for college actually like life better without them — until their kids move back home and ruin their new lives as carefree stoners! Pass. 
Hot and Bothered, perhaps the happy result of Jane the Virgin's critical success, stars Eva Longoria as a telenovela star and looks delightfully melodramatic.
Game of Silence, can you overcome your terrible name? At first it looked like Stand by Me meets I Know What You Did Last Summer, until, turns out, this is a show about a bunch of square grown-ups. 
Superstore, America Ferrera was all I needed to accept you into my heart. Luckily, the comedy, which takes place at a Walmart-style superstore, looks like a winner. 
You, Me, and the End of the World is a high-concept apocalypse comedy because The Last Man on Earth had cornered the market on post-apocalypse comedies. This one is toeing a fine line.
Chicago Med looks like what you'd expect a spinoff of Chicago Fire to look like: doctors acting very serious while doing very serious things — plus explosions! 
NBC did not have a trailer for Coach yet, but Bob Greenblatt hopes you "remember this hit show that ran for almost a decade."