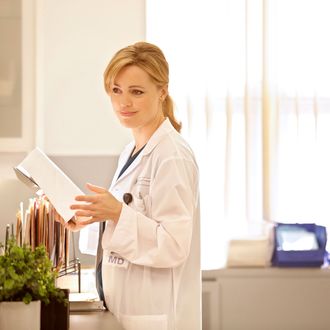 Melissa George in
Photo: Michelle Faye/NBC
NBC isn't wasting any time putting together the pieces of its lineup for next season: The network has just green-lit three drama series, including Dick Wolf's Chicago Med and a conspiracy thriller from producer Greg Berlanti. The pickups come a full ten days before Peacock executives are set to unveil their new schedule to advertisers and the media as part of the annual TV upfronts process. NBC is confirming its orders a bit earlier than most networks, in part so producers can lock in top writers and also, perhaps, to give NBC's marketing machine a head start on promoting the shows to viewers already overwhelmed with programming options. Here are the three shows NBC has ordered to series so far:
Chicago Med: A spinoff from Wolf's established hits Chicago Fire and Chicago PD set in what NBC calls the "pulse-pounding pandemonium of the emergency room." So, basically: ER, with a Dick Wolf spin. S. Epatha Merkerson, Oliver Platt, Laurie Holden, Yaya Dacosta, and Nick Gehlfuss star.
Heartbreaker: NBC is doubling down on medical dramas. In this project from producer Jill Gordon, Melissa George plays Dr. Alex Panttiere, an "outspoken, world-renowned heart-transplant surgeon" who is "stubborn and fearless" and who "always operates on her own term," according to NBC's description of the show. If ChiMed is ER redux, this show is NBC's answer to Grey's Anatomy. Adds the network, "She revels in a racy personal life that's a full-time job in itself, manages the daily demands of skeptical faculty and dutiful interns, and pushes the boundaries of medical science to impressive new heights." The cast also includes Dave Annable, D.L. Hughley, Jamie Kennedy, and Maya Erskine. 
Blindspot: No capes for Berlanti (The Flash, Arrow) in his NBC drama, which the network promises will reveal a "vast international plot" revolving around a mysterious, unnamed woman who is "discovered naked in Times Square, completely covered in mysterious, intricate tattoos with no memory of who she is or how she got there." In a plot not unlike that of The Blacklist, one of those tats is the name of an FBI agent, who's charged with helping solve crimes hinted at by her tattoos. "Each mark on her body is a crime to solve, leading them closer to the truth about her identity and the mysteries to be revealed," NBC promises. Sullivan Stapleton, Jaimie Alexander, Audrey Esparza, and Marianne Jean-Baptiste also star in the show, which is from Berlanti and writer Martin Gero.