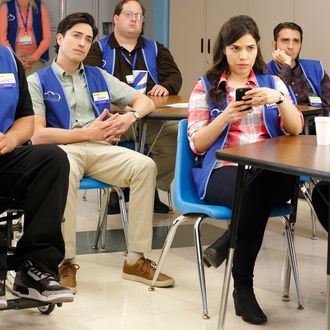 The cast of Superstore.
Photo: Trae Patton/NBC
America Ferrera, Ben Feldman, and Patrick Warburton all got new gigs today, as NBC picked up two new sitcoms to series. Superstore stars Ferrera and Feldman as workers at a Walmart-style retailer who "tackle the day-to-day grind of rabid bargain hunters, riot-causing sales and nap-worthy training sessions" while presumedly being forbidden from unionizing. Crowded sees Warburton and True Blood's Carrie Preston as empty-nesters who suddenly find their house full up when their millennial daughters (Miranda Cosgrove and Mia Serafino) and elderly parents all move back in. So that's an Office-like workplace sitcom, a multi-generational family comedy in the style of CBS; add them to the How I Met Your Mother–style People Are Talking, and it's clear that the Peacock is trying to get out of its sitcom recession by any means necessary.