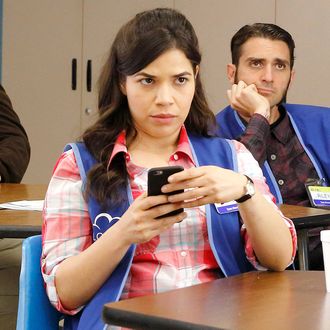 NBC did its song and dance Monday, unveiling its 2015–16 fall wares to advertisers. What looks good? America Ferrerra is returning to lead Superstore, thankfully, and Eva Longoria has her tongue firmly planted in some lothario's cheek in her telenovela comedy Hot and Bothered. And while Bob Greenblatt might not be the most exciting man in the world, at least he got to live out every gay man's fantasy by performing onstage with Dolly Parton. On to the most memorable moments — including a clip of Dolly as "the miniature NBC peacock" — from the NBC Upfront:
Jimmy Fallon can throw zingers, too.
"We're all gonna miss you, buddy," the Tonight Show host said to Greenblatt. "You had a good run." The quip would be innocuous except for the fact that the Hollywood rumor mill has been speculating for months that Greenblatt could exit the Peacock by the year's end.
Thank the TV gods that America Ferrera is leading a TV show again.
NBC doesn't have much in the way of comedies for the fall, but mid-season contender Superstore looks utterly charming. Because America.
Thursday nights are going to give you a heart attack.
NBC is facing off against Shondaland with another attempt to build a night around The Blacklist. It's going to try to make Thursdays "high-octane" by tripling the drama, adding in Heroes Reborn and the Wesley Snipes thriller The Player (no relation to the Robert Altman film).
Hot & Bothered looks like a response to Jane the Virgin.
We need more telenovelas in our vidas! After the CW created a freshman darling this year with its self-referential dramedy Jane the Virgin, NBC is following suit: Eva Longoria stars as the telenovela star of Las Leyes de Pasión who can't speak Spanish and whose ex-husband becomes her onscreen leading man. Yes, there is the requisite amount of cleavage, abs, and wind fans.
NBC is placing its bets on The Blindspot.
There's no more coveted time period than 10 p.m. on Mondays, says Greenblatt, referring to the slot leading out of The Voice. And he gave it to this questionable drama about a woman who can't remember anything but whose body is covered in intricate tattoos — each a clue to a crime to be solved. Christopher Nolan called, it's 2001.
NBC believes in recycling.
Blindspot is just another take on Blacklist. Game of Silence looks to be a mix of Secrets and Lies and Bloodlines. Heartbreaker takes the superwoman theory of Mysteries of Laura and substitutes surgery for crime-solving. And then there are the shows that are literal reboots, like bringing back Craig T. Nelson for Coach. "Hopefully most of you remember this hit show that ran for almost a decade," Greenblatt said. As they say, there's nothing new under the sun.
Medical dramas are also making a comeback.
All the requisite tropes are here: Heartbreaker stars Melissa George as a spunky heart surgeon who wins over her colleagues despite the fact that she's a woman; doctors play basketball to blow off steam at night; Coldplay's "Fix You" is the soundtrack to surgery. Chicago Med, meanwhile, stars a bunch of Very Serious Doctors.
At least Dolly Parton can make the Upfronts interesting.
Dolly Parton was on hand to announce the production of Coat of Many Colors, an original movie about her childhood based in part off the song she penned back in 1971. She came out dressed, as she said, as "the miniature version of the NBC peacock," and sang a couple of songs for the audience, including "Coat of Many Colors" and the song Whitney Houston made famous, "I Will Always Love You." "She can have the credit, I just want the cash," cracked Parton. Greenblatt, whose career has included a stint as a Broadway producer (9 to 5: The Musical), accompanied Parton on piano.
Stephanie Mills will play Auntie Em on The Wiz Live!
Mills, who played Dorothy in the original musical in 1975, will now play Auntie Em. NBC is looking for "new talent" to play the new Dorothy, who will have Mama Mills to give her advice.
Neil Patrick Harris is going to be Punking everyone.
NPH's new variety show Best Night Ever is inspired by the British series Ant & Dec's Saturday Night Takeaway, and it's not just sketches and dares: There are also elaborate pranks and Candid Camera–esque setups. NBC promoed this on one lucky — "lucky"? — media buyer, showing how her colleagues helped set her up for a restaurant prank in which Harris and NBC executives were disguised as the waitstaff at a restaurant. Trust no one!  Sadly, Harris — or "Neil Patrick," as Greenblatt called him — didn't sing a note during NBC's upfront. This may have been the most disappointing element of the whole event.