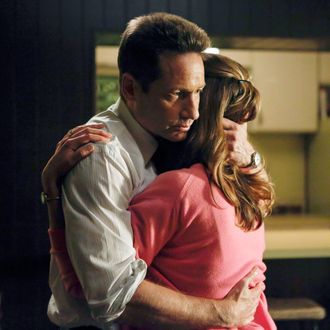 David Duchovny as Sam Hodiak on Aquarius.
Photo: NBC
Every episode of NBC's new David Duchovny drama Aquarius is now available to stream online, but we may never know how many folks end up watching the series that way. Despite years of broadcast and cable execs complaining that streaming outlets such as Netflix and Hulu don't release viewing data for their programs, the Peacock pointedly isn't saying whether it will release similar data for Aquarius. Sources tell Vulture that NBC has asked ratings giant Nielsen to do a custom study to see how the binge-play impacts the show's audience and ratings, so it's possible the network is planning to put out some statistics. But, perhaps worried those numbers will be pitiful rather than impressive, an NBC spokesperson wouldn't comment when asked what kind of data, if any, the network will share with the media. So if it turns out that not a lot of folks binge Aquarius from start to finish, or if the data demonstrates that putting the show online siphoned viewers away from the NBC broadcast network, that information could remain private — much the same way Netflix won't say how many people actually sat through all of Marco Polo.
Of course, unlike with Netflix and Hulu shows, we do have another way to measure at least some of the audience for Aquarius: Nielsen. And while a lot of ex-hippies may have watched last night's linear premiere, the show didn't have much flower power among the viewers the Peacock's advertisers are looking to reach. Despite an impressive marketing campaign, including the network's headline-making announcement that it would make the show available for instant bingeing, the two-hour premiere of the period crime drama notched a modest 1.0 rating among viewers under 50, well below the 1.7 demo rating the Peacock averaged in the slot last year with the unscripted Last Comic Standing and behind the night's two other original dramas (Wayward Pines and Bones, which both averaged a 1.2). Still, Aquarius's total same-day audience wasn't shabby for a summer scripted series: 5.7 million viewers caught the two-hour open Thursday, edging out Bones in early ratings to claim the mantle of most-watched series on broadcast. It's possible the show's potential younger audience was just waiting to binge the show this weekend or, as often happens these days, recorded it via DVR to watch over the weekend. If so, don't be surprised if NBC breaks its streaming silence.