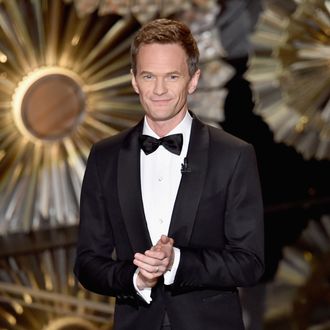 Neil Patrick Harris.
Photo: Kevin Winter/Getty Images
One of the big new tentpoles NBC will be touting at its upfront presentation to advertisers next week is its Neil Patrick Harris variety show, which until now has simply been referred to as … the Neil Patrick Harris variety show. But Vulture can now exclusively reveal the title of NPH's weekly extravaganza: Best Time Ever with Neil Patrick Harris. The one-hour series — bowing this fall and based on the long-running and very successful British show Ant & Dec's Saturday Night Takeaway — will offer a mix of comedy, music, and game-show elements. Harris seems to have been doing some on-site research on the format: He served as guest announcer on Takeaway a couple of months back. It also seems a safe bet to assume that Harris will make an appearance (and perhaps even perform) at NBC's upfront event Monday at Radio City Music Hall.
Meanwhile, despite fears that NBC's green light of the Harris show meant the network had moved on from a possible Maya Rudolph variety show, it appears there may actually be some hope for that project after all. Variety is reporting that NBC has resumed talks with Rudolph and her team about doing more episodes of The Maya Rudolph Show, which aired a test episode last May. An industry insider cautions that the Variety report may be premature and that there's not yet a deal. Still, the fact that talks would resume so long after Rudolph's first show aired is a positive sign that suggests Peacock execs are very much interested in creating more live events.