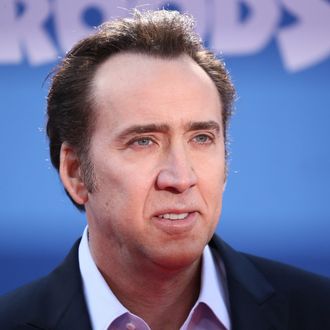 Photo: Neilson Barnard/Getty Images
Nicolas Cage: You know him for his hair, his good movies, his bad movies, and that infectious, often insidious laugh. Last year Cage teamed up with Taxi Driver and Raging Bull scribe Paul Schrader for The Dying of the Light, a film written and directed by Schrader that was allegedly butchered by producers and consequently disowned by both Schrader and Cage.
Now Variety reports that Cage has re-teamed with Schrader for Dog Eat Dog. Even better news: Deadline reports that Schrader will have complete creative control, something he hasn't had in a long while. Schrader, pulling no punches, posted on Facebook: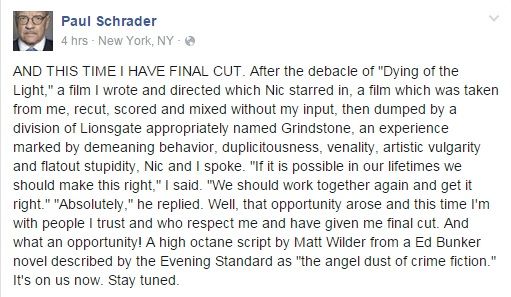 Schrader describes the film as a crime thriller. "Ed Bunker is the crime writer's crime writer… He's in the pantheon and one of the main people who define modern crime writing. He lived the life and lived to tell the story. Dog Eat Dog is Bunker at his best."
Schrader, who specializes in crazy dark movies, and Cage, who specializes in crazy dark roles, are a match made in cinephile heaven.