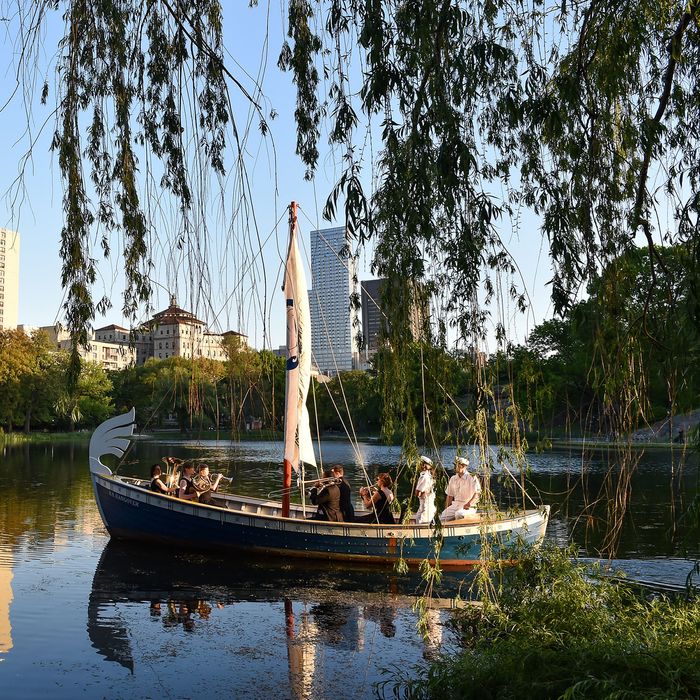 Photo: Billy Farrell.com/BFA
"You've never come to our dinners!" says the financier's wife, in between patting wrists and making eye contact. She's wearing a hot-pink sleeveless sheath, ideal for displaying the finely toned biceps of a wealth-stricken women. We are drinking Champagne in Central Park, at a get-together for Creative Time hosted by Calvin Klein, attended by the women who grace our boards of record, and the artists who flush out their seating arrangements.
"You're, like, too important for us!" she says to the party photographer. The young man explains to this indefatigable lady — just one of the many small, blonde, well-preserved women on the board of the Central Park Conservancy — that he cannot accept her invitation.

Ethics in journalism and all, he says. We chill within earshot, ruminating on his maturity.

"Well, you can pay your way!" she says, rewarding him with a measured grin. She's having such a nice time; her teeth are so small and white. "You can pay then, man!" chokes out Mr. Financier, her husband in dark green slacks and loafers — he is the sturdy, squat branch perfectly suited for his bird lady to perch on — with great congeniality. (The financier says, of his son: "He plays lacrosse. Lacrosse.")

"Now we're talking," says the party photographer, a real swell guy. "As long as the rules are clear."

"I admire that," says her husband, patting the young man with gusto, like you would a football player, or a geriatric choking on a pretzel. "We're so proud of you."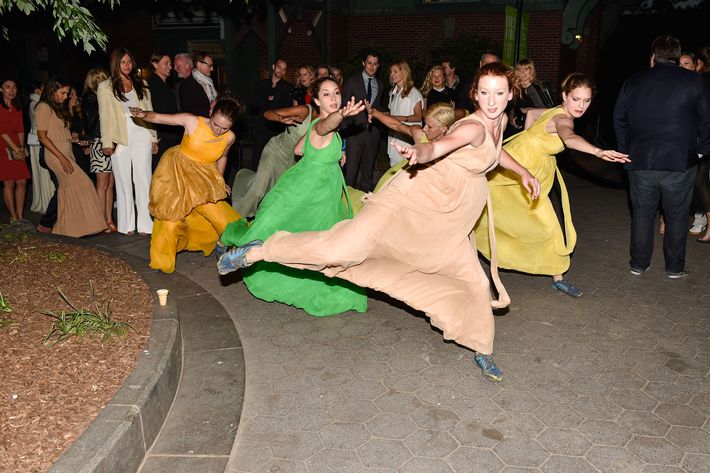 ​"Sundays are good because you guys don't work," says the wife of the financier. (Unfortunately, the photographer is going to Vermont.) Still. Proof positive that just because you keep philanthropy hours doesn't mean you don't know how the other half lives.

Last night, dutifully unsquaring our shoulders from the blue dusk hitting the Harlem Meer — which is Dutch for either "small sea" or "lake," though we prefer the "manmade water body" kitty-corner to Malcolm X Boulevard — we rejigger our attention to the row of strapping young men with jaws holding trays of Champagne whilst making $30 an hour so that 100-plus guests never thirst during the "intimate" and "exclusive" unveiling of Creative Time's new public art installation, a group show scattered across landmarks in the northern regions of Central Park. It opens May 15th, but last night candles glittered in tree wells.  We didn't recognize anyone.

So we talk to a waiter.

"What do you do?"

"I stand here."

"No, in your real life," we clarify, both for him and for ourselves.

"Oh. I'm a model," says the good-looking boy. He's so calm, I feel like he's taking a bath in his mind. This is his only discernible quality. (A fine personality, really, in retrospect, for an underemployed catalogue model.)

"We're the face guys," he adds helpfully.

"Who are people who don't have faces?" we want to know. "The ones vacuuming?" We had admired the jet-black carpet — being vacuumed as we arrived by someone who was not a part-time model — in the interior of the greenhouselike structure that is housing the dinner, where we have not been given a seat at the table.

"Are there any famous people coming?" he wants to know.
"Yes," we say. "Yes, the famous people are coming." We clarify — so much to explain to this young man! — feeling guilty for giving the impression that, like, Jared Leto was coming. "They're, like, famous … in the art world?" we say. Waris Ahluwalia, Tom Sachs, Thelma Goldin, Hamish Bowles …

"Barbara Bush!"

"Any relation to the political family?" he asks, just a deer in the headlights of life, this beautiful boy.

"Yes," we say. "Yes."

"I should get a picture for my dad. He's a republican."

We go back to not so gamely listening to the brass sextet installed in the S.S. Hangover on the Harlem Meer. It drifts back and forth listlessly. (We found out this morning it's Ragnar Kjartansson's contribution to "Drifting in Daylight," which will circle in an "infinity loop.") This "musical boat" annoyed us, though we could see how it might be enjoyed in the context of a lived experience that need not meet aesthetic criteria. Like a college reunion.

We share with a small circle of young professionals the fairly banal — and correct — opinion that this is bad art. We might also have said, "It's not art." This was galling, immediately, to our social contemporaries. "But the French horn is beautiful," a Sotheby's auctioneer explains testily, as if at any moment we might refute its cultural relevance and therefore her honor in front of a colleague. "It is beautiful."

"This is all constructed landscape. It's all contrived," says Karyn Olivier about Central Park, casually flicking her wrist in the direction of our lives. Olivier installed a "billboard" here for the show. She wraps her shawl around her, tightening it. "The only thing that's real or natural is the rock outcroppings."

Christie's sold a billion dollars' worth of art this Frieze Week, yet another reminder that late capitalism isn't natural.

"I'm so happy," says Francisco Costa, the creative director of Calvin Klein.

"You're such a legend," answers Anne Pasternak, the director of Creative Time.

"Are you craazzyy," Costa says.

"No! I'm not crazy," says Pasternak.

"Are you absolutely insaaaane!" says Costa, furiously smiling and touching her shoulder and looking around.

"No!" she exclaims. They look genuinely pleased with everything and each other.

"Can we talk to you for New York Magazine?" we say, deciding to end our stint hovering.

"Yes! We're having a love-fest," says Pasternak.

"You look so gorgeous. Ooh. Yum," says Francisco Costa. We realize he's talking to us. What an energetic man! Now he's circling.

"Is it Oscar de la Renta?" he asks, fingering our knee-length coat.

We explain this brown silk and tweed-patterned jacket with a light fur collar — a gift from a Turkish artist who, when giving it to us, said, "Put this on, please, cover your outfit" — is actually Cavalli.

"But it looks Oscar," says Anne Pasternak.

"Wooow. It looks Oscar," Costa agrees.

"Yeah," says Pasternak.

"Beautiful," says Costa. "Gorgeous. I need to take a picture. Go ahead while I take your picture."

He takes our picture. He takes it again.

"Did you see any art this week?" we ask.

"No!" Costa says.

He smiles, I smile.

"You're so beautiful," he continues. "This whole thing is so beautiful. So Elizabethan."

We thank him, not sure if he means us or this or life at large.

"Have you been socializing in New York?" we try again.

"I have been!" he smiles widely. "Like never before."

We hone in on another wife of a financier, hoping to hear, I don't know, an art story! The striking Suzanne Cochran, trustee of the Central Park Conservancy and Creative Time — blessed with a real rasp of a voice and the confidence of a riding crop — strides toward cocktail hour in what can only be described as a wallpaper sari.

(Cochran once was a source in a New York Times article with the lede, "For a select group of New Yorkers, having dinner at Harry Cipriani on 59th Street is considered 'going downtown.'")

"Did you buy any art this week?" we ask.

"I bought a Spencer Finch at Frieze!" says Cochran.

"That's great. I love this story. It's so great," says Nina Katchadourian, an artist who seems wary of us, or the press, or just the scene by the meer.

​"It was so exciting. I emailed my husband," says Cochran, light blue eyes popping with her icy short hair. (The valor of pallor!) "He says, 'Okay, I'm going to leave it up to you, but we have nowhere to put this piece,'" she pauses dramatically. "They sold out. All the pieces." She sucks in the cool night air, satisfied.

The actress Marisa Tomei says she'll answer questions "with the caveat that I haven't seen any of the art." Tomei's cackle rose and fell over the hushed circles all night like the call of a bird of paradise, or a lone celebrity.