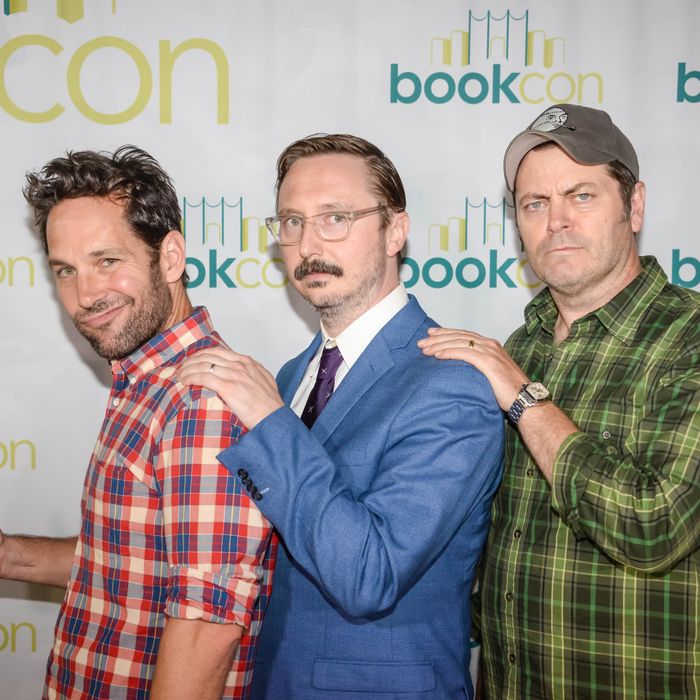 BookCon's Nick Offerman–John Hodgman discussion (with special guest Paul Rudd) was a total bro-fest, in the best possible way. The men sat on wooden stumps (or end tables) instead of the nice white couches that were provided and proceeded to joke and joke. After Offerman played two songs ("The Rainbow Song" and "Paddle Your Own Canoe"), Hodgman asked him about his new book, Gumption, which is composed of 21 profiles of people who embody the titular characteristic.
When asked for a definition of gumption, Offerman offered: "To me it has a rather loose definition, but it's the spunk, the pith, the gravel one is required to have the get-up-and-go, to see the work that needs doing in their lives around them and roll up their sleeves and get to work at it. And I find it most moving when people are working to make the world a more decent place for all of us. And sometimes they do that with actions and political policies, sometimes they do that by building wooden boats, sometimes they do that by giving us incredible masturbation techniques which actually got cut from the Eleanor Roosevelt chapter." "Once FDR got in a wheelchair they had to get creative," he explained.
The laughs kept on coming. Here are some of the best moments:
Before playing "Paddle Your Own Canoe," Offerman reminded fans that he would be signing books at "table one" with Hodgman. "We requested table 69," he deadpanned, joking that Mindy Kaling and BJ Novak were already there.
Hodgman suggested that Offerman only wrote his book because he wanted to meet the people included in it, prompting Rudd to ask, "What's George Washington like?" Offerman replied, "A tall motherfucker," adding, "red bush." 
Offerman talked about how hard it was to narrow down the list of subjects for Gumption. "My editor quickly said, 'Okay, if we do 20 pages a piece, we can have 16.' And I said, 'I'll have 21.' And she was pregnant at the time but I fought her with my fists. There are 21 chapters in the book. The baby is fine. His name is Owen. We get along great."
Robert Redford was going to be in Gumption, but Offerman ran out of space. Offerman bemoaned the fact that he didn't get to interview Redford: "With him I was going to just sit and look at his face." He described his face as "a magnificent little saddle."
Offerman talked about preferring books to iPads and screens: "I greatly prefer just the artifact. I love having a book that I can carry with me. And also it's great for killing bugs or cudgeling vegans. I'm just kidding, I love vegans, because they leave more meat."
An audience member asked each man what advice they'd give to their younger self. "Well, for me I'd say use two condoms," said Offerman. Hodgman added, "I'm actually Nick's son." Hodgman's own advice: "Don't turn down a small role on Breaking Bad because you're afraid to live in Albuquerque."
An audience member asked Offerman if his wife (Megan Mullally) is as funny in real life as she is on-screen. "She's incredibly funny. She's such a ridiculous goddess of talent, which makes me astonished that she's kept me for 15 years," he said. "Not only is she that funny but then she [can] turn around and sing in a way that makes you cry with pleasure. And she does some other things, also, which bring tears to your ears and blood coursing through your veins."
In response to a question about his mustache, Offerman said, "I'm so grateful that Ron Swanson and [Parks and Recreation] worked so well that it makes people angry that I would dare look different. I understand that that's a compliment when they say that it makes them puke to see my face [without a mustache]. But I do want to remind them that is my face they're accusing of being nauseating. But, no, I was playing a guy with a mustache and now I'm not playing him so I want to play other people, so I had to take it off. And if I keep it off for a while then maybe I can bring it back and play some sort of bumbling sheriff."
As for writing another book, Offerman said, "We're talking about maybe doing a woodworking book centered around my shop in a couple Christmases that might be the next endeavor. Or Big Bang Theory fan fiction."