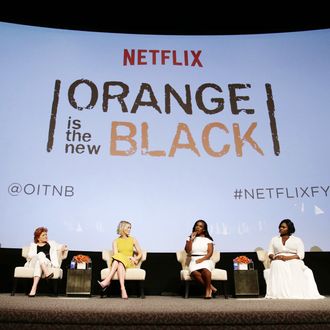 Photo: Eric Charbonneau/Netflix
At a panel discussion for Orange Is the New Black at the Directors Guild West in Los Angeles Wednesday night, the cast and creator, Jenji Kohan, were tight-lipped about details on the upcoming season, but Kohan volunteered a couple tidbits: season three will focus on faith and motherhood. Motherhood likely refers to Daya (Dashcha Polenco), as she's pregnant, and we know she'll be giving birth behind bars to her and prison guard John Bennett's baby. As for faith, will new assistant warden Joe Caputo continue to enlist Sister Jane's help in his struggle to get things under control at Litchfield? Kohan also said the next season will be lighter in tone, noting with a laugh, "we went to OZ" in season two, referencing the darkest of all prison shows, HBO's gritty, violent drama. Less shivs, more comedy, we're on board for that.
Season three of Orange Is the New Black premieres June 12 on Netflix.