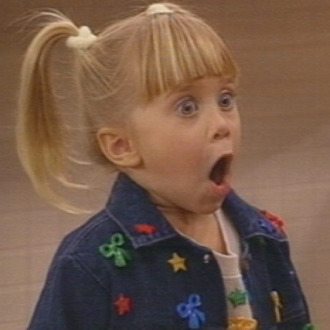 Fuller House, the much-belated revival of the millennial-favorited family sitcom Full House, will be slightly less full: Mary-Kate and Ashley Olsen will not be returning to the Tanner household, according to The Hollywood Reporter.
Thanks to the endearing childhood role they shared as Michelle, the toddler with the penchant for witty catchphrases, the twins became household names. They got the gig when they were just 9 months old, and since the show ended they've established themselves in the fashion industry and been a constant source of tabloid fodder, while their younger sister, Elizabeth, has become an acclaimed film actress in her own right.
Executive producer Robert L. Boyett released a statement regarding the Olsens' absence:
"Although Ashley and Mary-Kate will not be a part of Fuller House, I know how much Full House has meant to them and they are still very much considered family. It has been exciting to see how they have built their professional careers, and I support their choice to focus on their fashion brands and various business endeavors. I appreciate their support and good wishes towards Fuller House."
Most of the original cast is slated to return, including John Stamos (also an executive producer), Dave Coulier, Candance Cameron Bure, Jodie Sweetin, and Andrea Barber. Bob Saget and Lori Laughlin are still in talks to join. Stamos is allegedly "#heartbroken" that the twins won't return, though his heartbreak belies the brief tiff he had with them in April. On that note, he also retweeted this:
Uncle Jesse later added on Facebook:
[T]his is not a money gig for any of us — quite the opposite. We want to give the fans what they deserve for supporting us for so many years. We all just want to have fun, do it in a classy way on Netflix, and have a good time. Sad that a few don't share the rest of the cast's opinion—I can only wish them the best.