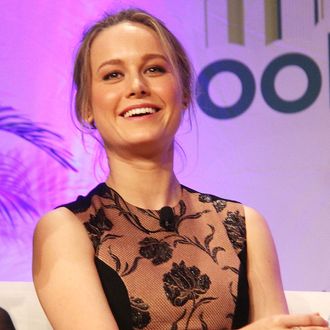 Photo: Laura Cavanaugh/Getty
"I need you clapping your hands and stomping your feet — it's gonna get crazy up in here," said the warm-up guy — an odd way to introduce yesterday's BookCon panel on the book-to-film development of Room, novelist Emma Donoghue's boy's-eye view of a mother and son trapped in a psychopath's shed.
For all the darkness of the plot — inspired by the case of Austrian kidnapper Joseph Fritzl — the conversation, moderated by Entertainment Weekly's Melissa Maerz, was surprisingly upbeat. Donoghue's research delved into Scandinavian prisons and refugee families, but the feat of writing a novel from a 5-year-old's perspective might have been impossible without her own child.
"I paid attention to his Legos and his Pokemon in ways I never would have," she said of her son, Finn. As a fact-checking experiment, she decided to highlight every phrase in the book that she'd stolen from him, and found that almost no page was unmarked. "Writers like to say, 'Every baby costs you a book,'" she said. "But it's the best thing I could have done for my books, oddly enough."
Maerz asked what it was like to write the other main character, Ma, who lies to her son about the fact that his entire life is circumscribed within an 11-foot-square space. Donoghue said she was named for the subject of Jane Austen's Emma, whom Austen once called "a heroine whom no one but myself will much like."
Maerz copped to crying after watching the trailer before introducing its adult star, Brie Larson. Larson first made a visor of her hand, so she could see the crowd through the spotlit darkness, and then began to tell the story of her preparation. The Method Journey might be an Oscar-nominee cliché, but hers was more interesting than most.
Larson didn't leave her house or use her phone for a month, stuck to a diet of mostly apples and protein shakes, and built 20 pounds of muscle in the interim. Her first real food upon emerging was a crack pie from Momofuku, she said. "It was amazing." It was her physical trainer who provided her, indirectly, with a professional epiphany, by showing her an ultrasound of his wife's child, "which is crazy," she said. (So she and Scott Walker at least agree on that.) "I lived this moment of Ma, having this recognition that there's something outside myself that I have to survive for," she said.
Larson also built a close relationship with the real star of both the movie and the BookCon panel, Jacob Tremblay, who plays 5-year-old Jack. Tremblay emerged halfway through the event to loud applause — and aced it, thanks in part to Brie's protective hand (she kept adjusting his shirt and mike).
Tremblay, who's actually 8, was initially shy with Larson, "but then my mom said we should have a play date so I could get to know her more. She came over to my apartment in Toronto and we built a Lego." Larson agreed: "It was cool." She sang the praises of child actors. "They're really hard workers. They have no ego, they don't care about the size of their trailer, and they just give. It makes it so much fun. I knew the movie could never go 100 percent dark as long as he was around." When she was unable to turn off the waterworks, Tremblay would distract her with Jackson 5 songs. "The camera's off," he'd say. "Stop crying!"
Larson put Tremblay at ease in the Javits Center's theater by showing him how to shade his own eyes to see the audience. He gamely took questions from Maerz and the audience: Yes, he jumped off a truck, but it was stationary, and not that high; it was easier to do the scenes in the room than those following the escape "because we got to play more," though it was nice to film his post-escape haircut "because I didn't have to wear that wig anymore."
He went on to describe the similarities between himself and his character, the boy-narrator. "Well, you know, I'm pale, and he was born in a room so he's really pale, and also, he has lots of imagination, the same as me. But I didn't have long hair, and I don't like Dora the Explorer."
"You're made for the press, kid," said Maerz. "They love you."