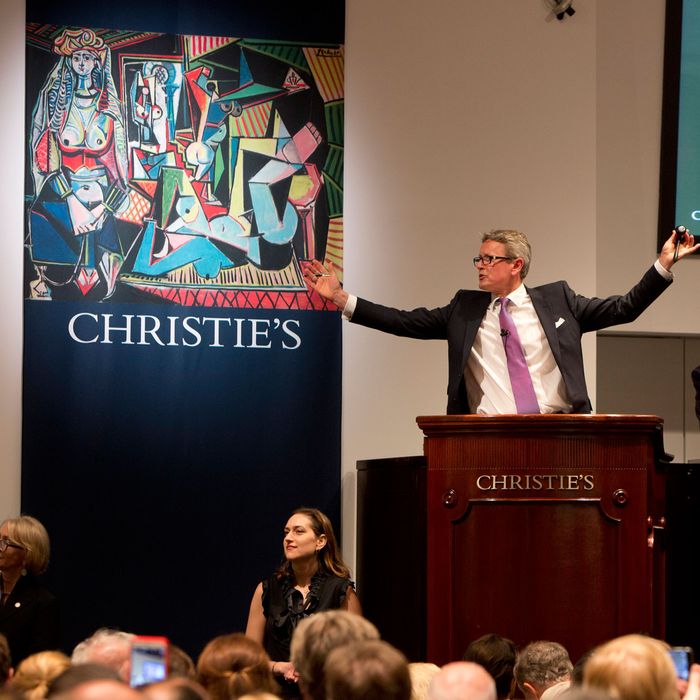 The scene at Chirstie's last night.
Photo: Courtesy of Christies
"One of the greatest moments in auction history," proclaimed Christie's global president Jussi Pylkkänen after presiding over the "Looking Forward to the Past" sale at 20 Rockefeller Plaza last night. Comprised of choice 20th-century works — ranging from Impressionist classics to contemporary stunners — the 90-minute auction brought in a heady $705,858,000 for just 34 lots (only one piece went unsold) and established new price benchmarks for sculptures and paintings on the block. Even adjusting for inflation, Picasso's Les Femmes d'Alger (Version 'O') became the most expensive work of art ever purchased at auction.
"It was a gutsy sale, and it worked," said Amy Cappellazzo, of advisory firm Art Agency, Partners.
Pitched to the stratospheric end of the market, the goods ranged from a 1900–01 Claude Monet Houses of Parliament sunset scene to a 2011 Urs Fischer cast-wax sculpture of his friend Rudolf Stingel studded with candle wicks for lighting. What's more, most of the pieces assembled for the sale were believed to be unobtainable until their owners were approached, according to the house's Loïc Gouzer, architect of the sale's concept of cross-generational artistic dialogue.
Lightning has struck thrice for Gouzer, an international specialist in contemporary art (and Leonardo DiCaprio consort and sport spear-fisher). He was behind last year's buzzy $134.6 million auction "If I Live I'll See You Tuesday," which focused on 1980s artists and their aesthetic offspring. His "11th Hour" charity collaboration with DiCaprio in 2013 was just as savvy — it attracted eyes for its megawatt celeb imprimatur, basked in goodwill by supporting the actor's wildlife foundation, and raised almost $40 million. He and his boss, international head of postwar and contemporary art Brett Gorvy, share an "If you build it, they will come" attitude toward sale curation, which serves nicely as a defense against market pandering — but, well, it also kind of typifies market pandering at the same time.
As expected, a new record was set for Picasso — and for any work of art at auction — when Les Femmes d'Alger (Version 'O') (1955) sold for $179,365,000 (all prices include buyer's premium) after more than 11 minutes of back-and-forth among five phone bidders, eventually winnowed to two: Gouzer versus Gorvey, two colleagues picking away at each other, the billionaire buyers lobbing bids on the horn. The painting had been estimated to earn $140 million, approaching the record $142.4 million paid for Francis Bacon's Three Studies of Lucian Freud at Christie's in November 2013.
Gouzer said that astronomical estimate was actually quite justified.
"We sometimes take Picasso for granted, but in this picture we see how modern, how fresh he really was," he said.
The main moment of drama in the sale came when, at $159 million, Gouzer proposed $159.5 million, forcing Gorvy to draw another $500,000 out of his client for the win. When asked at the post-sale press conference how clients sound when they're spending that kind of money, Gorvy replied, "Tired." May that hint at the time zone that the client was calling from? Or just indicate the normal amount of fatigue involved with spending a completely outrageous amount of money on a canvas?
Les Femmes d'Alger was not the modern master's only success of the night: The radiantly hued Dora Maar portrait Buste de Femme (Femme à la Résille) (1938), a contribution from Steve Wynn, scored $67,365,000 against an unpublished estimate of some $55 million.
A hand-painted bronze sculpture by Alberto Giacometti, L'Homme au Doigt (1947), notched $141,285,000 — making it the most expensive sculpture ever sold at auction, to underscore the excitement of last night — but only after some notably protracted deliberations. There were also new records north of $24 million for Chaim Soutine, Peter Doig, and Jean Dubuffet — the last for a canvas whispered to have been consigned by Steven A. Cohen.
As impressive as the numbers are, much of the bidding was conducted between house reps on their phones, and enthusiasm failed to grip the sale room. The days of fierce paddle-clashing amid barked figures may be over. Although attendees raised their phone cameras like lighters at a concert each time the gavel threatened to fall for Les Femmes d'Alger and clapped politely for results north of $50 million, the prevailing attitude was overwhelmingly blasé — perhaps because of the 35 lots, 18 of them carried financial guarantees, effectively making them presold.
Yet despite such confidence, for much of the sale, the bids jerked along in fits and starts, and at times Pylkkänen appeared to be wringing bids.
"Anyone else for the sponge?" he asked while pushing an Yves Klein sculpture ($4,645,000) in the aftermath of the Picasso record.
Two exceptions were a severely slashed red canvas, Concetto Spaziale, Attese (1965), by Lucio Fontana, which cleared its $15 million high estimate with a final price of $16,405,000, and Cady Noland's steel cutout Bluewald (1989), carried aloft on a flurry of raised hands to beat its estimate of $6–8 million for a final price of $9,797,000, another artist record.
The sale's lone buy-in was an untitled hanging mobile by Alexander Calder. Lacking any evidence of his primary palette or distinctive bowed shapes, the $5.5–7 million estimate was a stretch.
One wonders whether there's any money left for the "routine" evening sales this week, but Pylkkänen is confident that the audience of potential buyers is both broad and deep.
"The shape of the market continues to change," he said, pointing out that a high proportion of bidders entered the market after 2009. And last night, bidders came from over 35 different countries.
"It was great to see the top end of the market tested in this way," says Cappellazzo. "But the danger is that you can't keep pulling rabbits out of hats, because then it doesn't look like magic. In all cases, you want to leave the market wanting a little."