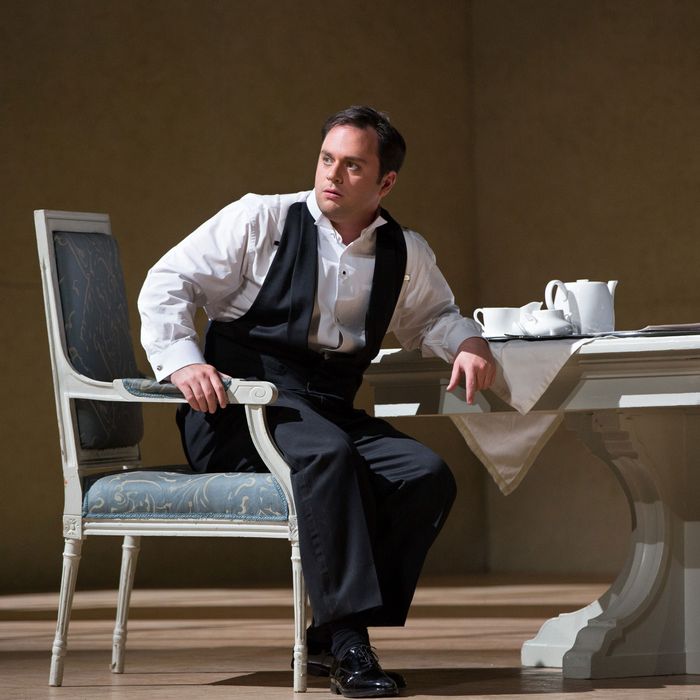 Paul Appleby in The Rake's Progress, at the Met.
Photo: Marty Sohl/Metropolitan Opera
Having hauled The Rake's Progress out of deep storage, the Metropolitan Opera is doing the showbiz equivalent of blinding your math teacher by bouncing sunlight off a watch face. A few quick dazzles and the opera will get tucked back out of sight, leaving the aftershock of brilliance dancing on the retina. (There's one more performance on Saturday.) Jonathan Miller's 1997 production has hardly aged at all, and here it gets a shot of rejuvenating energy from a fresh and flawless cast.
The strongest link is Paul Appleby, the apple-cheeked, honey-voiced tenor who takes the character of Tom Rakewell from puppy in a sweater-vest through bitter roué to delusional inmate, finding a consistent hollowness within that enormous range. In the opera's moralistic universe, Tom pays an awful price for being a greedy, shortsighted fool who learns too late how to love. (In real life, such people are elected to public office.) But Appleby makes us want to spend an evening in his company because he handles Stravinsky's neo-Mozartian music with a deep understanding of both Mozart and Stravinsky, because he infuses a cool score with restrained despair, and because he sings with such irresistible clarity. The Met is better known for showcasing made-in-Europe superstars than for nurturing its own, but Appleby came out of the company's Lindemann Young Artist Development Program and has patiently worked his way up to star status. The Met's general manager Peter Gelb should not only be planning productions around him for the foreseeable future but might also consider tattooing a picture of the guy on his biceps.
On second thought, perhaps Appleby's not the best thing about this show: Maybe it's Stephanie Blythe, who sashays through the role of Baba the Turk with her opulent mezzo and the timing of a born comedienne. Or Gerald Finley, who sings Nick Shadow with unctuous charm and a chocolate baritone. Or Peter Davison's deceptively pared-down and lightly surrealistic sets. Even the imperfections are appealing. The librettists, W.H. Auden and Chester Kallman, made Ann Trulove inert and blandly pure, but Stravinsky gave her some lovely arias, and Layla Claire sings "No Word From Tom" with the touching, grass-fed tenderness of a plain country girl.
The Rake's Progress is one of those operas, along with Berg's Lulu and Debussy's Pelleas et Mélisande, that the Met's music director James Levine does for love and the Met does out of love for James Levine. Accordingly, the orchestra doesn't get a crack at Stravinsky very often, and Levine doesn't draw out the diamond-edge glitter and fierce precision with which he's set a global standard. Instead, he brings out the score's plasticity, its vocal breath, and neoclassical elegance. As a result, there wasn't always total agreement about when to play what, or how quickly, or how loud. Still, since Levine's the one plugging for this problematic masterpiece and attending to all those other musical marvels, he gets to leave the occasional air bubble in the glaze.