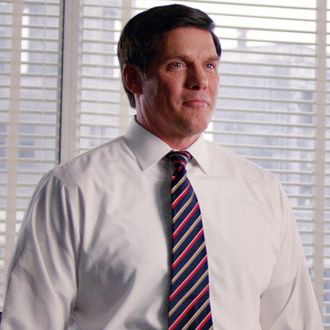 Ferg, actual creep.
Photo: Courtesy of AMC
BuzzFeed reporter Susan Cheng has a deeply uncomfortable story about Paul Johansson, who did a GIF post for the site on "13 Ways to React to Dicks at Work." Turns out he's one of them. During this encounter with Cheng and three other female BuzzFeed staffers, Johansson acted just like his character Ferg Donnelly would have on Mad Men: There was inappropriate touching and bad rape jokes.
As he was speaking with one staffer about tennis, Johansson told her:
"My serve is pretty strong," he said. "I'll serve the ball right down your throat."

My head snapped up. I was so alarmed, I'd nearly missed his next words, which involved him telling my co-worker that he wanted to take her into his cave (apparently a reference to Canada, where he's from), where he'd put her on her back.
Then, Ferg got physical and "slung his arm around [her] back." The encounter continued:
"I'm not shy," he said to my colleagues and me under the hot fluorescent lights inside the studio. I laughed at his improvisation, which admittedly was pretty funny. Then he said, a little too casually, "I'm sweating like a rapist," wiping his forehead and the sides of his face, seemingly not paying attention to the camera that was recording those very words.
Another bad joke, followed by more inappropriate touching:
With his hand on my back for the second time, he asked, "Do you ever take people in there and make out with them?"
When Cheng reached out to Johansson for comment, she got a letter from his lawyer instead, which said that Cheng was making things up or that some of that stuff was not that bad. It's 2015, but for Paul Johansson, it's still 1970 at McCann Erickson.