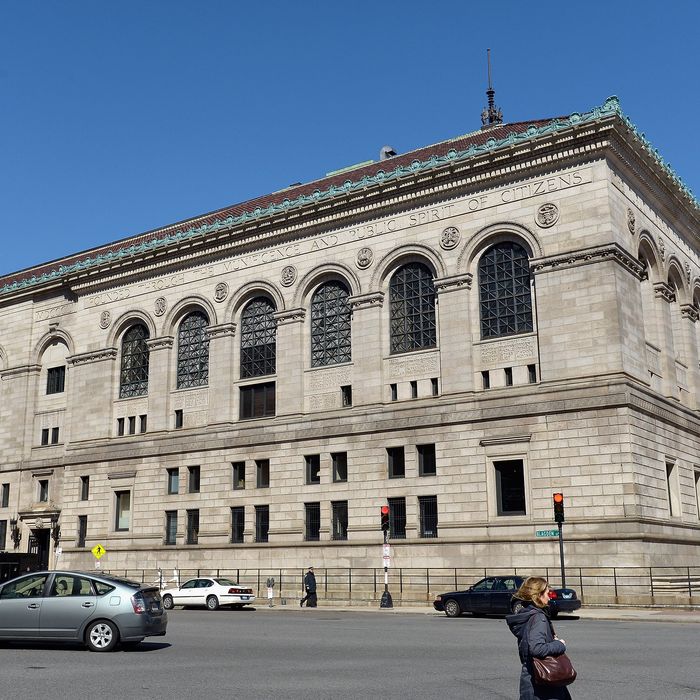 A general view of the Boston Public Library in Copley Square on April 17, 2014 in Boston.
Photo: Paul Marotta/2013 Paul Marotta
Two pieces of art worth over $600,000 are presumed to have been stolen from the collection of the Boston Public Library. The pieces are Dürer's Adam and Eve (1504) and Rembrandt's Self Portrait With Plumed Cap and Lowered Sabre (1634).
The works were discovered to be missing on April 8, and were reported to police on April 29. According to an anonymous source, however, the library administration was aware of the absence a year earlier. "It is our hope that these two significant pieces have simply been misfiled," a statement by BPL president Amy Ryan released Tuesday reads.
While it might seem like an elaborate joke, it's not hard to imagine how the prints may have simply gotten lost. The Rembrandt and Dürer could have disappeared amidst the 200,000 other prints and drawings that the library owns. Finding them might take as long as discovering that they were missing.
Police are now investigating the possibility of an inside operation conducted by library employees, according to the Boston Herald. The prints weren't on public view, so the possible crime would not have been as dramatic as the unsolved Isabella Stewart Gardner heist in 1990, in which thieves disguised as Boston police officers took 13 objects from the museum. A $100,000 reward was announced for information leading to the recovery of a Napoleonic flag finial included in the haul.
Ryan told the Boston Globe that "while strict procedures for viewing items in the collection are in place, it is always a balance to fulfill our obligation to make collections open to the public to study and enjoy, while preserving them and keeping them secure."
And sticky-fingered people, ostensibly doing research, do steal valuable old things from libraries.
What probably didn't happen is that, as happened last year in Italy, a cleaning woman threw away a work by modernist sculptor Paul Branca when she mistook it for trash last year. The BBC noted that in 2001, a Damien Hirst installation at a London gallery (consisting of a collection of beer bottles, coffee cups, and overflowing ashtrays) similarly ended up in the the garbage, and in 2004, a bag of paper and cardboard by German artist Gustav Metzger was pitched while on a display at Tate Britain.
The case is being handled by the Boston police public corruption unit, which deals with incidents involving city workers, according to WCVB.