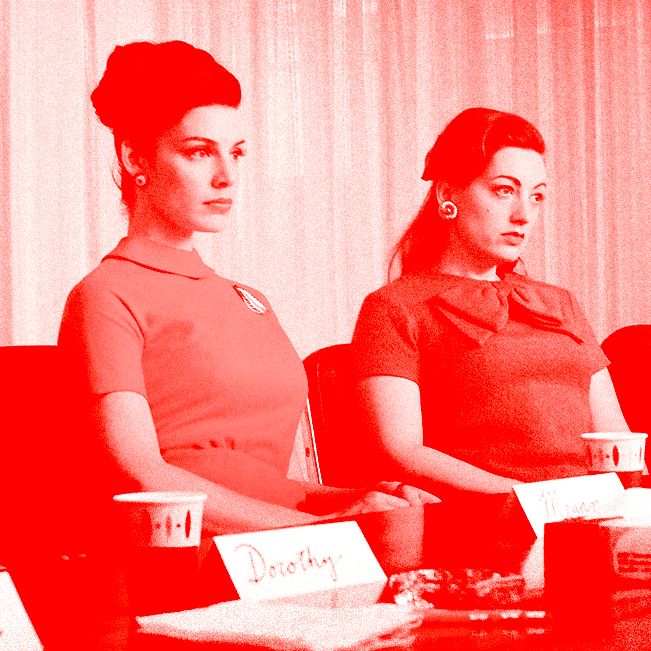 The classic 1960s musical How to Succeed in Business Without Really Trying (starring Mad Men's Bert Cooper, actor Robert Morse, in the career-defining lead role) may have declared that "a secretary is not a toy" (with tongue firmly in cheek), but that would have been nothing short of preposterous to the employees at Sterling Cooper. From affairs to marriages to thoroughly regrettable one-night stands, Mad Men's power players have spent seven seasons redefining workplace harassment in prime time, with Don Draper pretending to maintain a higher standard than his colleagues but, unsurprisingly, falling short. As Mad Men draws to a close, a worst-to-first ranking of Don's secretaries (along with some of their most telling lines to Don and other bosses) reveals a lot about the history of male-female relations on the show, as well as the roller-coaster career of Mr. Draper himself.
8. Megan Calvet (Jessica Paré), Seasons 4 and 5
"You judge people on their work. I'm the same way … everything else is sentimental."
Would-be actress/front-desk receptionist Megan earned an emergency promotion to Don's desk when secretary Ida Blankenship died suddenly. While I'm firmly in the pro-Megan camp with regards to her various roles as girlfriend, wife, copywriter, soap-opera actress, and party hostess, it's hard to ignore her failings as a secretary, given that she very nearly single-handedly destroyed Sterling Cooper. Filling in a security-clearance application for the identity-stealing, Army-abandoning "Donald Draper" and having him sign it without making sure he knew what it was is not the way to advance your career, no siree. (Unless, of course, the boss gets you a promotion/transfer and marries you.)
7. Lois Sadler (Crista Flanagan), Season 2
"Mr. Draper, I try to cover for you all the time."
In a near photo finish with Megan for worst in class, switchboard operator turned secretary Lois managed to fail spectacularly in her very brief tenure as Peggy Olson's successor. Peggy was a tough act to follow, and Lois's inability to "manage people's expectations" of Don without hurting his reputation got her sent back to the board in a hurry. She later became secretary to pompous copywriter Paul Kinsey after her most memorable moment, which came not with Don but rather at the wheel of an out-of-control John Deere riding mower. Since her error, unlike Megan's, may have actually saved the firm, it brought her out of the doghouse.
6. Allison (Alexa Alemanni), Seasons 3 and 4
"You're not a good person!"
Is it a little unfair to rate Allison this low? It was Don's wildly inappropriate behavior, after all, that placed her in such a terrible position (drunkenly sleeping with her, giving her a cash bonus soon after, and offering to give her a good recommendation for her next job, provided she wrote it for him to sign). But being able to manage a horrible boss has always been a part of any assistant job, and she wasn't up to the task. The best of Don's secretaries wisely kept a wall between their professional lives and his private one.
5. Jane Siegel (Peyton List), Season 2
"I hope you've noticed I'm a discreet person."
After Lois failed to fill the desk adequately post-Peggy, Joan temped at the job while promising to find Don another Peggy Olson, but one who would be happy with the job. Joan picked Jane, a 20-year-old whose attention-getting wardrobe choices helped make her a favorite of the Sterling Cooper "welcome wagon." Once Jane's aggressive efforts to sway Don's affections failed, Jane managed to win over Roger Sterling — amazingly, while on her way out of the office after Joan fired her — regaining her job and eventually becoming the next Mrs. Sterling. As a social climber, Jane was first-class (even if it required the occasional blackface serenade), but as Don's secretary — he fired her as soon as he learned of her affair with Roger — she was everything Don didn't want: a too-attractive nuisance.
4. Ida Blankenship (Randee Heller), Season 4
"You're always asleep in here!"
Following the sudden departure of Don's secretary Allison, Joan gave Don the secretary he deserved, in more ways than one: Bert Cooper's longtime assistant, Ida Blankenship. Referred to as "the Queen of Perversions" in the notes for Roger Sterling's memoir, Blankenship's presumably tamer last days were spent being neither awed by nor in love with her final boss. ("She died," as Roger Sterling famously put it, "as she lived: surrounded by the people she answered phones for.") Put on Don's desk to teach him to treat his secretaries better, the lesson didn't exactly take, given that he slept with his next secretary, Megan, even though one could argue he at least tried to treat her right by marrying her. (It's doubtful that any of the ex–Mrs. Drapers considered that an act of kindness by the end.)
3. Peggy Olson (Elisabeth Moss), Season 1
"You know this is what you would do."
Mad Men's very first episode introduced Peggy, a naïve but not exactly innocent secretarial-school graduate who replaced the never-seen "Eleanor." ("She moved on," explained Joan, adding, "Draper wasn't interested.") Ambitious, eager to learn, and anxious to fit in, Peggy might well have been the best secretary Don ever had if her talent for writing ad copy hadn't been discovered by Freddy Rumsen, whose alcoholic self-destruction — wetting his pants while preparing for a pitch meeting — created an opening for her to escape the desk and become the firm's first female copywriter. While Peggy is in many ways Don's protégé, their battles over her eagerness (and, as Don sees it, impatience) to be recognized leaves Freddy as her biggest supporter, a role he plays long after he leaves Sterling Cooper, encouraging her to leave the firm and even recommending her to eventual employer (and, unfortunately, more), Ted Chaough.
2. Dawn Chambers (Teyonah Parris), Seasons 5, 6, and 7
"Obviously I can say anything I want."
After Megan became Don's girlfriend, she was replaced full-time by Dawn (the similar-sounding "Don" and "Dawn" amusing to everyone but them), the firm's first black employee. Hired at Sterling Cooper Draper Price as the result of a prank that forced the company to become an equal-opportunity employer, Dawn's efforts to be great at the job pretty much worked, though the timing in the larger scheme of things (turmoil in the firm, and Don's epic confessional meltdown during a pitch to Hershey's and subsequent exile from the office) led her to be at arm's length from Don for a lot of their time together. And her willingness to prioritize her job over her friendships and continue to rise at the office despite working for Don, Joan, and even the hated Lou Avery simultaneously earns her some serious props.
1. Meredith (Stephanie Drake), Season 7
"I don't remember everything everybody says."
Meredith is a mystery for reasons beyond her lack of a last name (seriously, Weiner and friends, give her a surname already). At times she's romantic towards Don with her over-the-top declarations of support ("I know you're feeling vulnerable, but I am your strength"), at other times strident about keeping things strictly professional ("Don't call me sweetheart") when he seemed to have no interest in them being any other way. But the former front-desk receptionist (who let a process server get to Joan, prompting a memorable lapse in decorum) has moved beyond seemingly empty-headed ditziness as Mad Men's final season has unfolded, gamely attempting to cover for Don's most recent disappearing act, helping with his real-estate needs, and offering interior-design help. While it seems unlikely that Don is going out the window — if only because the McCann ones don't seem to open all the way — Meredith has become the assistant Don needs most at what may well be the last job he ever has.