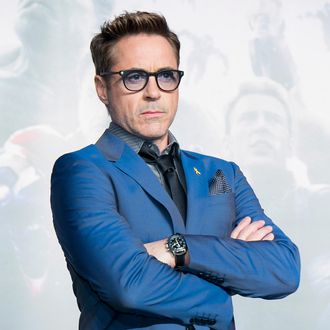 Photo: Han Myung-Gu/Getty Images
Hey, are you a hip, young filmmaker with just the perfect part for Robert Downey Jr., one that really taps into his skills as a thespian? He's a great choice! He's one of the most bankable stars and can do everything from big-budget action flicks to talky dramas, but he's kind of had it with these little low-budget indies. Why? He explained on Entertainment Weekly Radio:
Because they're exhausting and sometimes they suck and then you just go, "What was I thinking?" But I'm interested in doing all different kinds of movies. Sometimes the little movies are the ones that wind up taking the most out of you because they're like, "Hey, man, we're just running a couple of days behind. Do you think you can stay through your birthday and then come back on the Fourth of July. And, by the way, but, like, the crew — can you pay for the craft services? And, oh, by the way, man, when we go to Sundance, it's like, can we just sit you in a chair and you can sell this for six days in a row so that we'll make 180 bucks when it opens in one theater? God, this is so powerful what we're doing. What do you think of the movie? You saw it last night?"

"I thought it's mediocre."

"Yeah, isn't it the greatest?! Man, everyone's an artist here."

"Actually, most of you are kind of inexperienced and lame."
There is a very good point in there: Just because a movie is small doesn't mean it's going to be good. It's common for people to talk about how so many Hollywood blockbusters suck, but the hit/miss ratio is likely the same, if not better, than indies. And boy, can you imagine the craft services on a movie like Avengers? There were probably full-size candy bars, Mexican Coca-Cola, and both an omelette bar and a carving station at all hours.