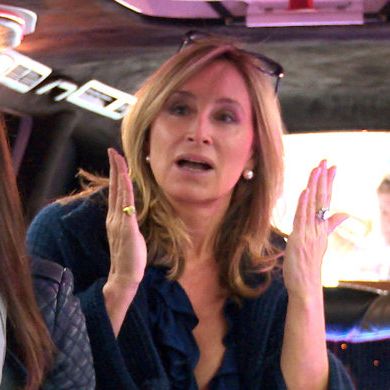 The Real Housewives of New York City.
Photo: Bravo
You know how the saying goes: "What happens in Vegas, stays in Vegas. What happens in Atlantic City is usually too crummy to even bear mentioning, and some guy with only a bottom row of teeth probably drooled on it while waiting for an all-you-can-eat pancake buffet." But that was not the case with the Real Craps Tables of Nucky Thompson Boulevard and their trip to AC for Ramona's birthday. This was, without hyperbole, one of the most insane, action-packed episodes of the show possibly ever, but certainly in the past couple of years. My undercarriage is still a little bit damp just thinking about it.
This episode was so jammed with drama that it started with Heather Thompson screaming about what a bitch someone was. Who was that person? We didn't immediately know, because we were just greeted with cursing like opening the door to a marriage -ounseling session and not knowing who the couple was in the throes of anger. Quickly we found out that Heather (along with Ramona, Dorinda, and Kristen) was pissed at Sonja Tremont Morgan of the Mediterranean Avenue Morgans for not letting them get past her freezing-cold vestibule while they waited for her to pack. Then she told them to wait out on the street, unaware that the limo was not yet there to shelter them.
Do I even need to play referee to this fight? I am and always will be a Sonja apologist. She is, after all, my favorite floozy. However, I am finding it harder and harder to brook her behavior, and if I'm having a hard time putting up with her as a yahoo with a DVR and a keyboard, imagine how much the real, actual human women who have to interact with her for their jobs feel about it. Sonja was clearly wrong here. I don't know how Bethenny being late got all mixed up in this, too, but it was clear that everyone was going to be late. Why can't Sonja invite them in for a drink? She can't let them sit in her living room and have the interns pour them Oprah Chai by Teavana while they wait for the limo to show up? What's the big deal?
Of course Sonja had a litany of insane excuses why she couldn't let them in, starting with: Her sister was yelling at her because her best friend died, and she couldn't have them by the front door because the dogs and cats will run out into the road. Then she said that there was going to be a possible alien invasion so she couldn't have any statement necklaces around, but then she remembered that LuAnn hitched a ride with Carole on the Chinatown bus, so then she said that based on the lunar calendar, she could only have 12 souls in the house at any given time, and since she has the three cats, one dog, and seven interns (one for styling, one for social media, one for ice-making, one for cell-phone monitoring, one for Blackberry monitoring, and two on dog-piddle patrol), there was no more spiritual energy to spare in her house.
Heather was right to be pissed and spent about an hour fuming in the stretch white Hummer limo whose interior looked like one of those bowling alleys with flashing lights and neon orange pins that glow in black lights. Between that and the jackhammering going on outside Sonja's bedroom (instead of inside it, hey-yo!), it was enough to give anyone without a hairless cat a seizure.
When Sonja got into the car, the fighting continued and Heather was pissed — pissed! — about how she had been treated by Sonja, who only made it worse by continuing her ridiculous excuses instead of just saying, "I'm sorry." Finally she had to be coached through a boilerplate Housewives apology by Bethenny. This apology, complete with blanks to insert the incident at hand, should be tattooed on the left wrist of every Real Housewife before the ink on her contract with Andy Cohen is even dry. Nothing comes in handy to a Real Housewife more than a collection of mid-length cocktail dresses with sparkles and a boilerplate apology that is ready to go at any moment.

But this was not enough, and Heather and Sonja kept yelling across the blinking limo until Ramona shouted, "Stop! I can't! I can't!" Now, when Ramona Singer can no longer handle pointless bickering and backbiting, you know that your shit is busted. It is straight up B to the U-S-T-E-D.
Then the car pulled over, and Bethenny and Ramona sat on the ledge of the limo and pissed in a puddle on the side of the New Jersey Turnpike. That's it. I am done. So far this episode there has been a huge fight, an epileptic limo ride, and street pissing, and it's not even 20 minutes deep yet. I was sitting on my couch in an eddy of sticky joy and lucid confusion thinking that either the Lexapro was no longer working or that someone put magic mushrooms in the giant bag of Twix Bites I just finished off for a late dinner. But no, it was all real. It was all very, very real.
When the women finally got to Atlantic City, things didn't get any calmer. Heather, apparently channeling the ghost of Snooki past, tried to take a bath, and somehow the water sprayed all over her enormous bathroom at the Borgata. It was like the before picture in a Depends commercial up in there.
Then Carole Radziwill, my dear Twitter friend, wore both the Madonna Met Ball bunny ears and a shirt that made it look like her tits were hanging out, and I just wanted to jump through the screen and give her the kind of hug where I have to wrap my legs around her as well as my arms. It was also amazing when Carole reminded everyone at the table that Countess Crackerjacks is not actually European and that she is actually from Berlin, Connecticut, a town suspiciously close to where I grew up and famous mostly for its Turnpike littered with motels that you can rent by the hour, including the notorious Grantmoore, where I once spent a cocaine-fueled evening in my early 20s with two gentlemen who are now both married (to women) with children. Berlin is also right down the road from Windsor Locks, hometown of Kim Zolciak. In 2016, the Real Housewives Institute is officially relocating to central Connecticut.

Anyway, the fashion award really goes to Kristen Taekman, Miss Scranton Bowl-a-Rama 1992, for wearing two different-colored shoes like she was in a Punky Brewster–inspired spread in Vogue. You all know how much I loathe her husband Josh, a puddle on the floor of a CrossFit locker room, but I like Kristen and her fashion more and more each week. She really needs to do something other than wear fierce outfits, but right now, the lewks have been so fleeking with fleek that they fleeked all over Fleet Week.
This episode the real MVP award goes to Dorinda, who gets a dispensation from mean epithets only because when Sonja was rambling on about partying with John-John Kennedy, she swatted her away and said, "Well, he's dead, so that's going to be difficult," which was such a burn that no one even cared that it might be just a little bit insensitive.
Okay, I really wanted to get all of that out of the way to talk about the most important thing of the episode, which is really Bethenny's three conversations with Sonja. Just like Peter denied the existence of Jesus three times, so did Sonja have to deny the existence of reality three times. Hopefully, like Peter, she will see the error of her ways and repent.
The first conversation was in the limo, when Sonja was going on and on about her friends in the United Arab Emirates and her house in Gstaad, and Bethenny did the whole universe a solid and told Sonja that she sounds like an idiot when she says that. She sounds like someone who is trying to hold on to some former glamorous life that she no longer has, like a child calling for the ice-cream cone that is now melting on the sidewalk. Sonja does not hear this at all and pretends to listen to Bethenny, but she is not making any headway. Bethenny, for the first time all season, comes off like her tough-talking, tell-it-like-it-is persona that made her such a treasure on this show in the first place.
The second conversation is at dinner, when Sonja is already half in the bag and sort of sticking one arm out of the side and waving to all the Housewives like she's invisible because she's in a bag. Bethenny mentioned to Sonja that everyone gets these digs in all the time, and Sonja says, "I spent my life in PR …" and Bethenny snapped on her and was like, "Jesus, Sonja! Didn't we talk about this in the car?" Sonja responded by telling Bethenny what PR stands for and reminding her that she is an artist and she represents other people, and once, when she was a teenager, she was in a field and she saw that it was covered in those, what do you call them, like from that Mel Gibson movie, you know, signs, yeah, signs, and it was covered in signs, and they told her that she should take care of other people, so that's what she was going to do with her whole life, and she spent it in PR because all of these people get these digs in.

Bethenny was not hearing that, and tried to tell Sonja once again that no one wants to hear her talk like that because it just annoys them and makes her look bad. Sonja then started crying and Bethenny tried to console her, but all Sonja did was repeat the same three things about caring for other people and being in PR and reminding Bethenny about the conversation, and it was enough to make Bethenny stick two big bits of edamame in her ears and try to die from embarrassment.

The same thing happened later at the club, when Sonja kept repeating the same story over and over and Bethenny just freaked out on her and left the care of Sonja to all the other girls who were having a hard enough time trying to keep her from making out with them. I don't know what Dorinda did to pull the short straw, but she got stuck with her like Sonja was a bag of baby carrots at the lunch table and none of the other kids were going to give up their Little Debbies for those healthy treats.
Finally, in the morning, Sonja bounds down like nothing happened, and she is bright-eyed, bushy-tailed, and fresh-pantied with not a care in the world. Bethenny sat her down again and told her, like the former talk-show host that she is, that there is clearly something that is not right in Sonja's life and that she's going through money troubles and a custody battle, and she needs to drink less and see someone. Finally Bethenny started to sound like Sonja, repeating, "Drink less and talk to someone," like it was some kind of mantra that might actually come true if she said it multiple times.
But it did not. Sonja teared up and hugged Bethenny but, with the confessional at the end, we learned that Sonja is too entrenched in her delusions. She's still fogged over with the glamour of her former life and says that she wants her ex-husband back, which may be true, but it seems like she just wants the glamorous trappings. Maybe she just wants a life free from anxiety and worrying about feeding her daughter and if she can afford to fix the leaks in her roof. Maybe she just misses not having to self-medicate with booze, parties, and pointless stories about all the royal titles her friends possess. Sadly, it's not going to happen, but Bethenny really looked like a good, caring person for trying.
When they hugged and Sonja turned to leave, they thought they were alone in the room, but they weren't. Well, they were, but there was someone else watching. She was out in the Hamptons at her house, which is filled with sharp-edged glass and views of the ocean. But she was staring at a monitor streaming the feed from the security camera inside Bethenny's room. She watched as Bethenny consoled Sonja and tried to regain her friendship. This woman wanted that so badly for herself. She wanted to hug Bethenny and tell her that everything was forgiven, that it could go back to the way that it used to be, that she could solve all her problems. All Bethenny had to do for her was one small favor.
Sonja left the room and our mystery woman watched Bethenny hunch over on her couch with her head in her hands. It was an awkward pose, but it seemed to be centering Bethenny, letting her get ready to head back into the city and face her own plights and schisms. The footage was getting boring without the drama. That's when our watcher started thinking about the last time she was in Atlantic City. She was in a limo of her own, a suite of her own, and the ladies all lounged by the pool in their robes and stood at the craps table and tossed their chips in the air, laughing fake laughs that felt real on the inside. "Chic c'est la vie," Jill Zarin sang to herself as she closed her MacBook. "C'est bon. C'est bon."