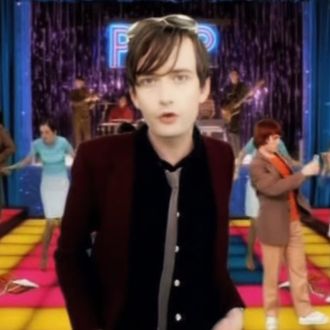 Jarvis Cocker, total plebe.
The Greek paper Athens Voice speculated on the urban myth that Danae Stratou, daughter of a textile magnate and the wife of the Greek finance minister Yanis Varoufakis, is the woman in the '90s Pulp classic "Common People." The reasoning was that Stratou attended Saint Martins College of Art and Design from 1983 to 1988, where she possibly could have met Jarvis Cocker, who was studying film there in '88. Also, she is rich and famous! Since school, Stratou became a successful artist: She represented Greece in the 48th Venice Biennale (1999) and currently lives in Austin, Texas. *
Updated: On Twitter, there is a much more likely contender for the title of the rich Greek woman slumming it: Katerina Kana, who also attended Central Saint Martins and says in Lifo that she met Jarvis Cocker and told him she wanted to live like common people and doing whatever common people do.
*An earlier version of this post presented the speculation that Stratou was the woman in the song as fact, but her identity has not been confirmed.