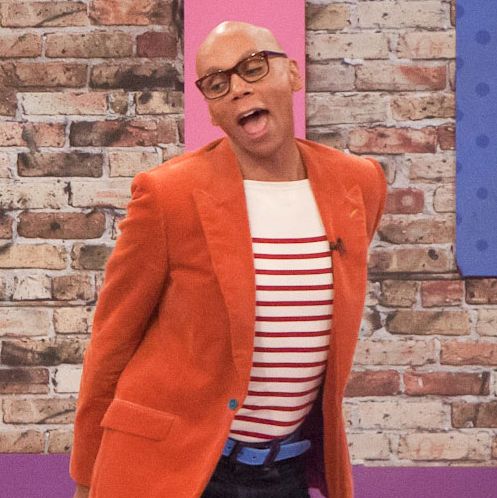 With only six competitors left, things on RuPaul's Drag Race are starting to heat up. Tasked with following the two strongest episodes of the season, "Prancing Queens" keeps the hot streak alive and asks the queens to do the unthinkable: dance.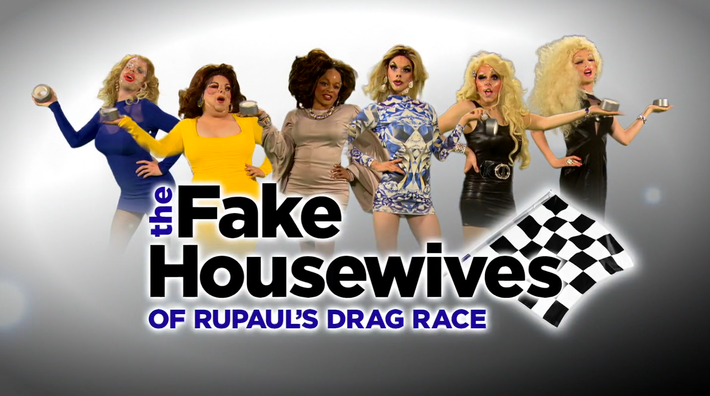 Reality Realness
In both the mini and main challenges, the remaining queens are burdened with cheekily embodying the spirit of two distinctly different reality shows. The mini challenge requires the ladies to channel their inner Real Housewife and funnel that creative energy into 20 minutes with a roll of Scotch tape in pursuit of some DIY face-lifts. The results are mostly horrifying, with one notable exception, which we'll speak of in more depth later. For the main challenge, the queens are paired off and assigned different dance-style mash-ups as a precursor to putting on their own little Dancing With the Stars–type gigs. The reality theme is charming, and challenges that require the contestants to ham it up are always welcome.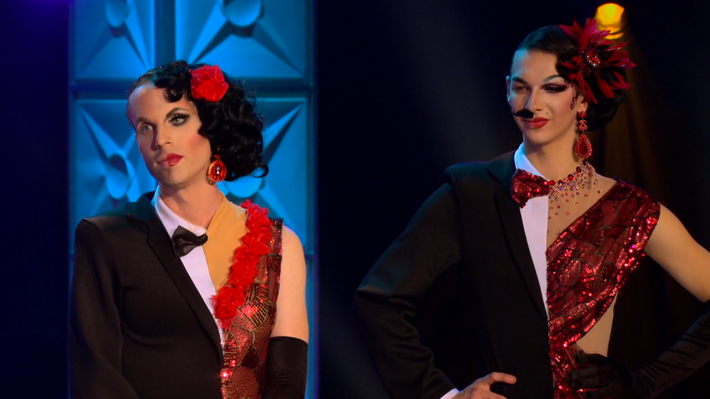 Victor/Victoria/Victorious
Maybe the most ingenious twist of the entire episode was the instruction that each queen needed to create a half-male/half-female look for the runway and main challenge. Most interesting about it is how most of the competitors didn't settle for just being themselves for the male persona, but pushed themselves almost into pseudo-drag-king territory by really exaggerating their masculinity. While the show has played around with the male/female persona divide before, perhaps most notably in season two's "Here Comes the Bride," which had contestants dressing up as both the bride and the groom for a photo shoot, it's never been this on point and fascinating to watch.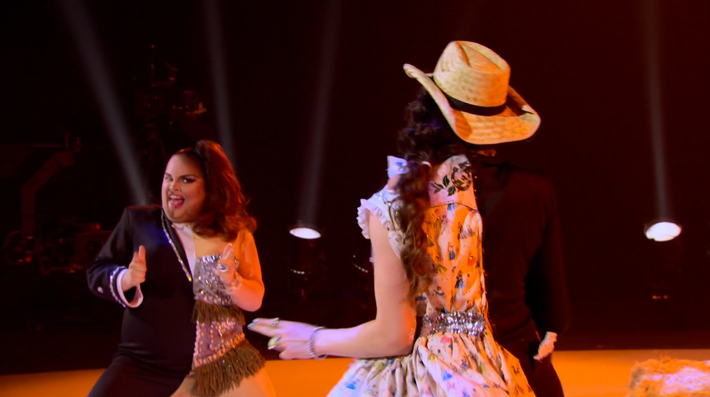 Panic at the Disco
While we've seen queens perform in RuPaul music videos in previous seasons, as well as learn choreographed group routines, this may be the first time we've ever seen contestants have to learn intensive, independent dance numbers. As wonderful as they may be as performers, many of the girls seem to really struggle with the idea of having to dance live for the judges. Ginger, in particular, is terrified, not just of dancing (she's not a dancer) but of imbuing her routine with the appropriate level of sex appeal, going on to say, "I'm just afraid I'm going to look like Honey Boo-Boo meets Rosie O'Donnell." Kennedy and Trixie, respectively, seem confident with their abilities, but everyone else seems a little intimidated by the sheer amount of choreography they've been asked to remember.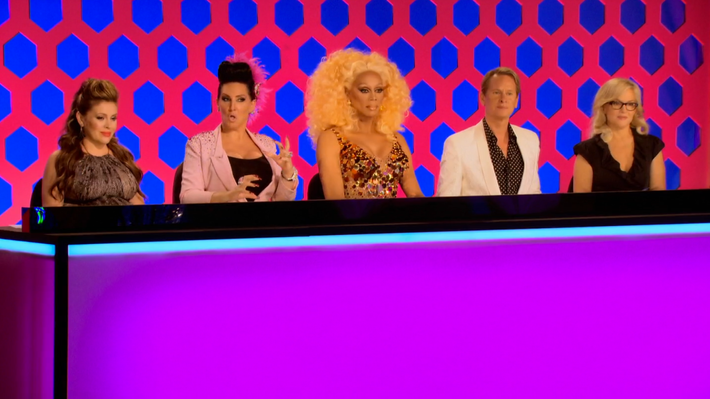 Decisions, Decisions
This week, the judges seemed genuinely stumped about who deserves to be on the bottom. Their indecision raises an interesting question — namely, when things get close, how do you decide who goes and who stays? There seemed to be little sense of agreement on the panel itself, as far as top and bottom performers go, so at the end of the day, if all contestants are created equal, how do you even begin to decide who ends up lip-syncing for their life?
Just kidding. RuPaul decides.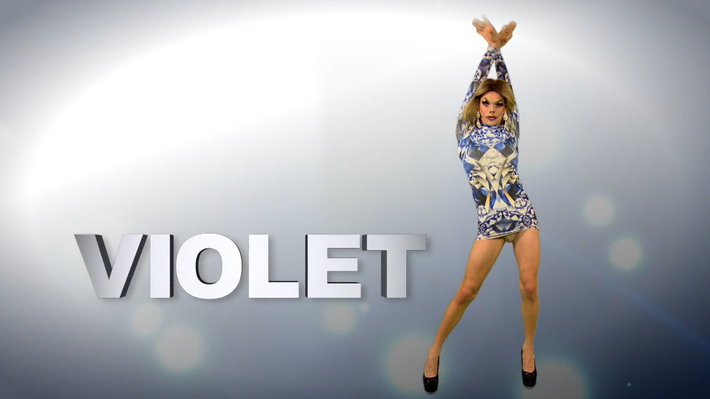 Violet Vindication
As the episode begins, we see several of the queens audibly concerned about Violet's fate in the competition as she's, according to them, sort of a one-trick pony. While it's inarguable that Violet brings great body and face to every challenge, it wasn't until "Prancing Queens" that it became really clear what her most valuable asset is: her ability to sell anything. Namely, herself. And I say that in a completely non-shady way. Violet handily won the mini challenge by not overselling it. She utilized the tape to create a pleasantly unpleasant look that really echoed the kind of faces you see popping up on E! She then craftily chose Katya as her dance partner, not because Katya is a great dancer but because Violet understands that Katya is likely the strongest queen left, and allying with her is brilliant. And ultimately, as this runway proves, Violet is simply undeniable when it comes to giving great face and body. Even things as simple as giving clean, sharp lines of sight for her two looks while on the runway, something no other queen managed to do, give her an incisive edge whenever the challenge revolves around looking good.
As an avowed Violet doubter, this episode has me thinking twice and recognizing the fact that Violet is a serious threat to win it all.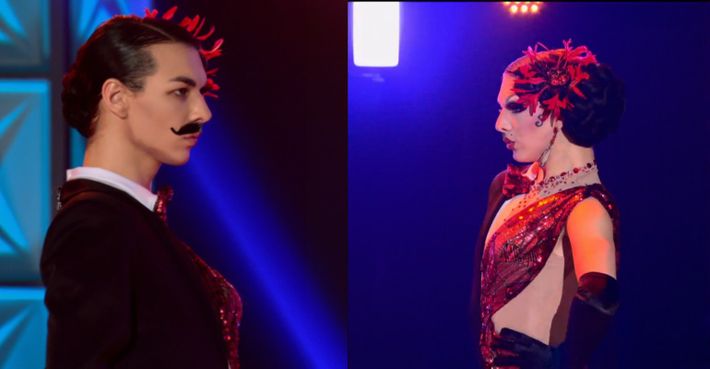 Winner: Violet Chachki and Katya
Bottom Two: Trixie Mattel and Ginger Minj
Eliminated: Trixie Mattel
Line of the Night Honorable Mentions:
(Thanks to the Real Housewives mini challenge for providing most of these.)
"Sometimes people call me a slut, but I'm also an alcoholic." —Pearl, the housewife
"When times get tough, I just breathe through my nose." —Violet, the housewife
"The secret to success is being God's favorite. Shhh." —Ginger, the housewife
"Violet should be very, very grateful that her Lisa Frank couture kept her from being in the bottom two." —Ginger throwing shade at Violet's runway look from last week
Winner:
"We're probably the two most flaissez-dah …" —Pearl tries to words. Fails. Laissez-faire? Blasé? La-di-da? Sadly, we'll never know.