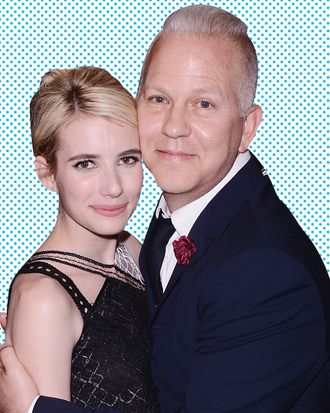 True to form, Ryan Murphy has kept details around Scream Queens tightly under wraps, debuting footage for the show for the first time at Fox's upfront earlier this week (it's not even available online, but it looks campy and gory, like you'd think it would). The horror anthology series is easily one of the fall's most anticipated arrivals, getting a full series order last fall and now anchoring Fox's Tuesday nights. Vulture caught up with Murphy at the Entertainment Weekly/People upfront party — he wouldn't talk about the plot, but did say he only wanted to do the show if Jamie Lee said yes, and that he's pitting everyone against each other in "some weird, fucked-up Hunger Games way." Plus, he adores his cast, including AHS star Emma Roberts, who hijacked the interview midway.
What was the inspiration for Scream Queens?
The true inspiration was Jamie Lee, because I grew up loving her so much. Brad and Ian and I were just talking about things that we were interested in and what we wanted to do and we sort of thought, "Wouldn't it be great to do a slasher show that had a lot of comedy to it?" And I said, "Well, it would be, but I would never do it unless I could get Jamie Lee Curtis." So I called her out of the blue and I said, "Would you come into my office?" And she did, and I pitched her the show. She was very quiet, said, "Sounds interesting," and then I was sort of staring at the phone for a day. She said yes, so there we were. I wouldn't have really done it without her because it's a tribute to her in many ways. It's always rare to meet your idols, and she was one and she did not disappoint.
Is it different being on network versus cable?
There are boundaries for Scream Queens that you don't have with American Horror Story. So far nothing that we've shot has been too much, although the censors have been a little … "All right, you're right on the edge; you can't go any further than that." But I hear over and over and over, especially from women, "I like the idea of Horror Story, but it's too scary. I can't watch it." For me, I wanted to do something for that group. So it's not as gory, but it's still scary. It's much more psychological.
You have this amazing ability to put together the most brilliant ensemble casts that have a beautiful dynamic. Tell us a little about the cast of Scream Queens and how that all gelled and came together.
Well, that was a great experience, because usually with TV shows, you go pitch them and they say, "Okay, make the pilot." Then you write the pilot and you don't know what's going to happen. But they said, "Okay, we're going to buy it and we're going to go straight to series," which gave me a lot of freedom. I could spend six months casting it because we found out very early and, literally, I just went after people I loved and was a fan of like Jamie Lee and Emma, of cours,e who I've worked with, and Lea [Michele] who I wanted to do something fucked up and different with, and people like Glen Powell and Keke Palmer, who I was like, "I want to meet them." I always come at it from a place of love and being a fan, and I did the same thing on Crime Story, where when we started out I was like, "You know who I really want to work with? John Travolta." And so that's what I did. I went after John Travolta, who was like, "What?" So we met in a restaurant and I talked about why he was important to me and why I thought he would be really fun in this role. It starts from that place with me always.
But when they get together, how do you know it's going to work? Do you cross your fingers and hope that the chemistry is there?
I think it works because they're all brought together from a place of love. I feel like when they walk onto the set they know I love them so much that they're like, "We're good." There's no jitters, like, "Oh, we're going to be replaced" or "Oh, what's going to happen?" I feel that they gel from a common place. I felt that on Scream Queens — they all instantly got along like a house on fire. I just started directing the OJ miniseries and everybody on that show instantly gelled because it was a very long courtship, so it felt like by the time they get to set, they're all super pregnant.
So whose performance do you think is going to surprise us the most? Who will we see something really unexpected from?
[Emma Roberts comes up and throws her arm around Ryan Murphy, looking at him adoringly.]
Emma: What are we talking about?
Ryan: You! We're talking about who is going to surprise people.
Emma: Am I surprising you?
Ryan: No, I knew you could do it. But I think they never surprise me … Well, I'm surprised by how funny they are. She makes me laugh.
Emma: None of us can keep a straight face. Literally, we're on set and it's like a serious scene and once we start doing it it's like, "I can't look at you. Stop looking at me." None of us can look at each other because we're all young girls and so close and it's mayhem.
Ryan was talking about the dynamic of the cast. Can you tell me a bit more about your experience on set?
Emma: It's so fun. We're all in New Orleans, so it's kind of like a big slumber party between all of us, and on top of that we're working late nights doing the craziest stuff that we can't reveal yet. Sometimes we just look at each other and are like, "Are we really doing this? Yes, we're doing it. This is crazy and scary and fun."
Ryan: It's a weird thing, my shows. I don't know how to describe it, but I feel because I go about the casting process so slowly that it does feel like an instant family.
Emma: It does!
Ryan: Emma and Jamie Lee instantly bonded.
Emma: Especially being down in New Orleans.
Ryan: Yeah, you're bunkered in.
Emma: We're getting dinner and we're all like, "Don't leave us [tugging on Ryan's arm]!" We all are bonded at the hip.
Having worked with this guy for a couple of years now, are you used to the crazy things he throws your way or are you still surprised?
Emma: I mean, as much as we talk about everything, he still keeps me on my toes. The script gets left under my door in an envelope, and I feel like I'm part of the CIA. I pick it up and I read it and I'm surprised every week.
Ryan: I share nothing. I try to be super secretive.
Emma: But I think that's what makes all of our performances so good, is he doesn't tell us what's happening so we're not playing certain things; we're playing it at face value.
Ryan: And this show is different, in that most shows, you sign on to do a drama and you do it for five years. This one is a year deal, so everybody knows they can die at any minute.
Emma: Except for me, right?
Ryan: They're flipping through the script to see if they survive, which is a very heightened, fun way to work.
Abigail Breslin said you keep her on her toes waiting to see what happens.
Ryan: Now I'm telling them, "Okay, three or four of you will survive." I'm pitting them against each other in some weird, fucked-up Hunger Games way.
Emma: He does that to everyone yet we'll still follow him anywhere. I was on American Horror Story and he called me about this, and I said yes not knowing anything about it. And I thought, This is so messed up. He doesn't even tell me anything, and I'm saying yes to it. He has that magic.