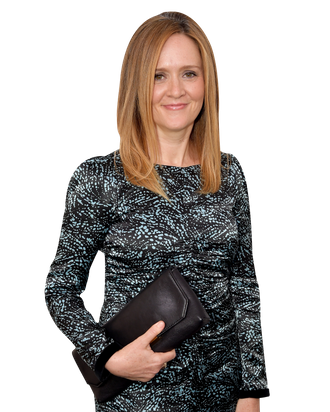 553929869ZD00007_Turner_Upf
Photo: Theo Wargo/2015 Getty Images
The Daily Show's Samantha Bee will be sending husband Jason Jones on very dirty "detours" for their new TBS show, The Detours, which was announced Wednesday morning during the Turner Broadcasting upfront. We caught up with Bee in the green room, staged at Nick & Stef's, before the Madison Square Garden presentation, to discuss the show's misadventures, corrupting child actors, and an "issues-oriented" show that's she's also working on with her husband for the network.
So I want to talk about The Detour.
I'd love to tell you about it. It's a TV-MA comedy with a family at the center of it, really. What's unusual about it is that it's serialized. It's a ten-episode arc, and from start to finish — I mean, if you want to binge it — it will all make sense.
Can you tell me about the characters?
Yeah. Jason [Jones] is the dad, and Natalie Zea, who's right beside me, is playing his wife. They have two kids, two 11-year-old twins, and they're going on a seven-day vacation. But I think there might be a detour along the way, or possibly numerous detours.
What kind of misadventures will they be getting into?
I don't know that you'll get a full appreciation for it. We haven't seen the package that they're running from it. Just in the pilot alone, I feel like they take three crazy detours. We're currently writing the show. They're basically traveling a stretch of I-95, and I can't even — it's hardly believable that they get to their destination. It's a little bit Planes, Trains, and Automobiles, in a TV-MA way.
What's the feel of the comedy?
I think it's like us. It's what we like, so I would say it's dark. [Laughs.] I think it's really funny. We think it's really funny, so hopefully people will think it's really funny with us. And it's very dirty because we're dirty.
Like sexually dirty, or like dirt on skin?
Oh yes, all kinds of different dirties. All the dirty ways that you can be, our show is dirty.
In front of the kids?
Yes, we are literally corrupting the minds of young actors. There's no question. They're going to mature from the beginning of shooting to the very end.
Are you pulling stories from you and Jason's own adventures on road trips?
Well, our kids are young, so we haven't really gone on this kind of trip, we haven't gone on a TV-MA journey with them yet. They're pretty little. But I would say if anything, we drew upon trips that we took when we were kids — those kind of janky road trips that you go on.
Yeah, like driving across the country.
Oh yeah, just our parent were too cheap to stay in hotels. [Laughs.] Too cheap to fly, too cheap to stay in a hotel. Just drive for three hours straight. We had a tent trailer. We'd park that thing everywhere. We would camp. We would go to awful campgrounds and shower under the derelicts. It was awful.
That's going to be fun to see translated.
We had so much fun shooting the pilot. We loved it. TBS gave us so much freedom to do what we wanted to do, so we're so happy with it. We're so excited to dig in.
That support must make it so satisfying.
So satisfying. It was an incredible and very unusual experience. We love them. We feel so lucky right now. We're just waiting for the other shoe to drop. We still get to do a show, really? Okay. Alright. Cool.
You also have a new project for an "issues-oriented" series on TBS.
Yes, you'll see a promo for that as well. It's still in development, so we're working on that for once we complete the family half-hour. We'll get to work on that.
What does "issues-oriented" mean?
I think that my work on The Daily Show mostly speaks to the things that I feel passionately about, and TBS is giving me a platform to continue to do the types of things that I like to do. To follow the stories that mean something to me, I'm super excited about it because that's what I like to do. I can't really say what form it's going to take right now. It's too embryonic.
So what kinds of issues are you passionate about?
I have a passion for the news. But I don't think that what I would intend to do would be to follow the news cycle too closely, but to kind of penetrate the stories that aren't really partisan in nature but that hit on some kind of social injustice or something that people don't widely know about. Those are the stories that I love. I love to go out in the field. I love to talk to people.