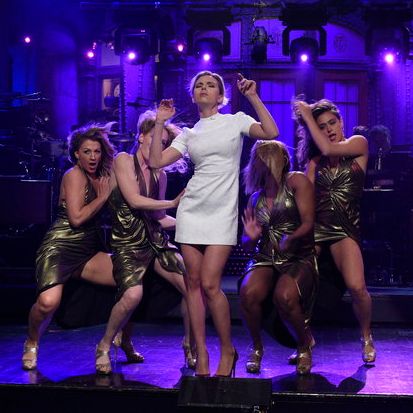 ©2015/Dana Edelson/NBC
Photo: ?2015/Dana Edelson/NBC
"You know, Scarlett Johansson is actually pretty good in this" is a sentence that has left many a boyfriend stranded in stony silence over the years. It's often true, though. The actress's looks may have been the dominant component of a bracingly awkward New Yorker profile last year, but beyond those looks there's undeniable charisma and crack comedic capabilities. Watch her underplay against Jon Favreau in Chef, or listen to her complicated vocal turn in Her, and you'll know she's more than just Black Widow's acrobatics or Woody Allen's drool fixation. What a shame to see those skills underused, though, in Johansson's fourth time hosting Saturday Night Live. The resoundingly lackluster episode built around her left nary a Marble Columns–type showcase for true believers to point to and say, "You see? Not bad, right?" She could have used the support.
Between the cold open's meta-commentary about viewers abandoning the show in favor of the ultra-hyped MayPac fight, and a sketch about last week's Orioles game that went down without an audience due to rioting concerns, this episode's theme seemed to be "Nobody Is Watching." It was as if the dismal ratings projections lead the talented writers to operate on cruise control after three weeks off, and three weeks before summer hiatus. There were a few bright spots — there will always be bright spots on SNL — but they felt like tiny oases in a sea of meh. Thanks to DVR, YouTube, and Hulu, everybody who watched the fight instead will be able to tune in belatedly today and be thankful for what they didn't miss.
Mayweather-Pacquiao Cold Open
This space is usually reserved for the latest political happening, but any event that dominated the media as much as this particular boxing match could not possibly have been ignored here. In a very self-aware sketch about "the moon landing of sports," the joke is how janky this SNL episode is going to be since so many regular viewers are cheating on the show with the fight. Aidy Bryant plays Manny Pacquiao, for instance, a bold choice meant to serve as a signal flare for how the show isn't really trying with its impressions this week. (False: McKinnon's Ruth Bader-Ginsburg is back!) Ironically, had the rest of the episode actually embraced the surrealism of Bryant's goatee'd Pacquiao flailing in the generation direction of Jay Pharoah's Mayweather, we might have had something special. Instead, the final beat — two of the actors leaving, mid-sketch, to watch the fight in Wiz Khalifa's dressing room — proved more representative.
Scarlett Johansson Monologue
"Wow, you guys came," Johansson says at the top of her monologue, speaking directly to those opting to watch her instead of two adult men punching each other in the face. Since the actress is also a recent mother, she spends the rest of this segment sexualizing motherhood itself, showing how she serenades her baby to sleep at night with sultry covers of "Love to Love You, Baby." ("Your baby is a lucky man," Kenan Thompson notes.) This will be the last moment of the show where the joke is that Scarlett Johansson is hot, and the show will perhaps be better for it. It's hard to tell, unfortunately.
Right Side of the Bed With Scarlett Johansson
Last seen in last winter's Martin Freeman episode, Right Side of the Bed is a chaotic daytime chat show hosted by Southern married couple the Chisholms. In the previous iteration, the producers never let poor Freeman steal any of the spotlight from Cecily Strong and Taran Killam (the latter of whom is in gay-face throughout.) Johansson's character here refuses to let the same fate befall her. Her Fran Drescher–esque New Jersyite takes a seat on the couch when her bit about drink-mixing doesn't seem to be cohering. Too bad the character is a thinly drawn collection of mispronunciations and a far cry from the similarly accented marble-column-hawker of yore. Kate McKinnon drops by to play Hozier, which is strange since nobody knows what he looks like, and it feels like a bookend to the flash of her Justin Bieber impression delivered during the cold open.
Orioles
Literally nobody was in attendance at the Orioles–Red Sox game this past week, and SNL uses this weird fact as an entry into the touchy subject matter of the Baltimore riots. Aside from Killam's awkward accidental references to race while calling the game, this sketch also gets by with Bobby Moynihan's lonely hot dog vendor tonguing down a hot dog on the Kiss Cam.
Black Widow Trailer
Remember the Elektra movie? Nobody does. What about Catwoman? What about her, indeed. Perhaps these two ineptly executed franchise extenders help explain why executives haven't delivered any female superhero movies at all lately, let alone the quality ones we deserve. Considering the gender inequality in comics, this sketch shows what kind of movie Johansson's Avengers character might get if she got some solo time. From Marvel Studios and the writers of 27 Dresses, apparently, comes Black Widow: Age of Me. Here, the deadly superhero is given the royal rom-com treatment, complete with Thor as the gay best friend (Killam, yet again), a New York fashion magazine internship, and high-heel lamentations. Johansson's skills are on full display in the knowing way she hits all the right Sex and the City–style notes while simultaneously parodying them.
Girlfriends Talk Show With Scarlett Johansson
It's back to the Girlfriends Talk Show well one more time, and not much new to show for it. Cecily Strong provides another glimpse into her creepy older boyfriend's creepiness, Aidy Bryant has an appropriately sad dream prom-posal, and Johansson is a mean girl who can't stop saying "That's so ratchet." Bryant and Strong remain great foils for each other, but perhaps it's time to find a new vehicle for that dynamic.
Weekend Update
Just when it seems as though we may never laugh again, in walks a powerhouse Weekend Update to almost save the episode single-handedly. (That it didn't quite succeed is not Weekend Update's fault.) Kate McKinnon reprises her Ruth Bader Ginsburg impression, letting fly plenty of "Ginsburns" at the expense of the Supreme Court hearing on marriage equality. Her little celebratory dance and gangsta lean after each of these is a precious gem, and you can tell McKinnon loves doling them out. Up next is Bobby Moynihan and Vanessa Bayer as the so-called hottest couple on Game of Thrones, Samwell and Gilly. These two only earned the title by default, however, strictly because they are the least dead couple. Moynihan and Bayer are both vets who have been kinda gasping for airtime this season, so it's a joy to see them in colorful roles together. Finally, there's another tag-team effort, and it's Thompson and Jay Pharoah playing Charles Barkley and Shaq, respectively, here to talk about the NBA playoffs. Pharoah's lane on SNL is impressions, and although he has many more accurate ones under his belt, Shaq may be his outright funniest. The way he goes cross-eyed when presented with confusion is total highlight reel material. Shouts to this segment also for blessing us with the information that Shaq actually has a series called Shaqtin' a Fool. In addition to the trio of fun guest roles, Colin Jost and Michael Che manage to find a funny, respectful way to surrender to the newsworthiness of Bruce Jenner's controversial interview with Diane Sawyer, and acquit themselves far better than peers like Bill Maher and Larry Wilmore.
Dino Bones
After a strong Weekend Update, we are immediately back in the no-fly zone with this nonstarter of a museum sketch that should have never made it past dress rehearsal. Considering that the art exhibit debacle from Melissa McCarthy's episode last year fared similarly, SNL should perhaps take a break from museums for a while.
Blazer
On the other hand, SNL should never take a break from '70s cop show parodies, especially when they rise to the caliber of Dyke and Fats or this risky short. Taran Killam, naturally, plays a dedicated cop whose heroics are only trumped by his racism. The setup is delivered so subtly, viewers may at first think the sketch itself is racist before the joke is made explicit. A last-second kicker elevates the sketch even higher into best-of-show territory.
Virgin Flight
Much like a turbulent flight, things quickly deteriorate again with this sketch. Virgin Airlines is employing fembot flight attendants, and would you believe they don't exactly work as planned? Johansson and Bayer give the cybernetic delivery their all, but it would have been nice if they'd been given a malfunction with more comedic mileage than "thinks it's Halloween."
Jingle Writers
The night comes to a close when Mayweather defeats Pacquiao. Johansson and Bryant play jingle writers with long scraggly hair, flowing gowns, and an offbeat sense of song craft. They've been living in the desert for two years, and their work reflects that, with lyrics such as "The desert eagle screams like a Hellbird born in sand" leading a Pampers jingle. I got a kick out of the fact that each of their songs invoked a screaming-eagle sound effect on keyboard. Bryant and Johansson are lit with spiritual-aunt confidence here, and their commitment to the bit ends the show on a bittersweet note. If there had been more of this fun loopiness for Johansson to perform earlier, it would have probably been a better episode.