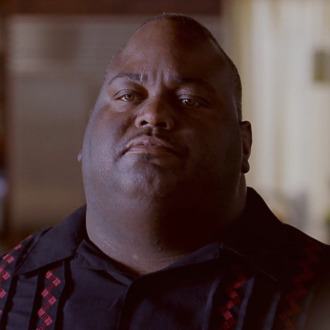 Now that we've got Bryan Batt's idea for what happened to Sal on Mad Men, do you ever wonder what happened to Huell from Breaking Bad? The hefty bodyguard was last seen being dropped off at a safe house in season five's "To'hajiilee," where he was told to never leave or contact the outside world. Since the characters who took him to the house later died, did Huell just say there forever? As it turns out, no! In the new Breaking Bad book, Vince Gilligan reveals that Huell did not get "Cask of Amontillado"–ed in that house: 
It's likely that Agent Van Oster keeps in touch with DEA headquarters. So when he learns Gomez and Hank have gone missing, he would in short order tell his superiors what they were up to. Within a matter of hours, really not that many in story time, Huell will be taken back to HQ. They'll question him, find out what he knows — which isn't much — and he'll be let out on the street. Right now, he's doing what Huell does best, whatever that is. He's out and about as a free man.
Now we just need to figure out what happened to the Russian for this to become a trend.