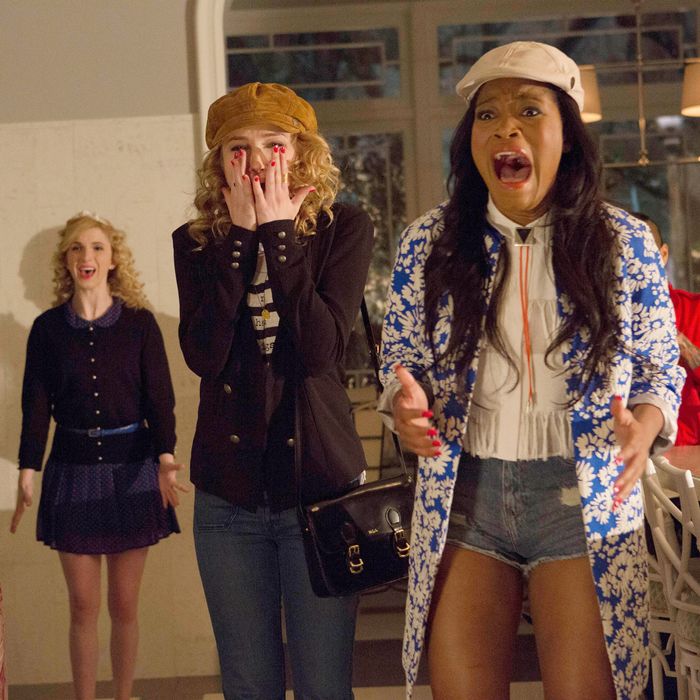 Fox is performing radical surgery on its prime-time lineup this fall, betting that the halo effect from new megahit Empire will allow it to make substantial changes on four nights of the week. Among the big moves in the network's just-announced lineup: a completely remodeled Tuesday, anchored by Ryan Murphy's Scream Queens and comedies starring John Stamos and Rob Lowe; the relocation of Sleepy Hollow to Thursdays; and the addition of new dramas on Monday and Wednesday. Perhaps the biggest Fox move, however, is the one the network didn't make: Empire is staying put Wednesdays at nine, with an expanded, 18-episode second season kicking off in the fall.
The schedule shake-up comes as no surprise given the network's general ratings decline the past two years. Even with Empire boosting its fortunes, Fox has shed about one-fifth of its under-50 audience since September, leaving execs with little choice but to once again make some big plays. Tuesday represents the most risk, particularly at 8 p.m., where Fox is replacing proven performer MasterChef Junior with Stamos's Grandfathered and Lowe's The Grinder. Fox has tried and failed repeatedly to debut new comedies in the hour (most recently with Dads and Brooklyn Nine-Nine, the latter of which didn't really click until it moved to Sundays last fall). The content of Scream Queens, however, likely ruled out an 8 p.m. slot, leaving the earlier hour a better option for new comedies. Fox is presumably betting the star power of Lowe and Stamos will allow the shows to be self-starters— while keeping MasterChef Junior on standby on Fridays in case they aren't. Plus, given Fox's extensive marketing of Scream Queens — promos for the show began popping up online back in February — the network likely (and likely correctly) believes Scream Queens can bring its own audience to the night. As for longtime Tuesday staple New Girl, Fox is saving the show for January. This will allow it to air its fifth season, currently penciled in for Tuesdays, with virtually no reruns. Fox said it plans to pair New Girl with new comedy The Guide to Surviving Life.
Elsewhere, in addition to returning its present Sunday schedule intact, Fox is keeping a few key anchor shows in place: Gotham remains Mondays at eight, Empire Wednesdays at nine, and Bones returns Thursdays at eight. But between 9 p.m. Monday and 9 p.m. Wednesday, everything Fox airs — a total of five shows — will be brand-new. Leading out of Gotham on Mondays will be a TV adaptation of Minority Report, which Fox hopes will appeal to men under 35 who've flocked to Gotham this season. Then, after the aforementioned three new Tuesday shows, Wednesdays will kick off with the Morris Chestnut–led medical crime drama Rosewood, giving Fox back-to-back dramas toplined by African-American stars. Fox's parade of change ends on Thursday, where the long-serving Bones will be reunited with a relocated Sleepy Hollow. The two shows aired together for a couple of months back during Sleepy's first season, in fall 2013, and actually turned out to be demographically compatible. Finally, Fridays will be low-key for Fox, with MasterChef Junior at eight and the Terry Crews–led clip show World's Funniest (formerly known as World's Funniest Fails) slotted for 9 p.m.
As reported separately, Fox's January schedule will include what is now being called the final season of American Idol, and a five-week run of six episodes of The X-Files. New shows slated to debut later in the season include The Frankenstein Code and Lucifer. Series officially axed by Fox include The Following, Weird Loners, Backstrom, Red Band Society, and, of course, Mulaney. Poor Mulaney.
Here is Fox's new fall schedule (new shows in bold):
MONDAY
8 p.m. Gotham
9 p.m. Minority Report
TUESDAY
8 p.m. Grandfathered
8:30 p.m. The Grinder
9 p.m. Scream Queens
WEDNESDAY
8 p.m. Rosewood
9 p.m. Empire
THURSDAY
8 p.m. Bones
9 p.m. Sleepy Hollow
FRIDAY
8 p.m. MasterChef Junior
9 p.m. World's Funniest
SATURDAY
8 p.m. College Football

SUNDAY
7:30 p.m. Bob's Burgers
8 p.m. The Simpsons
8:30 p.m. Brooklyn Nine-Nine
9 p.m. Family Guy
9:30 p.m. The Last Man on Earth