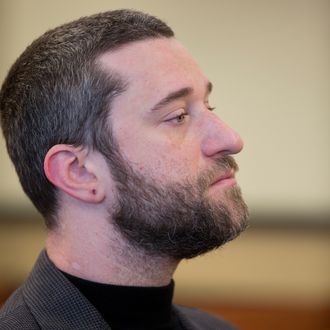 Dustin Diamond, who portrayed Screech on the beloved '90s show Saved by the Bell, was convicted in the Christmas 2014 stabbing of a 25-year-old man in a bar, the Associated Press reports.
Diamond, who's 38 (don't you feel old now?), was stoic during the trial:
After maintaining a serious facade during most of the trial, Diamond grinned Friday when a defense attorney asked if he liked being compared to the character Screech. Diamond said he, like his character, enjoyed nerdy things. And Diamond said he liked being identified in public as the goofy television character.

"That means they love you," Diamond said. "That means you're doing your job."
The super-nerdy Screech, that cantaloupe, once wrote "I love you" in chocolate syrup on Lisa's mother's white couch. Diamond has now been convicted of two misdemeanors for attacking a dude at some place in Wisconsin. Let that sink in for a minute, and then mourn your childhood.