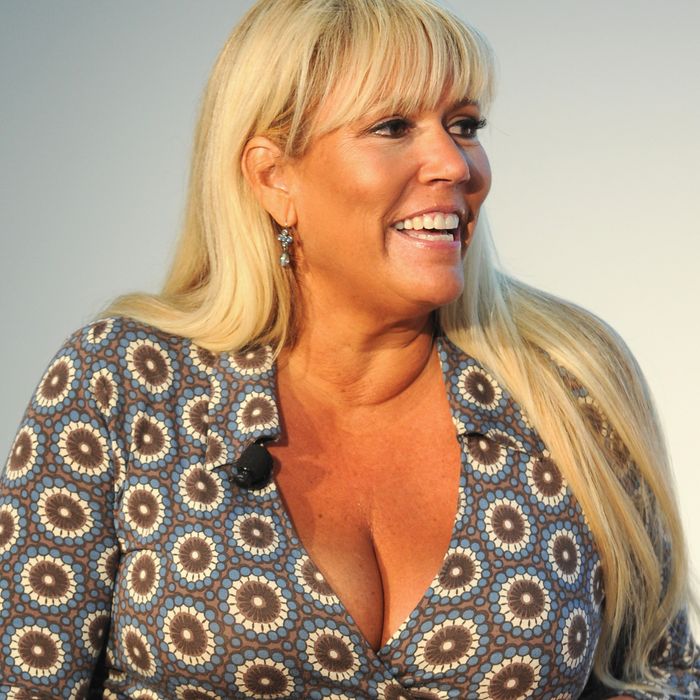 Screenwriter Karen McCullah participates in a roundtable discussion during Vulture Festival.
Photo: Craig Barritt/Getty Images
Discussions about the inequalities that exist between men and women in Hollywood have received a lot of ink and airtime recently, and deservedly so. This morning at the Vulture Festival's Screenwriters Roundtable in New York, Karen McCullah — the writer behind Legally Blonde, 10 Things I Hate About You, and The Ugly Truth, among others — weighed in on the subject. As she explained to Vulture film critic Bilge Ebiri, she doesn't feel as though she's encountered any sort of meaningful discrimination, even if producers do stare at her actresses' chests on occasion. You can read the exchange below.
During a discussion about pitching projects to studios:

McCullah: With House Bunny, we brought Anna [Faris] with us. We had written scenes for her to do in character, and then we were playing the other characters. It was like a traveling theater group that we had. This one producer/director that we were pitching just stared at her boobs the entire time. He never looked at any person while we were talking. So it was so awkward to pitch to him because he was the only person in the room, and he's just not looking at us. He was like, 'I only do dude movies. This is a chick flick.'
 
Ebiri: You're a woman working in a female-driven genre in an industry dominated by men. This has been in the news a little bit more recently.
 
McCullah: I know. There have been a lot of people kind of bitching and moaning about it. I'm not on that bandwagon. I don't ever feel discriminated against. He didn't want to make a chick movie. That's his prerogative. He makes dude movies. Like, I don't want to write Transformers. I don't want to see Transformers. Nor should I have even written that movie. What is it, a bug robot? I don't even know what the fuck it is. I've never felt like I haven't gotten a job because I'm a chick. Clearly, I have as foul a mouth as any dude in the room. My vagina's not holding me back.