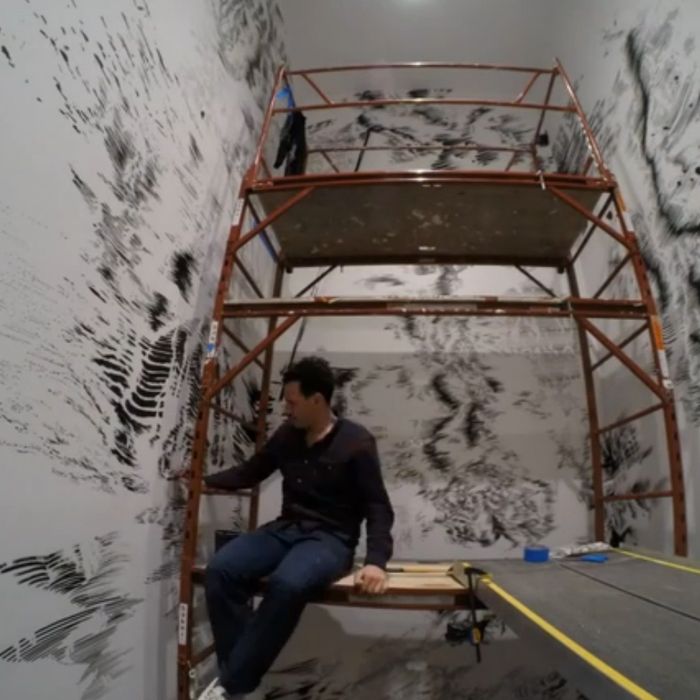 The French-born artist Abdelkader "Kader" Benchamma (b. 1975) is the first to use the stairwell at Soho's Drawing Center as his sketch pad. He finished a huge India-ink doodle in April. SEEN obtained this exclusive time-lapse video of him making it.

"I changed my first proposal because I wanted to fill everything," Benchamma said, standing at the top of the stairs and looking at his swirling Representation of Dark Matter. "It's very difficult to completely finish a drawing like that."
According to the museum, the work is "comprised of a series of linear abstractions and nebulous, inkblot forms [and] the work is a highly articulated depiction of the complexity of the solar system and its nearly imperceptible dark matter," resulting in "an occult mapping of time and space." Which sounds pretty trippy.
"I wanted the technique to be very simple," Benchamma explained. "In fact, it's just line most of the time, line or point, or very large line and very small line, or making a line very, very fast, or making a line with a pen that doesn't work." What the India ink, marker, and charcoal become, Benchamma hopes, is everything: "The drawing is very detailed and precise, but it's impossible to say what you're looking at."
"I like this accident with the ink." Benchamma pointed to a long drip that runs almost to the floor. "You don't forget it's a drawing. It's ink on the wall. It's not a print. There is a physical dimension to the small mistakes."
Then things get weird or metaphysical or at least quite complicated as he drifts into his source material. "Einstein says the universe can be like a mollusk. It can be very strong and at the same time very soft."

Benchamma's work is also featured in Phaidon's encylopedic Vitamin D: New Perspectives in Drawing.