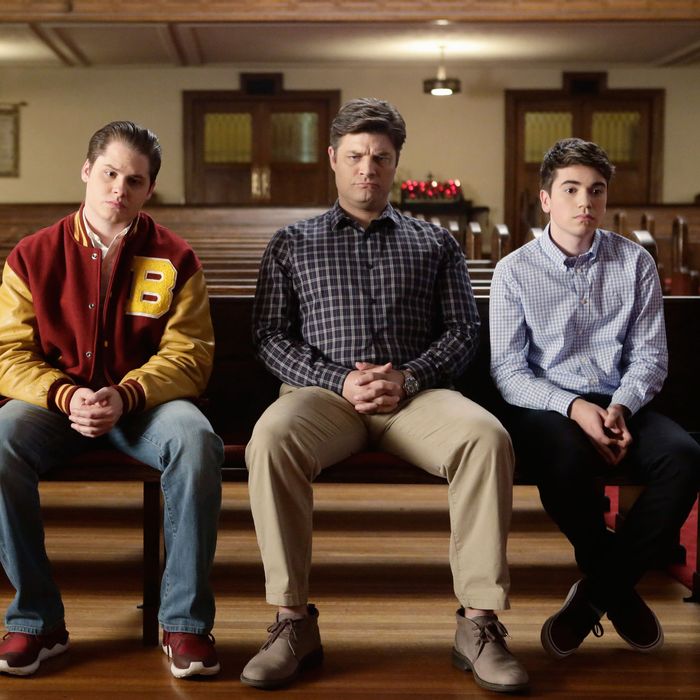 The Real O'Neals.
Photo: Nicole Wilder/? 2015 American Broadcasting Companies, Inc. All rights reserved.
It's Upfronts Week, which means networks are unveiling teasers and trailers for their new 2015–16 TV shows. Here, an extremely preliminary set of immediate reactions to ABC's new series.
The Catch
It's Shondaland's newest entry. Mireille Enos (The Killing) is a fancy-schmancy fraud investigator — who herself has just been defrauded by her fiancé.
First impressions: This seems like a perfect companion piece for How to Get Away With Murder (The Catch airs during TGIT, while HTGAWM is off season), a slightly glam drama with a dark side. I had many, many beefs with The Killing, but Enos's performance was top-notch, so go forth and be mysterious, ma'am. I would prefer if the promo said, "who is conning whom," but I am learning to live with pain.
Dr. Ken
It's a multi-camera family sitcom based on Ken Jeong —  an actual doctor himself!
First impressions: I would like better jokes, please. Teen girls presented as bizarre lexicons and weirdo-kid talent-show setups have been done to death — on other ABC shows, no less. Not everything has to be edgy, but this promo makes Modern Family look like Louie.
The Family
Adam was kidnapped ten years ago and presumed dead — dead enough that a sex offender was convicted of his murder. But now he's back, and his family — including Joan Allen as his politician mom — is all kinds of messed up about it. Oh, and maybe this isn't actually Adam after all?
First impressions: I'm definitely curious. Joan Allen, Zach Gilford, Rupert Graves, Alison Pill, Liam James, and Andrew McCarthy make for an intriguing cast, and the premise is certainly twisty enough. Series that have a central mystery sometimes struggle with either solving that mystery and having no plot left, or putting off solving that mystery and paralyzing all character and story development. Good luck, The Family!
The Muppets
What if the Muppets had a single-camera mockumentary-style show like The Office?
First impressions: Sold!
Of Kings and Prophets
Bible stories, except sexier!
First impressions: I'm generally against British accents for Bible epics, and I am vehemently against their use here. It only exacerbates the issue that for something set in Judea, this is weirdly reminiscent of a low-budget Game of Thrones. Maybe it's the sword sound effects.
Oil
Don Johnson stars as Briggs, an oil tycoon who treats his son terribly. Luckily, he's insanely rich! Which is what Chace Crawford wants to be, too. Rich.
First impressions: Prime-time soaps are harder than they look. That's why Empire is such a sensation and Nashville is such an also-ran. If Oil can go for full-on melodrama, mazel tov; otherwise, this could be sort of plodding and joyless.
Quantico
Welcome to FBI training at Quantico! Uh-oh, one of you is a terrorist.
First impressions: ABC is super gung-ho about star Priyanka Chopra, and fair enough; she does indeed seem like an on-brand lead actress. But like The Family, this show lives or dies on its central mystery. Unlike The Family, it appears to have a few glimmers of levity. From the brief glimpses here, it looks like the series tries to have a little bit of fun with its supporting characters, which is the kind of move that fills me with hope. It can't be all action all the time, can it? Sometimes you need a joke or two. (Think Matt McGorry on HTGAWM. The show needs him.)
The Real O'Neals
Martha Plimpton and Jay Ferguson star as the parents of a Catholic family whose outlook changes when their younger son comes out.
First impressions: I'm way more curious about the second episode of this show than I am about the pilot; what might the series do after these disclosures? If there's a TV genie granting wishes, my wish is that this show develops into a Raising Hope– or Trophy Wife–style show, with warmth and weirdness in equal measure. My second wish is to bring back Jay Ferguson's beard. I'm saving my third wish.
Uncle Buck
It's Uncle Buck, but with Mike Epps and not John Candy.
First impressions: Thank God the giant pancakes make an appearance, and thank God the kid actors appear to have timing and comic chops. Again, though, one wonders what happens on the next episode or episodes. And one hopes it's not another instance of an adult man stalking and photographing a naked teenager.
Wicked City
It's L.A. in the '80s, and cocaine and serial killers abound. Starring Ed Westwick and Erika Christensen.
First impressions: Doesn't seem like an ABC show, but it does seem kind of gleefully sleazy. Maybe in a bad way, but maybe in an enjoyable way? I'm cashing in my third wish on this one: Let it be spooky and gaudy, trashy without being trash.