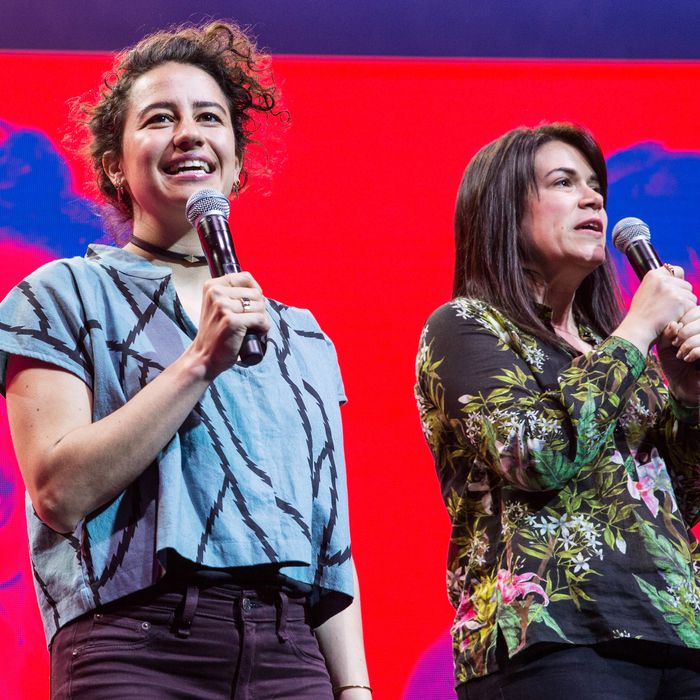 Ilana Glazer and Abbi Jacobson at Wednesday's Spotify event.
Photo: Getty Images
The streaming wars just intensified. At a star-studded media event in midtown Manhattan on Wednesday, Spotify's CEO Daniel Ek announced what The Wall Street Journal first reported earlier this month: Starting today, the music-streaming platform will officially expand its offerings to include video, live radio, podcasts, and news. Just one of the many new features offered in what Ek calls "the New Spotify," the brand has partnered with some of the biggest companies in media — Disney, Viacom, Vice, TED, the BBC — to bring their content to Spotify.
Yep, Broad City is coming to your Spotify app. Both Ilana Glazer and Abbi Jacobson were in attendance to share their excitement (and awkwardly read off a TelePrompTer) about getting to watch themselves while "sitting on the toilet, pooping." In addition to streaming existing content on Spotify, Ek says his company is already working with these partners to produce Spotify Originals for the platform, including Amy Poehler's Dance Move of the Day, radio shows curated by Icona Pop, Jungle, and Tyler the Creator, and exclusive shows with artists.
Here's the initial lineup for new Spotify Originals:
Presenting (audio): Artist-presented radio shows from the likes of Icona Pop, Tyler the Creator and the Odd Future crew, Jungle, Mike Skinner and Murkage present Tonga, Popjustice, Big Narstie and Rixton, with more big names to follow.

A Full English (video): A conversation between artists and personalities, widely separated by experience, who try to find common ground over a meal — a proper breakfast, in this case.

Incoming (audio): A weekly audio show hosted by Joe Levy and guests, taking you through the best new music around.

Amy Poehler's Smart Girls, Dance Move of the Day (video): A fun way for the adventurous to get their dance party started.

Guest List (video): Ever wondered what your fave music star sings in the shower? Or what they want played at their funeral? Tune in to find out.

Turntable (video):  Bringing chefs and musicians together for an intimate performance and meal.
But Spotify isn't stopping there. In streamlining all its new content onto the app, Ek says it wants to create a "true soundtrack to your life." With its Now feature, Spotify hopes to personalize your listening experience in ways that Songza users have been enjoying for years. And it starts with improving its often-criticized Discovery algorithm. Ek says Now will build playlists for every mundane part of your day — commuting, showering, cooking — by using memory recognition to learn what music you're into. It's also going the Tinder route, allowing users to swipe to pick and choose songs.
Spotify's flashiest new feature is also its most invasive. Dubbed Spotify Running, the platform plans to "integrate music into our lives," starting with fitness. Using the built-in sensors on our phones, Spotify will suggest songs with the same beats per minute as the pace and tempo at which you're running, essentially timing your movement with whatever you're listening to (which, as guest speaker Tiesto explained, could be a playlist exclusively curated by the DJ). Enter another partner: Staring this summer, Spotify will be available via the Nike+ app, while the RunKeeper app will also become integrated with Spotify in the near future.
Perhaps the most important announcement at today's press conference, however, was what wasn't said. It appears that despite all these enhanced features, "New Spotify" will still cost the same as "Old Spotify." Couple that news with leaked documents obtained by The Verge yesterday that allegedly show that major record labels and not Spotify are to blame for poor streaming payments to artists, and Spotify is having one hell of a week. Your move, Tidal.