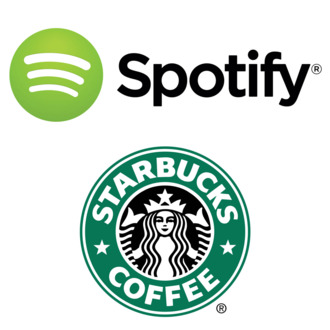 Welcome to the streaming wars, Starbucks.
Photo: Spotify, Starbucks
Now that Starbucks is done selling physical CDs in its 7,000-plus stores in the U.S., the coffee chain isn't ready to abandon music altogether. The company announced on Monday that it'll be partnering with Spotify for a multi-year deal in which the streaming service will bring its ridiculously named playlists to Frappuccino lovers everywhere. In return, Starbucks will promote Spotify in its stores and on its popular rewards app. The playlists, which will reportedly be curated by both Starbucks customers and employees (so you'd better hope your local barista has decent music taste), are set to hit a Starbucks speaker near you this fall. Listen closely: That's the sound of Jay Z spitting a Starbucks dis in the distance.