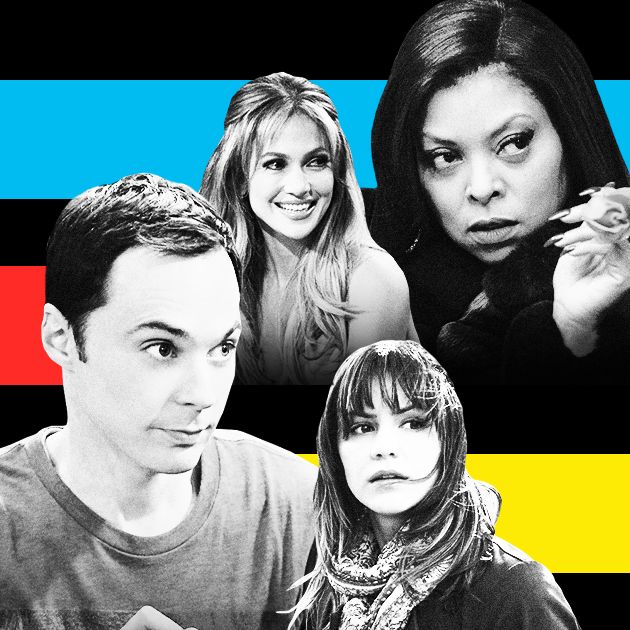 Photo: Maya Robinson and Photos by NBC, FOX, ABC and CBS
Upfront week, the annual ritual in which broadcasters unveil their new shows and schedules, has of late seemed less a celebration of the medium and more an insistent reminder by the networks that they're still relevant. Rapidly falling ratings, the explosion in original programming from an expanding array of content providers, and the surge in non-linear platforms such as Netflix and VOD have all made it increasingly difficult for broadcasters to convince their Madison Avenue patrons old-school TV is still the best way to sell their products. But as TV's circle of life begins anew Monday, with presentations from NBC and Fox, there will be at least one big difference from recent years: Empire happened.
The out-of-nowhere ratings success and instant domination of pop culture by Fox's first-year phenomenon was something many TV insiders assumed was as much a part of the medium's past as test patterns and Westerns. Even though they never publicly admitted it, executives who work in TV had been privately conceding that the days of monster hits along the lines of Friends or Desperate Housewives had probably passed. In the era of audience fragmentation, they figured the best anyone could hope for was a solid success, something along the lines of the first season of shows such as The Blacklist or 2 Broke Girls. Empire demonstrated that boring old broadcasters still have the ability to hit home runs, a realization that will only bolster the Big Four's determination to stave off their long-predicted slide into oblivion.
Empire is obviously just one hour of TV: It won't solve all of Fox's problems, let alone the woes of an entire industry. But as networks head into another upfront week, the Empire effect will absolutely cast a shadow. Fox will finally reveal when season two of the show will begin, how many episodes it will be, and whether the series will move out of its 9 p.m. Wednesday slot to serve as a lead-in to new show. And while Empire arrived too late to impact the development of new shows, we could see networks rearranging their schedules to get out of the way of Fox's juggernaut or possibly announce deals with producers to create their answer to the hip-hop soap.
Beyond the Empire halo, several other trends — big and small, negative and positive — will play out as broadcasters put the finishing touches on their series orders and new schedules. Here are ten worth keeping an eye on as the networks begin making their pitch.
Ratings still matter — but not as much as they used to.
Falling Nielsen numbers (and the decline in ad revenue that sometimes results) are by no means a good thing for networks. But increasingly, broadcasters are realizing they don't have to be fatal to the bottom line. "As recently as five years ago, [TV] was still 80 percent about winning and being competitive," one industry vet says. Today, the equation has changed. Nets still want Nielsen numbers, and they want to draw more of the right kinds of viewers (i.e. young people) than their rivals. Nearly as important now, however, is what Hollywood suits like to call "asset creation." That means using the network platform to create shows that bring in revenue from sources other than advertising — sales to international markets, U.S. cable networks, and, increasingly, streaming players such as Netflix or Hulu. Even programs that don't grab that many viewers when they air on traditional linear TV — think NBC's Hannibal or the second season of CBS's Under the Dome — can still turn into moneymakers for networks through these alternative revenue streams. Ideally, of course, networks want every show to be like Empire or How to Get Away With Murder — a blockbuster that prints money every which way. But since such big hits are increasingly an exception, broadcasters are figuring out new ways to get by.

Owning the shows you air is crucial.
All of the aforementioned alternative revenue streams only kick in if a network has some sort of financial stake in a show. If a series is produced by an outside studio, the network only has one big way to make money from it: selling ad time. That's fine when a show is a big hit, but with so many series now getting by with modest ratings, broadcasters don't have any interest in modestly performing shows they can't fully exploit. That's why Fox axed Almost Human last season (the show came from Warner Bros. TV) and why ABC might pull the plug on Cristela (which has actually improved ABC's Friday ratings). The downside of this corporate synergy: Some really good pilots may die next week because they were produced by the wrong studio.

ABC is allowed to brag as much as it wants …
The 2014–15 season belonged to the Alphabet network. After a couple years of struggle, ABC underchief Paul Lee now seems to be doing everything (okay, many things) absolutely right. It harnessed the power of Shonda Rhimes by turning over Thursdays to the producer, a masterstroke that produced a big new hit (How to Get Away With Murder) and double-digit audience growth on the all-important night. After wasting years trying to find the next Friends, ABC leaned in to its family comedy strength on Wednesdays by launching black-ish and relocating The Goldbergs to the night. Result: The biggest audience for the 8–10 p.m. comedy block since it launched with Modern Family in 2009, and a nearly 20 percent gain versus last season among viewers under 50. Midway through the season, it found an audience for Tuesday comedy Fresh Off the Boat and strengthened Sundays with buzzy soap Secrets and Lies. It even did well on Fridays — a night abandoned by some networks — by adding new comedy Cristela to the mix and boosting the net's numbers there to their highest levels in nine years. Overall, ABC is the only broadcast network up among viewers under 50 while also boosting its overall audience. It's moved up to third place among viewers under 50 (after spending several seasons in fourth place), and if you factor sports out of the equation, ABC is now tied with CBS for first place in the key 18–49 demo.
… while NBC's momentum over the past few years has reversed.
After finally recovering from the Nielsen version of a Great Recession, NBC lost some of its recent gains this season thanks to a decidedly lackluster crop of new shows and the complete destruction of whatever comedy brand it had left. The Peacock rolled out a whopping 11 new shows between September and April, and came away without a single hit. Worse, many of its freshman shows — including Allegiance, American Odyssey, and The Slap — were immediately rejected by viewers, forcing NBC to throw on reruns of Law & Order: SVU or extra episodes of Dateline to fill their time slots. Several new shows ended up drawing dramatically smaller ratings than whatever NBC aired a year earlier: Among viewers under 50, A to Z fell 33 percent below The Michael J. Fox Show, for example, while The Slap came in a stunning 55 percent behind the supposedly low-rated Parenthood. Overall, NBC dropped a disturbing 11 percent among viewers under 50 this season. Some of those declines can be chalked up to not having the Olympics this winter, but the network also had the Super Bowl this year.
The good news for the Peacock? It remains the No. 1 network among viewers under 50. And unlike those dark years when it was run (into the ground) by Jeff Zucker and his various underlings, NBC 2015 still has lots of core strengths upon which it can fashion a recovery. The Voice, despite mild erosion on Mondays, is still the biggest reality hit on TV among younger viewers and remains a good potential launching pad for (the right) new shows. Dick Wolf's Law & Order/Chicago Whatever franchise supplies NBC with four hours per week of stable, repeatable, and solidly rated TV. And while more than a few TV-industry insiders consider NBC's move of The Blacklist a massive mistake — the show's ratings are way down on Thursdays — it's still too early to declare the experiment a failure. It's worth noting that The Blacklist is now regularly beating Scandal in viewers, crushing Fox, and is competitive with CBS in the hour. Yes, the gap between ABC and NBC is pretty big in key demos, but it's been closing. If NBC surrounds Blacklist with better shows next fall and the show's producers come up with the right twist or guest star, it's very possible Blacklist will start growing again — just as Scandal begins to slowly age and as CBS and Fox struggle to launch hit shows on the night.
The networks desperately need to replenish their rapidly dwindling supply of successful sitcoms.
Save for ABC, the networks once again went through a season without producing much in the way of new comedy hits. While Fox's The Last Man on Earth did much better than anyone expected and fits in well with the network's male-targeted Sunday schedule, Mulaney and Weird Loners were massive bombs. CBS's The McCarthys also failed on Thursdays, while the Eye's sophomore hope, The Millers, flamed out early in the fall. The Odd Couple may or may not come back, and because of its positioning behind The Big Bang Theory, a lot of people watched it. But we could have said the same thing about Millers last May. Worst off, again, was NBC: It gave up its best comedy of the season for adoption (Unbreakable Kimmy Schmidt), said farewell to Parks and Rec, watched About a Boy fade in season two, and launched another batch of new comedies nobody even remembers anymore. Somewhere, Dan Harmon chuckles (and also writes a thank-you note to NBC, since Yahoo gave him a raise to bring Community to the internet).

Reruns are so 2010.
Except for a few comedies and procedural dramas, the low ratings generated by "encore" showings of programs in prime time increasingly don't make financial success. Broadcasters will battle rerun fatigue by investing in more first-run hours. In some cases, this might be more new shows (ABC and NBC both rolled out about a dozen freshman series this season, to mixed results). "You need to get more trips to the plate," one industry analyst says. But it could also mean bringing back bubble shows for limited runs, or splitting seasons into two or three cycles (as Scandal and some ABC serials have done for years). Or …
Expect even more "event" shows …
Getting the attention of the audience and getting folks to watch in as close to real time as possible are mandates at all networks these days. We've already seen NBC have some success with its holiday musicals, and that trend will expand next season with Fox's live presentation of Grease (and the Peacock's update of The Wiz). But variety shows could also make a comeback, either through Neil Patrick Harris's NBC series Best Time Ever, the suddenly alive again Maya Rudolph Show, or a couple of projects in development but not yet announced. Networks will also look to make shows "events" by limiting their episode count and bringing on new casts every season, the way FX has done for years with American Horror Story. Fox has already gone all in on Ryan Murphy's Scream Queens, while ABC is almost certain to bring back Secrets and Lies. Finally, while not much will likely be made of it at the actual upfronts, keep an eye on how a slew of summer game shows debuting in the next few weeks perform. If revivals of Celebrity Family Feud and Are You Smarter Than a Fifth Grader or newbies such as 500 Questions and Boom! do well in the off-season, broadcasters will quickly look to add them to their regular-season lineups.
… while reboots and revivals will be everywhere.
NBC has had Heroes: Reborn in the works forever and is expected to finally unveil the show this fall. Fox's much-anticipated The X-Files reunion should show up in early 2016 (perhaps followed later in the season by the surprise announcement of another cycle of 24?). Mid-season will also bring NBC's update of Coach and, possibly, a new take on The Muppets over at ABC.
CBS has lots of viewers — but too many aging hits.
The Eye stands apart from every other network in television, broadcast or cable, because of just how many of its shows still reach a really big audience every week. Leaving aside sports, it has nearly two dozen weekly series that draw more than 10 million viewers on a regular basis; none of its rivals can boast more than eight shows that amass that sort of viewership. After a pretty awful 2013–14, CBS stabilized this season by shoring up its core schedule and going back to basics. Cutting back to just one hour of comedy on Mondays meant abandoning decades of tradition on the night, but slotting successful newcomer Scorpion Mondays at 9 boosted CBS's viewership in the hour by over 40 percent (while delivering double-digit demo gains as well). CBS also helped itself by relocating aging hits such as NCIS: Los Angeles and The Amazing Race to new nights.
Despite its overall steadiness and the fact that it's been TV's most-watched network for 12 of the last 13 years, CBS has become overly reliant on its oldest hits. Its anchors on Tuesday (NCIS), Wednesday (Criminal Minds), and Thursday (The Big Bang Theory) will have all been on the air for at least nine seasons next fall. While that's not a bad thing in and of itself, CBS has done a poor job in recent years developing breakout hits along the lines of Fox's Empire, ABC's How to Get Away With Murder, or NBC's The Blacklist. "CBS is starting to look a little frayed around the edges," one industry observer notes. The Eye needs new hits after a couple years of subpar series development, particularly if it wants to stay competitive in the pursuit of younger viewers.
Schedules still matter — and they will be shuffled.
Sure, people watch shows on their own time these days. But about half of all viewers don't have DVRs, and having a good lead-in can still help a new show at least get noticed early on (even if, increasingly, series live or die on their own merits). So expect the networks to make a few bold moves, either to get attention or to maximize their assets. Among the biggest questions is whether ABC will leave its finally cohesive Wednesday comedy block in place or shift around a piece or two. We'd be not at all surprised to see The Middle move to Tuesdays, with red-hot The Goldbergs taking its place as the network's 8 p.m. lead-off hitter on Wednesday. The network could then move Fresh Off the Boat to Wednesdays, where it would become a bigger hit, or open up a half-hour for a new family comedy from in-house ABC Studios.
Over at CBS, the big question is where Supergirl lands (maybe it airs in late summer?) and what gets the coveted time slot behind The Big Bang Theory. It wouldn't be at all shocking to see NBC forego half-hour comedies completely in the fall, and maybe air Best Time Ever behind The Voice on Tuesdays. (Its three new comedies could be saved for mid-season, when NBC has more time to promote them.) Some observers also believe NBC will reverse course and move Blacklist back to Mondays, if only to shore up the ratings for what had been one of its biggest drama hits in years. A more likely scenario is that the Peacock pairs Blacklist with the already-green-lit Chicago Med, trying out a medical drama in the time slot ER ruled for 15 years. It might then try out the very Blacklist-like new thriller Blindspot behind The Voice on Mondays.
And then there's Fox. While Empire will almost certainly return in the fall (rather than in January) and likely remain on Wednesdays, the big question is whether the network shifts its new juggernaut to 8 p.m. in order to launch something new behind it. History suggests Fox will wait a bit before such a move, however, particularly since it might want to develop a companion series specifically designed to air after Empire. Also, it's a safe bet that Fox will separate Gotham and Sleepy Hollow; the shows were not a good match this year. Shifting Sleepy and Bones to Thursday or Friday would be a great way for Fox to improve its ratings on either night.