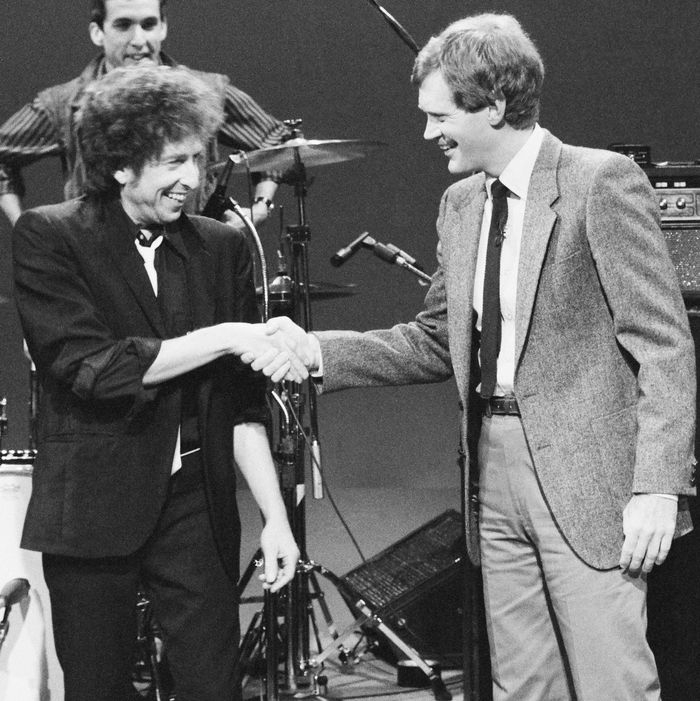 Bob Dylan and David Letterman, 1984.
Photo: NBC/Getty Images
Tonight Bob Dylan will return to The Late Show for the first time since 1993 and bid farewell to the retiring David Letterman as the host's final musical guest. It's a big occasion to be sure, but the performance almost certainly won't match Dylan's first Letterman appearance as the best, or, considering how it came about, strangest set that the musician has delivered within earshot of Dave's desk. The three-song gig also, arguably, still holds a spot as Dylan's premier televised performance.
More than 31 years ago, Dylan arrived at the Late Night studio at a moment when he and the host were moving rapidly in different directions. Letterman, just two years into his run — which concludes this Wednesday night — was a comedy sensation, bringing a new level of sarcasm, irony, and Bud Melman–centric humor to a late-night format still reliant on the smooth unflappability of Johnny Carson. Dylan? Well, he was about as irrelevant as he'd ever been, having frustrated his audience with the musically slick, lyrically hectoring series of evangelical christian albums that he'd released in the late '70s and early '80s. Indeed, circa 1984, Dave was far more of more of a counterculture hero than Bob.
Still, Dylan was Dylan, one of the most famous musicians alive, and his booking on Late Night was a coup. Studio 6A had hosted some memorable acts, like R.E.M.'s network debut, but no one of Dylan's status had yet performed on the show. (Though the fact that a new-ish late-night talk show with a deeply irreverent, acerbic host was able to book Dylan was perhaps a testament to the latter's diminished status at the time.)
On the show in question, after Liberace finished a segment wherein he cooked his famous egg casserole, Dave introduced a "legend of the music world," and the camera panned over to the singer, showing something that even the most deeply learned Dylan devotee couldn't have anticipated. His backing musicians that night didn't include any members of his old running buddies the Band, or high-profile hired hands like ex–Rolling Stones guitarist Mick Taylor or Dire Straits' front man Mark Knopfler, who'd both worked with him during that period. Nor was he joined by any of his old Greenwich Village cronies. Instead, standing behind Dylan, all dressed in ratty black suits, were three unknown 20-somethings — and they were killing it.
Guitarist J.J. Holiday, drummer Charlie Quintana, and bassist Tony Marsico — the latter two of whom were members of the L.A. punk band the Plugz — backed Dylan on three songs that night, a fierce "Jokerman" and a perfectly raucous "License to Kill," both from Dylan's then-new semi-return-to-form album Infidels, and a swaggering cover of Sonny Boy Williamson's "Don't Start Me Talking." For 12 minutes or so, the musicians proved that Bob Dylan could be jolted out of the perfunctory performances he'd been accustomed to giving then, and suggested a future beyond the living relic circuit.
"At the time we were so young and dumb," says Marsico, thinking back to that show. "Years later, you pinch yourself."
It wasn't a dream, but it might seem like one now. After that night, Marsico never played music with Bob Dylan again.
In the early 1980s, Dylan was living in Malibu, about an hour from the Plugz' Hollywood base but a musical world away. While Dylan was coming down from his Christian experiment by experimenting with mild reggae, Quintana, Marsico, and Holiday were playing sneering and lean Latin-inflected punk-rock. "It was fast, aggressive, and mean," Quintana says of the Plugz sound, "but it was also graceful and beautiful."
It was exactly the type of music that excited Dylan's three teenage sons and, by extension, their dad. Under the influence of his kids, Dylan would leave his Malibu home and slip into shows by the likes of L.A. punk stalwarts X, or check out the Santa Monica Civic Center when the Clash came to town. "I always thought Bob found the punk scene cool and refreshing," muses Quintana. "Punk was just modern folk — a little political, a little sarcastic, telling real stories about the shit going down. Bob was into that."
So many years later, it's unclear exactly when and where Dylan first heard the Plugz, but the mostly likely link was a then-girlfriend of Quintana's. "Charlie's girlfriend was a secretary for [tour manager] Gary [Shafner], who handled Dylan's tours," says Holiday.
By the middle of 1983, Dylan had finished recording Infidels, and the lovelorn "Sweetheart Like You" was chosen for a music video, but a drummer was needed for the taping. Thanks to his girlfriend's connection, Quintana was tapped. "In between takes, Bob and I would chat," recalls Quintana. "At the end of the last day, he asked if I wanted to come to his house and jam sometime."
Each week, someone from Shafner's office would call Quintana and tell him when to come by Dylan's Malibu rehearsal space. "I maybe brought a few dozen guys to the sessions," says Quintana, before he asked Holiday, a friend from the punk scene, and Marsico to come along. "I don't know what Dylan saw," says Quintana. "But the Plugz had all played together before, so I guess we had a connection that he liked."
Often hung-over or sleep-deprived from a previous night's gig, the trio would make the drive to the rehearsal space a few times a week, showing up around noon and then waiting for Dylan to appear — often wearing rubber boots and accompanied by Baby, his pet mastiff. Dylan didn't live in the house — it was strictly a workspace — and the locale was tricked out with expensive audio gear and recording equipment. "I would always tell people, the first time they came," says Quintana, "Watch what you say: There are mics everywhere.'"
The jam sessions would last a few hours, and consisted mainly of covers of songs like "My Guy" and "Gimme Some Lovin.'" They rarely played material from Infidels or the rest of Dylan's catalogue. The tunes may have been simple enough, but Dylan's instructions could be inscrutable. Holiday remembers him asking the band to play one song "with a stripper beat and add a marching band onto it."
As the sessions continued into late 1983, the trio began to wonder what, if anything, they were building towards. There was loose talk of playing a gig for record executives in Hawaii, or of possibly touring South America incognito. "The way I understood it," explains Holiday about that last idea, "Bob wanted to perform in bars, just showing up unannounced."
Neither idea materialized, but in March 1984, about a week before the TV performance, Dylan brought up the notion of a Letterman gig. "When he asked us," remembers Marsico, "I remember thinking, Hell yeah, that is a hip fucking show.'"
Once the Late Night decision was made, the Plugz traveled to New York and got a taste of rock-star luxury — a new experience for the young punks. "I'd been to New York before, to play at CBGB," says Holiday, "and to make sure that our gear didn't get stolen, our tour manager slept in our van with a gun." Now the group was being put up at the same Park Avenue hotel where English dandies Duran Duran were staying, and getting $30 per diem when they normally allotted themselves a measly five bucks.
The musicians had a rehearsal scheduled for the day before the televised gig, but it started late because Dylan was waiting for Rolling Stones guitarist Ron Woods's Fender Stratocaster guitar to arrive, which he wanted to play on the show. Once the instrument arrived, the quartet practiced about 50 songs, without a clue of which ones Dylan was keen on playing the next day. "Bob likes to throw you to the wolves," says Marsico. "He likes that energy."
He got it. "This is certainly an exciting moment for us," said Letterman from his desk during the telecast, as a guitar twanged off-camera. "Please welcome Bob Dylan." And the band is off, launching into Williamson's "Don't Start Me Talking." Dylan yowls and jumps down to his knees as Holiday rips out a slide-guitar part, the rhythm section thumping away. Fast, raw, and direct, it sounds nothing like the complacent, Über-professional live work Dylan had been doing back then.
"Right before we started," says Marsico, "Dylan whispered, 'Let's do "Sonny Boy."' We all found the key fast." Luckily, it was a number they'd practiced a big handful of times. Otherwise, Marsico says, "we would've been totally fucked."
After the song, Letterman comes onstage and says, "Perhaps two more songs?" Dylan seems momentarily confused before muttering, "Okay."
The next song, after a commercial break, was "License to Kill." On Infidels, the song is slow and languorous, verging on torpid. Now it's impish, defiant, the band evoking some of the thin, wild mercury sound that defines Dylan's best rock 'n' roll. The front man feels it, too, leaning back, dipping his knees, sneaking out a smile. "It was like a Plugz show," Marsico says. "We just rocked out." For the song's coda, Dylan takes off his guitar and picks up a harmonica, stomping his feet and blowing loud. When it's over, the camera cuts to Letterman smiling at his desk. He says, simply, "Amazing."
Last up is "Jokerman," a loping romp, and the one song the band always played during rehearsals. "It's a very slow reggae song on Infidels," offers Quintana, "and that was the one constant in all of our sessions. He specifically wanted to play it very aggressively." The band barrels through the number with infectious glee, relaxed and rocking — despite an out-of-tune harmonica. "He was given the wrong harmonica," Quintana says, "and he just yelled as us to keep playing." As the song ends, Dylan punches the air with both hands. Letterman bounds onstage and asks, "Is there any chance you guys could be here every Thursday night?"
After the show, Dylan and the band hung out backstage, talking with Liberace and having their photos taken by Rolling Stone until Dylan left, explaining he was due at a Knicks game with Keith Richards. Holiday says, "Dylan told us he would call us on Monday." The call never came. "Whenever Tony and I see each other," Holiday continues, "we always joke, 'Did you get that call yet?'"
More than 30 years later, with Letterman about to leave and Dylan, following a late-career renaissance, comfortably ensconced as a dignified elder statesman, the Plugz performance now seems like a mirage beamed in from a far different era — when Dave was young, Dylan had something to prove, and he got an unknown band of L.A. punks to help him prove it. The Plugz may never have backed Dylan again, but they didn't disappear. Holiday went on to play in a blues band with Dan Aykroyd and Jim Belushi. He also befriended Johnny Depp and now does creative research for the actor's production company. Quintana and Marsico morphed the Plugz, whose singles and albums hadn't drawn much attention, into another band, the Cruzados, which signed with with Arista Records and released two albums before disbanding in 1988. Quintana spent ten years playing with countryish punk band Social Distortion — and even, remarkably, did a spell on Dylan's Never Ending Tour before retiring several years ago. Marsico has kept active in music, recently forming a rock-roots group called Cisco & Dewey. He hasn't seen Bob Dylan since that lone outlier evening so long ago.
"After we stepped off the stage that night," recalls Marsico, "the enormity of playing with Bob Dylan hit me. I thought, Hey, that was pretty cool. That clip might be around for a few years.'"