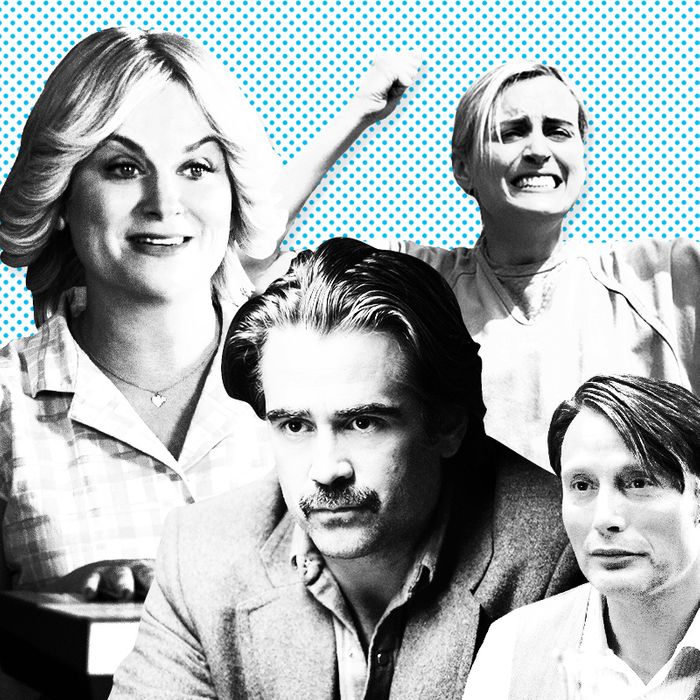 Photo: Kelly Chiello and Photos by HBO, Netflix and NBC
It wasn't so long ago that television operated along the same lines as a school schedule, taking a long hiatus during the summer and phoning it in with a mixed bag of reruns (Baywatch, Stargate SG-1) and yet another season of Big Brother. No longer! With the rise of cable and streaming players like Netflix and Amazon, there's plenty of original programming year-round that goes well beyond reality-TV fare. Below, the highlights of 2015's summer lineup, followed by a full schedule that will be continuosly updated through the end of August — from Wet Hot American Summer to, yes, another season of Big Brother.
UnREAL, June 1, Lifetime
You likely haven't heard a lot about this Lifetime show, but it might be one of the most interesting new shows this summer: Created by Buffy the Vampire Slayer's Marti Noxon, it's an original scripted series that takes place on the set of Everlasting, a facsimile of The Bachelor. The producers compete to scrape the worst out of their contestants, while — surprise! — their own lives are falling apart for our entertainment. From the episodes we've seen, it's a sharp, gimlet-eyed counterweight to those other reality shows about true love.
The Whispers, June 1, ABC
If you bemoaned the lack of Lily Rabe in the last outing of American Horror Story, it was because she was busy starring in this ABC mid-season starter executive produced by Steven Spielberg. Rabe plays FBI child specialist Claire Bennigan, who investigates children who have committed violent acts driven by their imaginary friend, "Drill." (What a name.)
Hannibal, June 4, NBC
Matt Zoller Seitz's favorite show of 2014 might not be killing the ratings, but it's left us anxious for more. There's a lot to look forward to in the third season: Gillian Anderson has been bumped up to series regular so she can cavort around Italy with Dr. Hannibal Lecter, and The Hobbit's Richard Armitage joins the cast as Francis Dolarhyde, better known as the Tooth Fairy from Red Dragon. Basically, even with Hannibal in Europe, Will Graham's life is still going to be miserable.
Sense8, June 5, Netflix
We have a description and a trailer, and all we can reasonably say is that this looks like Cloud Atlas and The Matrix had an excitable child together. Eight entirely disconnected individuals, from a "closeted telenovela hunk" to a "Korean businesswoman" (you can watch character videos for each of them), discover they are sensates (er, sense8s?) — that is, highly attuned, empathetic people who can feel, learn, and ultimately understand one another intimately. It sounds like the queer, post-racial society the Wachowskis have always envisioned. American studies majors, you may begin taking notes.
Orange Is the New Black, June 12, Netflix
The ladies of Litchfield are back for a third goaround, and there's some good news (more Alex!) and some greater news (no Larry!). Per usual, Jenji Kohan has kept teasers to a minimum, but at a recent panel, she did hint that the third season would be lighter and focus more on motherhood and faith, which suggests that maybe the baby of Daya and Officer Bennett is ready to make its Netflix debut.
Catastrophe, June 19, Amazon
Comic Rob Delaney's show already received strong notices when its first season aired in the U.K. earlier this year, and Amazon Prime users will be able to binge-watch it in its entirety this summer. Along with co-creator and co-star Sharon Horgan, the show is about an American man and an Irish woman who try to have a relationship after an accidental pregnancy, which, apparently, is every straight man's greatest fear.
True Detective, June 21, HBO
There's a lot riding on the sophomore season of this anthology series: Will Nic Pizzolatto receive the same fervid acclaim he did for the first? Can the show help resuscitate the flagging careers of its movie stars? Will we see a lot of grizzled dadbods? These are lots of questions, and likely only Rust has the answers.
Ballers, June 21, HBO
The Rock is pathologically likable. He officiated a wedding, played a mean Bambi, and now holds the Guinness World Record for the most selfies taken in three minutes, which sounds like a made-up thing, but who cares! The Rock can do whatever he pleases. For Ballers, he plays a former football superstar who's trying to rebrand himself as a financial manager for other players. He's got a ragtag group of buddies made up of former and current players. From the trailer, if you think it looks a lot like Entourage with more protein powder, you would be right: It's created by Stephen Levinson, with Mark Wahlberg as one of the executive producers.
The Brink, June 21, HBO

The Brink follows a trio of bumbling Americans trying to save the world when a rogue general runs a coup of the Pakistani government, putting the world on "the brink" of a nuclear war. The three men to save the day are Tim Robbins as secretary of State, a clean-shaven Pablo Schreiber as a Navy fighter pilot, and Jack Black as a "lowly" foreign service officer. Does anyone else kind of miss Mr. Bean?
Wet Hot American Summer, July 17, Netflix
It took 15 years for the cult classic Wet Hot American Summer to get its due. For the Netflix reboot, the original cast is putting on their short shorts and returning to the first day at Camp Firestone to revisit the days before they were famous. Yes, they're now over a decade older and technically playing younger characters, but at least Paul Rudd still looks ageless.
BoJack Horseman, July 17, Netflix
Washed up '90s-sitcom star BoJack Horseman is back for another (hopefully) depressing season. From where we last left off, he's going to be on the set of Secretariat, where he'll finally get that acclaim he's been seeking so desperately — or just get Diane to like him.
The full summer 2015 lineup:
Thursday, May 28
9 p.m. Aquarius, NBC
11 p.m. Louis C.K.: Live From the Comedy Store, FX
Sunday, May 31
10 p.m. Halt and Catch Fire, AMC
Monday, June 1
9 p.m. Devious Maids, Lifetime
10 p.m.UnREAL, Lifetime
10 p.m. The Whispers, ABC
Tuesday, June 2
8 p.m. Pretty Little Liars, ABC Family
9 p.m. Stitchers, ABC Family
10 p.m. Secrets & Wives, Bravo
Wednesday, June 3
8 p.m. Melissa & Joey, ABC Family
9 p.m. Baby Daddy, ABC Family
Thursday, June 4
10 p.m. Hannibal, NBC
Friday, June 5
3 a.m. Sense8, Netflix
Saturday, June 6
9 p.m. Power, Starz
Monday, June 8
8 p.m. The Fosters, ABC Family
9 p.m. Major Crimes, TNT
9 p.m. Becoming Us, ABC Family
10 p.m. Murder in the First, TNT
Wednesday, June 10
9 p.m. Skin Wars, GSN
Friday, June 12
3 a.m. Orange Is the New Black, Netflix
8 p.m. Defiance, Syfy
10 p.m. Dark Matter, Syfy
Tuesday, June 16
9 p.m. Rizzoli & Isles, TNT
10 p.m. Proof, TNT
10 p.m. Tyrant, FX
Wednesday, June 17
11 p.m. Deutschland 83, SundanceTV
Thursday, June 18
8 p.m. The Astronaut's Wives Club, ABC
9 p.m. Mistresses two-hour premiere, ABC
9 p.m. Complications, USA
Friday, June 19
Catastrophe, Amazon
9 p.m. Killjoys, Syfy
Sunday, June 21
8 p.m. Celebrity Family Feud, ABC
9 p.m. BattleBots, ABC
9 p.m. The Last Ship two-hour premiere, TNT
9 p.m. True Detective, HBO
10 p.m. Ballers, HBO
10:30 p.m. The Brink, HBO
Wednesday, June 24
8 p.m. Big Brother part-one premiere, CBS
9 p.m. Suits, USA
Thursday, June 25
8 p.m. Big Brother part-two premiere, CBS
8 p.m. Boom!, FOX
9 p.m. Under the Dome, CBS
10 p.m. Rookie Blue, ABC
10 p.m. Graceland, USA
Friday, June 26
3 a.m. What Happened Miss Simon, Netflix
Sunday, June 28
9 p.m. Humans, AMC
10 p.m. Falling Skies, TNT
Monday, June 29
10 p.m. Teen Wolf, MTV
Tuesday, June 30
9 p.m. Zoo, CBS
Wednesday, July 1
10 p.m. Extant, CBS
Thursday, July 2
8 p.m. Food Fighters, NBC
Monday, July 6
8 p.m. Penn & Teller: Fool Us, the CW
Tuesday, July 7
10 p.m. Hollywood Game Night, NBC
Thursday, July 9
9 p.m. Dates, the CW
10 p.m. Rectify, SundanceTV
10 p.m. Dominion, Syfy
Friday, July 10
8 p.m. Masters of Illusion, the CW
Sunday, July 12
9 p.m. Ray Donovan, Showtime
10 p.m. Masters of Sex, Showtime
Monday, July 13
10 p.m. Running Wild With Bear Grylls, NBC
Thursday, July 16
10 p.m. Sex&Drugs&Rock&Roll, FX
10:30 p.m. Married, FX
10:30 p.m. Friends of the People, truTV
11:30 p.m. Geeks Who Drink, Syfy
Tuesday, July 28
9 p.m. Face Off, Syfy
Friday, July 17
3 a.m. Wet Hot American Summer, Netflix
3 a.m. BoJack Horseman, Netflix

Saturday, July 18
9 p.m. Hell on Wheels, AMC
Sunday, July 19
8 p.m. Welcome to Sweden, NBC
Tuesday, July 21
9 p.m. Knock Knock Live (Ryan Seacrest)
Wednesday, July 22
9 p.m. Last Comic Standing, NBC
9 p.m. Sharknado 3: Oh Hell No!, Syfy
Sunday, July 26
9 p.m. As-yet untitled Bruce Jenner reality series, E!
Friday, July 31
8 p.m. Cold Justice, TNT
9 p.m. Cold Justice: Sex Crimes, TNT
10 p.m. Strike Back, Cinemax
Monday, August 3
9:30 p.m. Significant Mother, the CW
Tuesday, August 4
10 p.m. Playing House, USA
Wednesday, August 5
8 p.m.  America's Next Top Model, the CW
9 p.m.  A Wicked Offer, the CW
9 p.m.  Mr. Robinson, NBC
9 p.m. The Carmichael Show, NBC

Sunday, August 16
9 p.m.  Show Me a Hero, HBO

Saturday, August 22
9 p.m.  Blunt Talk, Starz
9:30 p.m. Survivor's Remorse, Starz

Tuesday, August 25
10 p.m.  Public Morals, TNT
Summer TBD
Fear the Walking Dead, AMC