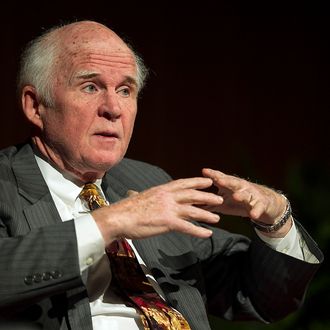 Taylor Branch.
Photo: Photo by Rodolfo Gonzalez-Pool/Getty Images/2014 Getty Images
Speaking at a Maryland Film Fest panel, Taylor Branch, Ta-Nehisi Coates, David Simon, and James McBride — all of whom are working on adapting Branch's America in the King Years — revealed more details behind their HBO series, as well as how the show relates to the recent Baltimore protests and larger racial issues. The miniseries will focus on Branch's third volume, At Canaan's Edge, according to The New Yorker, and will cover the period from 1965 to 1968, which saw Martin Luther King Jr. angle the civil-rights movement toward economic equality. Simon said at the event that the show will "veer away from the idea of King," and "look around the edges for the most regular people." The writers added that they are particularly excited to bring the stories of C. C. Bryant, a barber in Mississippi; Fannie Lou Hamer; Amzie Moore; Kwame Touré (formerly Stokely Carmichael); King's adviser and lawyer, Stanley Levison; and activists Diane Nash and James Bevel, among others, to the screen.
All portions of the miniseries' scripts have reportedly been assigned, but the writing process is happening amid such real-life strife as the protests in Baltimore, which the writers said have been on their minds. As The New Yorker points out, the writers expressed such different viewpoints about what's happening in Baltimore that it seems like they'll be bringing disparate understandings of the civil-rights movement to the miniseries. McBride said Simon told him: "The civil-rights movement never stopped, it continues" — only "the faces have changed." Coates said he hopes that "some feeling of shame and sense of tragedy could be communicated by their adaptation" because America never reconciled itself with King's original goals; meanwhile, it seems McBride wants to bring a sense of optimism to the project. The series will include six one-hour installments and, thanks to Harry Belafonte, probably a pretty sobering look at the history.