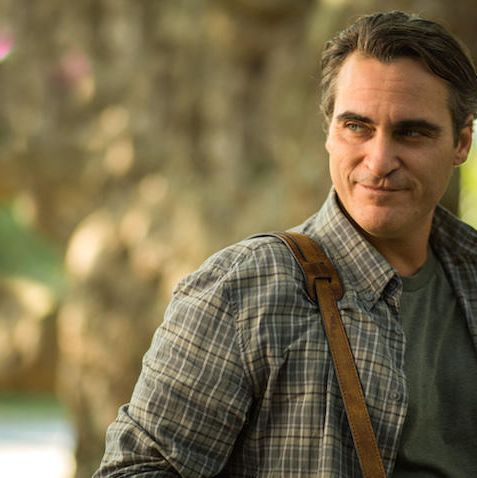 Photo: Sony Pictures Classics
Outside the Palais in Cannes yesterday, as Emma Stone and Rachel Weisz hit the red carpet for their gala premieres, both actresses wore chic, curve-hugging gowns that showed off their enviably toned bodies. Inside the Palais, when their films unspooled, it was a much different story … at least for their male co-stars. Both Joaquin Phoenix (who romps with Stone in Woody Allen's Irrational Man) and Colin Farrell (who stars with Weisz in the dark comedy The Lobster) enter their movies potbelly-first, a trend of movie stars gone to seed that had audiences buzzing. That's right: Even a continent away in the most glamorous place on Earth, Cannes has embraced the dadbod.
If you're unfamiliar with the term (and oh, what a sweet, thinkpiece-free existence you must lead!), let us bring you up to speed: The dadbod is this spring's trendiest body type, a look for men whose gym-going is secondary to their belly-growing. These men may be up for a morning jog from time to time, and there's even a 24 Hour Fitness card buried in their wallet somewhere, but their abs are safely ensconced by flab, a cuddly midsection bulging out the bottom of their size-medium shirts. Think Chris Pratt, back before Guardians of the Galaxy required him to get a Marvel-mandatory six-pack.
Codified in pop culture two weeks ago, the dadbod feels like a contrarian reaction to the perfect bodies on display in contemporary action movies, where the bulked-up likes of Vin Diesel and Chris Evans reign supreme and a yoked look like Dwayne Johnson's requires an insane commitment to round-the-clock rice-eating. It's fitting, then, that the dadbod should make its way to the big screen, where it can challenge the musclebod in its primary medium.
Both Irrational Man and The Lobster initially posit the dadbod as sort of a sadbod: When we meet Phoenix and Farrell, their characters are blocked and unhappy. Phoenix ambles into Irrational Man as an impotent professor who's lost his lust for life, while Farrell even adds a sadsack mustache to his Lobster look in order to play a divorced man consigned to a surreal love hotel, each man's big belly serving as an ostentatious bit of character-specific costuming. But there is no makeover montage in their future: As both of their characters find love and are rejuvenated from it, their dadbod remains front and center.
And why should they try to lose it? The dadbod makes not a whit of difference to their love interests, who practically throw themselves at their filled-out leading men. The sunny, slender Stone uses her narration mostly to talk about how attractive she finds Phoenix, while Weisz, who also narrates her movie, indicates that as soon as she laid eyes on the paunchy Farrell, it was lust at first sight. These men can have their fattening cake and eat it, too: The movies seem to revel in their extra poundage, granting both Phoenix and Farrell more shirtless scenes than Chris Hemsworth got in Thor, but even with their protruding bellies — so massive that a colleague asked me after Irrational Man whether I thought Phoenix was wearing a prosthetic — these men still get to sleep with some of the most beautiful actresses in the world.
The powerful potbelly might be yet more proof of our society's double standards, but at least at Cannes, it seemed to split the press corps in some revealing ways. The men I spoke to were either bemused or appalled by the extra poundage on display; columnist Jeff Wells wrote disapprovingly of Phoenix's gut, "It's stand-back huge. He looks pregnant." But when I asked a beautiful female friend whether she'd rather dally with the dadbod-sporting Farrell of The Lobster or the trim, handsome Farrell who showed up in Cannes to promote it, an intrigued smile played out on her face. "I almost like dadbod better," she said, weighing the odds in her head. "I feel like I could actually get that."