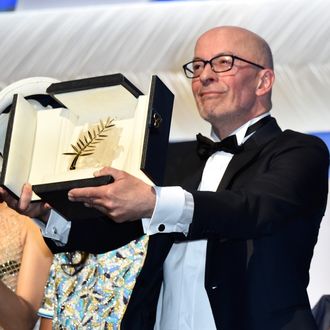 Photo: Pascal Le Segretain/Getty Images
The Cannes Film Festival is the most prestigious film festival in the world, and its top prize, the Palme d'Or, is film's highest honor. Consequently, people have really strong feelings about what they think should win. Regardless of which film takes whichever award, it's usually controversial. This year, the main competition jury, considered by some to be one of the best juries in the festival's long, illustrious history, was headed by Joel and Ethan Coen (Fargo, No Country for Old Men, The Big Lebowski) and featured Guillermo del Toro (Pan's Labyrinth), Jake Gyllenhaal, Xavier Dolan (Mommy), Sophie Marceau, Rossy de Palma, Rokia Traoré, and Sienna Miller. Here are the films that won at this year's Cannes, as reported by Indiewire. Let the angry think pieces commence.
Palme d'Or: Dheepan, directed by Jacques Audiard
Grand Prix: Son of Saul, directed by Laszlo Nemes
Best Director: Hou Hsiao-Hsien for The Assassin
Best Actor: Vincent Lindon for The Measure of a Man
Best Screenplay: Chronic, written by Michel Franco
Camera d'Or (Best First Feature): La Tierra y la Sombre, directed by Cesar Acevedo
Best Actress: Rooney Mara for Carol and Emmanuelle Bercot for Mon Roi (Shared Prize)
Palme d'Or (Short Film): Waves '98, directed by Ely Dagher
Jury Prize: The Lobster, directed by Yorgos Lanthimos
Watch trailers and clips from the various winners here.