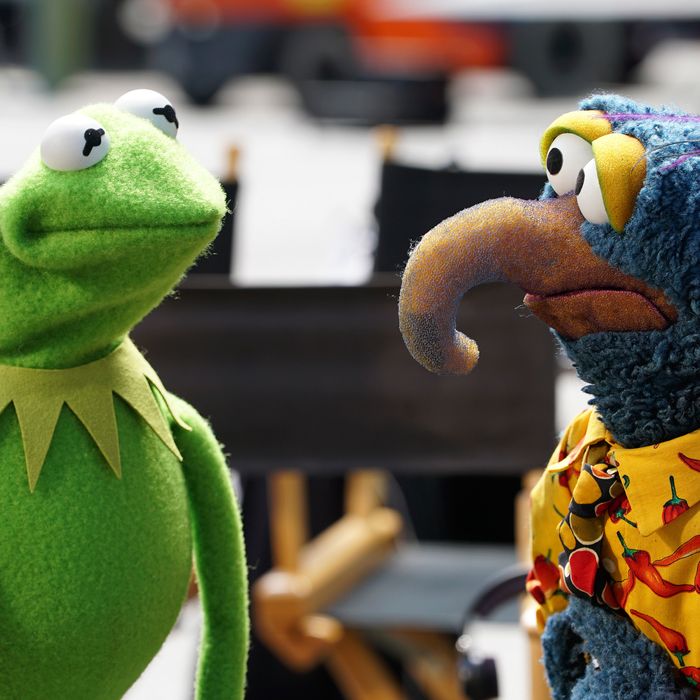 They're baaaack.
Photo: Eric McCandless/ABC
After a two-decade absence from series television, ABC announced Tuesday that the Muppets will once again have a weekly time slot: Tuesdays at 8 p.m., starting this fall. Their comeback vehicle is The Muppets, and it's being overseen by comedy veterans Bill Prady (The Big Bang Theory) and Bob Kushell (3rd Rock From the Sun). While bits and pieces of information about the show have trickled out since the revival was first announced last month, Prady and Kushell haven't discussed the project at length — until now. Earlier today, just hours before he went to Lincoln Center for ABC's official upfront presentation, Prady hopped on the phone with Vulture to talk about what he and Kushell envision for the series, how the idea came together, and why baby-boomers and Gen-Xers rightfully protective of a beloved institution can probably relax. Here are the six most important things we learned from our extended conversation:
The Muppets are now working on a (fake) late-night TV show.
Back in the 1970s, The Muppet Show had the gang putting on a vaudeville-style spectacular. Prady says The Muppets will find our furry friends "producing a late-night show like [Jimmy] Kimmel, and it's hosted by Miss Piggy." (Finally — a woman gets a network late-night show!) "Kermit is the executive producer of the show, which puts him in the same harried, caught-in-the-middle situation," Prady adds. "Miss Piggy is Miss Piggy, in terms of her personality and her approach to things. The staff you'll see working on the show — some are human, some are bears and frogs. And no one seems to notice."
There's a reason the new series isn't a variety show like the original.
ABC chief Paul Lee caused those of us who are die-hard fans of the original Muppet Show to panic a bit when he told reporters (and then advertisers) Tuesday that the network's update is "not your grandmother's Muppets." But after talking to Prady, it seems clear he and his team aren't looking to reboot the iconic characters or radically remake them. Instead, they're just trying to do the same thing the original show did: gently satirize the popular culture of the time. "The Muppet Show was a variety show because when it was on, that was the dominant form of television," Prady explains. "If you turned the TV on then, what [did] you see? Sonny and Cher and Carol Burnett and Flip Wilson and Richard Pryor and Lily Tomlin. That was television. So The Muppet Show made fun of variety."
Today, there are no true variety shows in prime time. If The Muppets were to just remake The Muppet Show as it is, it would be resurrecting a TV format rather than skewering it. So instead, Prady's show will play with the mockumentary style used by sitcoms such as Modern Family, 30 Rock, and The Office. It's a notion Prady is sure Henson would approve of, saying he had an epiphany about this nearly a decade ago when he first thought up the idea for The Muppets.  "I was around Jim everyday [because] it was a very small company," Prady says. "One of the things I remember distinctly was how Jim approached series creation and character. About ten years ago, for some reason, I'm looking at some Muppet thing and I thought, If Jim were alive and he were looking at television right now, he would see The Office and shows like that, this emerging form of the mockumentary. And I realized that's what he'd be making fun of.  As sure as you can know something about someone and what they would feel is how I felt about that."

The new format doesn't mean there won't be guest stars, musical numbers, and other variety elements.
While The Muppets won't be a thinly veiled parody of a variety show, the fact that Miss Piggy is hosting her own talk show means there'll be an easy way for celebrities to stop by and for the Muppets to perform. "Think about what's being done in late-night these days," Prady says. "They do almost anything. So we have a lot of flexibility. We can be backstage. We can see a production number during rehearsal. We can be anywhere we want." Indeed, in an early episode being plotted now, "Some celebrity is going to appear on [the late-night show], and she and Piggy have a feud," Prady reveals. Who's the star? "We don't know yet," Prady laughs. "We know who we'd like it to be, but you have to check everybody's schedule."
But in a hopeful sign for bookings, even though ABC only green-lit The Muppets last week, "We've already gotten a lot of incredibly enthusiastic interest from a lot of people who've contacted us and said, 'We'd like to be a part of this,'" Prady says. "It's absolutely a part of this to bring on some people — in the same way the old Muppet Show did: Let [the celebrity] have some fun, and let them do the kind of thing that is not the typical kind of thing to do."
The Muppets will delve deeper into the personal lives of the characters than the original show.
One of the reasons generations of audiences love the Muppets is because they're actually pretty interesting characters, even if they are puppets. Many of the most successful Muppet movies have explored those human qualities, but the 1970s series was mostly focused on comedy and spectacle. Talking to Prady, it sounds like in many ways he and Kushell are interested in, well, fleshing out the Muppets. "What we really want to do is tell people stories," he says, referring to Henson's creatures as well as some humans on the show. "We want to talk about what it's like to be at work with somebody where the situation is a little rough. We want to tell relationship stories."
Prady says his interest in going beyond the felt with the Muppets goes back to the 1970s and '80s. "I used to imagine when I was watching the old Muppet Show that there'd be a bar across the street [from the Muppet theater]," he says. "And after they finished doing the show, Fozzie would come up to Kermit and say, 'You know, it wasn't our worst.' That's the show I wanted to see, and that's the show I want to do. I want to see the rest of the lives of the characters you exactly know." Already, some early story lines for the characters are in the works. "Kermit and Piggy's [romance] is on the rocks when we enter the series," Prady says. "And Fozzie is dating a human woman. Her parents do not approve of the interspecies relationship."
The franchise is in good hands.
A comforting fact for anyone worried that the brand-obsessed bean counters at Disney will ruin the Muppet: Prady cut his teeth under Henson. "My writing career, for all intents and purposes, begins, almost 30 years ago at The Muppets," he says. "I've been on various career paths in my life — I've been a computer programmer, I've been some other things. And then I started to work in television as a PA. I went to work over at The Muppets on a TV special they were going to do about the world of technology. It was a special that never wound up being produced. But it was an amazing experience."
And Prady didn't want to stop working for Henson's company. "When the project fell apart, I said, 'Any job you guys have here,'" he recalls. "I ended up working in the merchandising department. And while I was there was when I started writing, with Jim Henson's encouragement. I tried my hand at a couple of little things, and I was able to convince them to let me continue there. It was after The Muppet Show and after the movies, but I worked on The Jim Henson Hour, and I wrote the Muppet 3-D movie that played in the Disney parks for 20 or 30 years. It was one of the most amazing times of my life. I was around Jim everyday [because] it was a very small company." Prady left the company in 1991, a year after Henson passed away.
Prady's idea for The Muppets was revived mere months ago.
As noted earlier, Prady first started exploring a new Muppet TV show in the mid-to-late 2000s, not long after Disney bought the rights to Henson's characters in 2004. He actually pitched the idea to the Mouse House — several times. "The Muppets kept getting reassigned within the corporate structure [of Disney]," he says. "So every time they moved, I'd show up like Willy Loman with this idea in the briefcase. I even got them to shoot some test footage, [which] was a little hit or miss." Disney passed, however. "They said, 'This is not the approach we want for the characters.'" Prady didn't have much time to think about the initial rejection, however. "The next thing that happened for me was The Big Bang Theory," he says. "It was literally months after that. So I thought that was the end of that."
With Big Bang humming along as TV's biggest comedy and Disney focused on Muppets movies the past five years or so, Prady's concept for a revival might have stayed buried. And then, Prady got a call from out of the blue "a crazy short time ago," he says. "One of the Muppets performers, a terrific guy named Bill Barretta, who had helped shoot some of that test footage eight years ago, called and said, 'I gotta tell you: The perception [at Disney] of the Muppets has changed, and the environment has changed. I have this crazy idea we could get people interested in the idea again.'"
Prady was a bit skeptical at first, but he agreed to take some meetings with the Muppets Studios group, now housed at Disney's new media division.  "I went in and [told them] the idea, and they asked if I would be willing to go out and pitch it to a few places. And so we went out and took it to a couple places," Prady says, adding that the pitches took place around March of this year. "After all that stuff that happens when more than one person is interested in something, we wound up at ABC." Even though ABC already had a full slate of comedies, Alphabet chief Paul Lee asked Prady if he could get something on film so the network could show it to advertisers at this week's upfront presentation. "My response was, 'No! We'll talk about it over the summer!'" Prady laughs. "And they said, 'No, let's do this.' Incredibly, we got everything together in the fastest amount of time I've ever seen a production come together. We shot a ten-minute mini-pilot, and it was off that mini-pilot that ABC has picked it up to series."
Though it might seem as if ABC is needlessly rushing The Muppets to air, Prady doesn't sound at all worried about whether he and Kushell can pull this off so quickly. "I struck gold with Bob," he says. "[He] is an enthusiastic ball of energy. We're putting together an amazing writing staff. And we have the amazing group of Muppet performers. There's nothing like this group on the planet. Their ability to bring these characters is a remarkable thing to see." But in addition to having a solid team, Prady thinks the concept for this new Muppet show is strong enough to support a rapid deployment. "When an idea sort of fundamentally works at its core, it pulls you along," he says.  "As we talk about stories, we find ourselves saying, 'We can do that,' and 'We can do that,' and 'we can do that.' We're kind of excited."