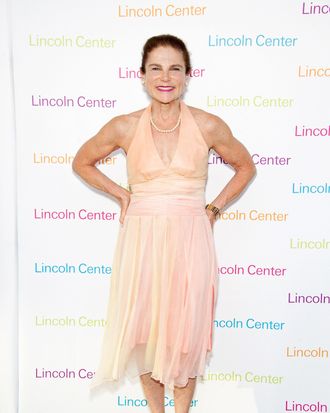 Tovah Feldshuh, Walker Stalker newbie.
Photo: D Dipasupil/Getty Images
Tovah Feldshuh has been in show business since the 1970s, with multiple Emmy and Tony award nominations to her name, but she's been introduced to her largest audience yet starring as Deanna Monroe in AMC's The Walking Dead. "I'm going to my first Walker Stalker convention," Feldshuh told Vulture at Lincoln Center's American Songbook gala on Tuesday night. "I've been invited to them all over the country, but we're going to do four."
Taking on such a prominent role in the fifth season has certainly come with its perks. "It's pretty great. I get recognized in Milan, at the ice-cream shops. You know, being a Broadway entity is marvelous, but it's a local entity," said Feldshuh. "When Lexus found out that I was with the Walking Dead, they discounted my tires! I thought that was hysterical."
Feldshuh had just flown to New York from Atlanta, where she's currently shooting the sixth season. "I'm now bartering eight-by-tens with autographs for small favors, like a free extra plate of something that isn't fried in the South, which is a treasure hunt," she laughed. "I tried my first fried pickles and fried tomatoes in Charleston this weekend at the Spoleto Festival; it's delicious, but they fry everything. Maybe that's why it's so delicious."
As expected, Feldshuh didn't divulge any secrets about what might happen to her character next season. "I'm filming now, that's all I can tell you," she said. "There you go — you know I'm not …" and she made a throat-cutting motion. There you have it, Deanna Monroe: Alive for at least one more episode.