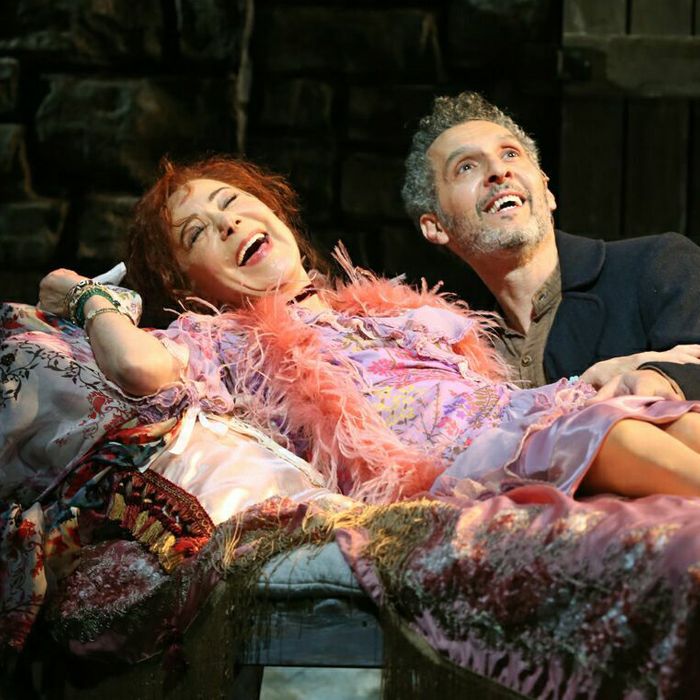 Should a critic recuse himself from reviewing a show because he loves it too much? I grew up wearing down the grooves of the 1968 cast album of the original Broadway production of Zorba, which in its darkness, high concept, and superb Kander and Ebb score represented a high-water mark of late–Golden Age musical storytelling. Later, as a young adult snuffling around the periphery of the professional theater, I ended up working on the 1983 revival, doing menial chores involving music preparation (inky fingers and electric erasers) as the somewhat revamped property began a pre-Broadway national tour starring Anthony Quinn. Quinn couldn't sing or even maintain a simple rhythm, but it hardly mattered; he owned the role from having created it in the nonmusical 1964 movie, and with his bluster and macho made the revival a hit. A last-gasp kind of hit, though: Subsequent attempts to bring the show back to Broadway — with Antonio Banderas's name often attached — have come to nothing, and probably that's just as well. As the current Encores! production starring John Turturro amply demonstrates, the show is too hard to pull off anymore.
In saying that, I admit that I may be forcing the Encores! version into unwarranted (and unwinnable) competition with my half-remembered, half-imagined masterpiece Zorba, assembled from the album, my intimacy with the score, and much reading about the original Hal Prince production. Prince's solution to a dour and even tragic story — a story that includes a suicide, a murder, a mine explosion, and an old lady's death — was to go at the darkness full-tilt, staging it in Greek chiaroscuro and framing it with a modern storytelling circle that gradually dissolved into the cast of the inner tale. This allowed him not only to forefront the theme (neatly expressed in an opening lyric as "Life is what you do / While you're waiting to die") but also to make a virtue of the kinds of iconic characters and elemental plot that came from the original Kazantzakis novel. (The musical's authors did not have the rights to use any aspect of the movie.) The audience was asked to understand that it would be seeing a Greek drama in the ancient sense, one in which issues larger than individual happiness were going to be played out and commented upon. Nico, a young Greek-American at loose ends, comes to Crete to reopen an abandoned mine he has inherited; in trying to do good he causes only bad things to happen. It's Zorba, a local handyman-cum-grifter, who must teach him to live life to the fullest and let the chips fall where they may, which is usually on someone else's head.
There are love stories, yes: Nico falls for a young Cretan widow, an outcast whom love cannot save, and Zorba dallies with Hortense, the local French innkeeper, a deluded old bird hoping to redeem her sexual history by finally snagging a husband. In theory these entanglements serve mostly as demonstrations of the philosophical conflict. In practice, because musicals are musicals no matter how high the concept, the love stories quickly grow in importance to rival the philosophies, and produce a useful tension between heart and head. This is mostly the magic of Kander's exceptionally fluid and varied score, in which an idea of Greek music is so thoroughly absorbed into the Broadway palette that the songs all seem "found," almost geological in their layered rightness. Hortense gets 1920s ditties that turn on themselves (was there ever as wrenching an uptempo number as the one called "Happy Birthday"?); Nico has gorgeous long-line melodies expressive of his longing; Zorba is musically characterized with bold and virile "statement" numbers ("The First Time," "I Am Free"); and the leader of the storytelling circle, not unlike a belty alto emcee, gets a series of acrid and taunting showstoppers (including an astonishing 7/8 chorus of crows) to keep the emotional material in check.
Well, that's how it's supposed to work, and if you watch even a blurry YouTube clip of the original cast performing the opening number ("Life Is") at the 1969 Tony Awards, you get a sense of what that might have felt like. Unfortunately you won't get that feeling at City Center. For this production, following changes made earlier in the show's history, the frame device has been jettisoned, and along with it the recitative verse of "Life Is;" the "leader" (Marin Mazzie) now has nothing to lead and simply reappears from time to time as if she wandered in from someone else's funeral. Mazzie is also a casting mistake on top of a big pile of casting mistakes here. She's a lovely singer and actress, a bastion of taste, but hardly the elemental force called for. Turturro is a bigger problem. That he cannot sing (but rather moos in rhythm) would not have to be fatal, as Quinn proved, but that he cannot look comfortable while trying completely undermines Zorba's nature. (He's good in the book scenes, at least.) As Hortense, Zoë Wanamaker has all the requisite charm and injured vanity, but seems vastly under-rehearsed — a built-in problem with the fast Encores! schedule. Of the principals, only Santino Fontana, as Niko, has the right combination of skills and temperament and confidence. He sings beautifully, and in doing so suggests what a better version of this material might feel like.
I'm not sure we will ever get more than a suggestion. The chances of again hearing the score as it was originally conceived, with top-drawer orchestrations by Don Walker and dance music arrangements by Dorothea Freitag, seem just about nil in any production commercial enough to attract backers (and audiences). And the chances of a noncommercial production getting it right in other ways, when even Encores! couldn't, seem equally small. (For the record, the skeletal direction is by Walter Bobbie, and the choreography, some of which looks like yoga poses, is by Josh Rhodes.) In retrospect, it probably wasn't a good sign that Encores! added an exclamation point to the title. (The musical's original artwork featured an acute accent over the "a" in Zorba, which seems to have migrated.) Better they should have gone with a question mark.
Zorba is at the City Center through May 10.