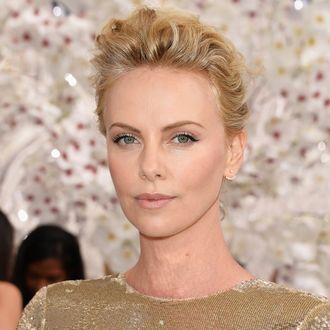 Photo: Pascal Le Segretain/Getty Images
If she survives George Miller's barren Aussie wasteland in Mad Max: Fury Road, Charlize Theron will star in the new Cold War–era spy film from John Wick co-directors Chad Stahelski and David Leitch. ScreenCrush reports that the dynamic duo responsible for the gorgeously gory action flick will turn Anthony Johnston's novel The Coldest City into another gorgeous, but presumably less gory, flick. Kurt Johnstead (300, Act of Valor, the upcoming Aquaman) is writing the screenplay.
As our own Bilge Ebiri eloquently puts it, John Wick is a violent, violent, violent film, but oh so beautiful. The surprise hit, which stars the ageless humanitarian known as Keanu Reeves and, for a few brief minutes, an adorable puppy named Daisy, features some of the cleanest editing and most carefully calculated carnage to splatter the screen in recent years. The title character (Reeves) goes on an ass-kicking spree when some Russian gangster punks kill the puppy. I wonder how Tom Hardy feels about John Wick …
Stahelski and Leitch also confirmed that they're working on a sequel to John Wick, but it looks like that'll go into production after The Coldest City. That's totally fine, since John clearly needs some time to recover after being shot, stabbed, thrown off of a balcony, and punched in all of his major organs.
Here's the official synopsis of The Coldest City, which begins filming this October in Germany:
November 1989. Communism is collapsing, and soon the Berlin Wall will come down with it. But before that happens there is one last bit of cloak & dagger to attend to. Two weeks ago, an undercover MI6 officer was killed in Berlin. He was carrying information from a source in the East - a list that allegedly contains the name of every espionage agent working in Berlin, on all sides. No list was found on his body. Now Lorraine Broughton, an experienced spy with no pre-existing ties to Berlin, has been sent into this powderkeg of social unrest, counter-espionage, defections gone bad and secret assassinations to bring back the list and save the lives of the British agents whose identities reside on it.