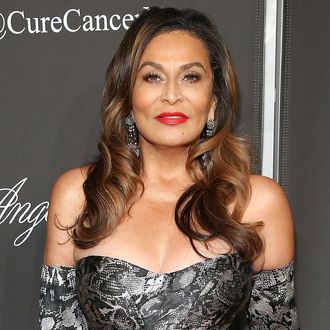 Queen Tina.
Photo: J. Countess/Getty Images
Sunday is Mother's Day. Call your mom! (And shower her with gifts, obviously.) To celebrate, the woman who gave us Beyoncé and Solange, Tina "Boss Bitch" Knowles Larson, wrote a heartfelt open letter to her daughters for Time. Addressed to Beyoncé and Solange, as well as Kelly Rowland and her niece Angela Beyince (who's also VP of Beyoncé's entertainment company), she shares memories of how these four were there for her through her divorce from Mathew Knowles:
"When I'm feeling sad or not-so-cute or maybe a little sorry for myself, and you all include me in your group chat and tell me how hot I still look or how cool I am. Maybe you send me a crazy YouTube video. What actually works best is a cute photo of my grandchildren.

I remember slumber parties after my divorce, when we watched old movies and ate a lot of ice cream. I felt so loved and supported. The roles were reversed, and it was ME who needed nurturing.

I remember my first date when every one of you weighed in on what I should wear."
Adopt us!